Driving without letter of attorney and a waybill in Ukraine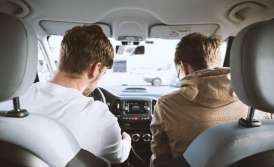 On the 14th of August 2011 a new Law "On amendments to some regulatory acts of Ukraine related to elimination of excessive state regulation in the field of automobile transportations" entered into force. This document cancels not only technical inspections of passenger cars that are not used for commercial purposes but also a requirement regarding provision of notarized letter of attorney for driving of vehicle and waybills to employees of the State Automobile Inspection of Ukraine. After the last two reforms many drivers who cannot believe their luck are still asking questions on whether it is required for them to confirm their right to drive.

Such fears are in many respects based on experience of previous years when a letter of attorney or a waybill was an obligatory link between a person listed in technical specifications certificate as owner of a vehicle and a person listed in driver's license (if these were different persons). It is quite difficult for many people to imagine lawful management of other's vehicle without this element.

In order to imagine it one has to replace these documents with a legality presumption. Thus, one's understanding should be based on the principle according to which management of other's vehicle is lawful unless proved otherwise. So when you were pulled over it is not your obligation as a driver to prove that you are driving legally but an obligation of an automobile inspector to prove that driving is illegal, if he has any such suspicions. At the same time he cannot request you to provide letter of attorney for driving of a vehicle or waybill as well as charge you under administrative liability for their absence (respective provisions were canceled by the mentioned Law). And if such request was made you can freely say that you do not have such documents and you are not supposed to.

The only ground to suspect that you drive a car illegally is when the vehicle is searched for. But in this case neither letter of attorney nor waybill will help you. In accordance with Subsection 11.5 of the Instruction for activities of road patrol service divisions of the State Automobile Inspection of the Ministry of Internal Affairs of Ukraine that is approved by the Order of the Ministry of Internal Affairs of Ukraine number 111 dated 27.03.2009 such ground should be supported by a list of wanted vehicles for the last 24 hours that is received by an inspector when he starts his work. This list must include brand, state registration number, color, identification number of coachwork, chassis (frame), and specific features of a vehicle that is on the wanted list.

Unfortunately legislation does not provide an obligation for employees of the State Automobile Inspection to show this list to drivers that were pulled over based on features from the list. But Subsection 21-1 of Article 11 of the Law "On militia" provides a requirement for a militia employee to inform driver a ground based on which he was pulled over. Based on this regulation it is quite possible to ask an automobile inspector to name features that allowed one to suspect that a vehicle was on wanted list. Besides one can always call the hotline of the Ministry of Internal Affairs of Ukraine and find out whether the vehicle you are driving is on wanted list. Especially brave ones can also demand to provide information about number of statement about offence from the Registration log of statements and reports on offences supporting their position by the fact that illegal possession of a vehicle is an offence. And therefore in accordance with the Order of the Ministry of the Internal Affairs of Ukraine number 400 dated 14.04.2000 information about its commitment must be registered in the Registration log of statements and reports on offences.

The abovementioned actions will not prevent inspection of your vehicle and match up of data from the list of wanted vehicles with your car but they may induce automobile inspectors to complete inspection of your vehicle faster if real grounds to pull you over were absent.

This material was prepared by legal experts of law firm "Pravova Dopomoga". It is related to service of Legal advice.
We are ready to help you!
Contact us by mail [email protected], by phone number +38 044 499 47 99or by filling out the form: