Lawyers of our firm have once again managed to terminate contract of guarantee in Ukraine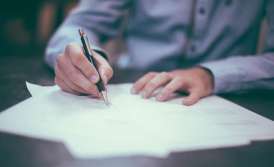 We were addressed by a Client who was interested in termination of contract of guarantee. According to the contract our Client was a guarantor of a third party loan obligations fulfillment in relations with a bank.
The ground for the termination of guarantee was the fact that the bank without prior approval of the guarantor increased interest rate for the obligation which caused increase in the amount of guarantor's responsibility. Such changes made to the main obligation in accordance to paragraph 1 of article 559 of the Civil Code of Ukraine are the ground for termination of guarantee. At the same time courts often point out that such termination is stipulated by law so there is no need for any additional rulings of court. But despite this fact the bank did not stop to send its demands to the guarantor who was a solidary debtor after which a decision was made to take the case to the court.
The court of first instance denied the claim explaining its decision by the fact that the guarantor took an obligation to be responsible for loan agreement obligations that were not fulfilled and signing of contract of guarantee was based on free will of parties and principle of freedom of agreement. Our litigation practice experts prepared an appeal to this decision which contained detailed arguments for termination of the guarantee and motivation of first instance court ruling being unlawful.
In particular special attention was paid to stipulations of contract of guarantee related to the fact that approval for the change of main obligation may be provided only in certain forms defined by the contract. Because of this fact free will during entering into contract does not mean provision of approval for changes being made to the conditions of contract. Despite anything such approval must be recorded in the form stipulated in the contract.
Court of Appeal agreed with the appeal and ruled a new decision on termination of contract of guarantee.
Therefore one more contribution was made to formation of litigation practice related to solving of conflicts with banks that unilaterally raise interest rates or impose penalties.
You may find interesting to read our analytical material "Termination of contract of guarantee under paragraph 1 of article 559 of the Civil Code of Ukraine. Comments and litigation".
We are ready to help you!
Contact us by mail [email protected], by phone number +38 044 499 47 99or by filling out the form: