Helped to get license for bus transportation services in Ukraine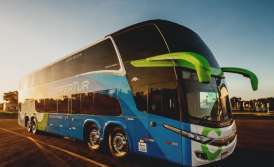 Licensing of passenger transportation services in Kyiv
In summer of 2016, an entrepreneur from the city of Kyiv contacted our law firm for legal support and assistance in obtaining the Passenger Transportation License. The Client had a category D vehicle in his ownership and intended to use the vehicle for domestic and international passenger transportation.
The work on licensing of this bus carrier began with the analysis of the documents and actual capacities of the Client, which could be used as a material and technical base and would meet the licensing regulations for transportation activity.
Having thoroughly analyzed the documents and information provided by the Client, we found out that he could meet only the requirements for the office premises, where the license and other important documents, as well as vehicles, had to be kept in accordance with the regulatory documents. At the same time, our lawyers explained the Client that his bus met the requirements for the number of seats for passengers only in terms of licensing of domestic transportation services. However, given that the carrier also did not have the appropriate length of service to obtain an international license, that wasn't actually a very serious problem.
The main problems were related to the material and technical base used to provide services for the vehicles storage, weekly inspection of their technical condition, medical examination of drivers, repair and maintenance. In this respect, it was good that according to the license regulations, the carrier was not required to have its own motor transportation company with parking, observation pits, etc., as well as to hire its own staff. It is quite enough to conclude an appropriate agreement with the motor transportation company, which provides all these services, or with various enterprises / entrepreneurs, each of which is responsible for a separate technological operation. In this case, as in the case of our Client, a significant attention shall be paid to every detail when drafting the provisions of such agreements, because even the smallest inconsistency or inaccuracy in the terminology used may result in license refusal. After we come to agreement with the Client and his contractors about the text of the agreements, including a number of significant amendments and necessary documents, including the statements prepared by our specialists, we submitted a complete package of documents to the licensing authority. A week later our Client got the right to start his business, as he obtained the official decision on the license issuance and a form of the Passenger Transportation License.
We are ready to help you!
Contact us by mail [email protected], by phone number +38 044 499 47 99or by filling out the form: