We got a turn-key ready security guard activities license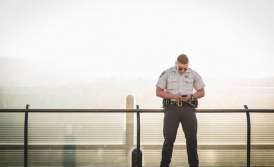 This material will be interesting for those who plan getting a license for security guard activities, and also for those who has no specialist in organizing security guard activities yet.
We will talk about an interesting case from our practice, which covers one of the typical problems that arise in the process of obtaining a security guard activities license.
The essence of the matter. In April 2019, we were approached by a regular client who wanted to get a security guard activities license for himself as a self-employed individual. By the time the Client turned to us for help, he had tried to collect the whole package of required documents, but faced difficulties during collection of medical certificates.
Related article: New legal requirements for staff of private security firms in Ukraine.
After reviewing the Client's documents that confirmed his fitness for fulfilling the duties of a specialist in organizing security guard activities, we found that instead of getting a mandatory certificate of periodic medical examination, the Client got just a health certificate from a therapist.
We know from practice that this Client is not the only one who made a mistake by getting a medical examination certificate, signed by a therapist. This must be a certificate approved by paragraph 2.16 of the Procedure for conducting medical examinations of workers of certain categories (to see a sample click on this link). To get it, you need to go undergo an examination by about ten doctors.
Our actions. Understanding that the Client needed additional time to get a new certificate, we suggested that he got a turn-key ready security guard activities license. To do this,у just had to conclude an employment contract with our specialist in organizing security guard activities, who will hold a respective position for as long as the Client needs to bring his documents in order.
Related article: Our lawyers helped to get a private security license within one day
The client wondered if that was legal. We answered that our specialist acted fully in line the requirements of the licensing conditions, and had all the necessary documents, so conclusion of an urgent employment contract with him was totally legal.
In addition, this agreement could be terminated pre-term at any time, as soon as the Client received the necessary certificates for himself or found another person who would become a specialist in organizing security guard activities.
Result. The Client agreed to our offer, because it could save his time. An agreement was concluded between him and our company on the provision of legal services for obtaining a license for security activities, and an employment contract was signed with a future security manager.
Two weeks later, a decision was made to grant a license to this Client.
In a few months, the Client was able to get the necessary information without without the hustle and bustle, so he could take up a position of the head of security guard activities on compelling legal grounds.
We are ready to help you!
Contact us by mail [email protected], by phone number +38 044 499 47 99or by filling out the form: