Helped to find foreign business partner for the purposes of employment agency license obtainment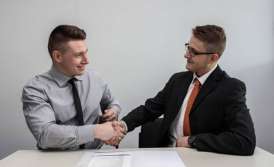 In July 2017, we were contacted by a Client, who needed to obtain a license for mediation in abroad employment. The client wanted to get to work as soon as possible, although, according to him, he had no , necessary paperwork, or the partner in another country. Therefore, he wanted, firstly, to get legal advice, among other things, to be able to draft a business plan and calculate expenses, and secondly, to get help in finding a foreign partner and, accordingly, drafting of an international contract and other documents.
Our company has significant experience in obtaining this license. Moreover, we have established contacts with foreign companies that have been looking for partners in Ukraine. Therefore, after upon signing an agreement with the Client on provision of legal services and receiving an advance payment, our lawyers set about drafting an international contract and annexes thereto.
We have selected a partner in Poland for our Client. The choice of this country was conditioned by fact that a large number of workers are being sent to Poland these days. However, the Client was worried about the question: what actions should he take if he begins to work with partners from other countries. We have explained that according to the license terms for the conduct of business activities of intermediary in abroad employment, the licensee is obliged to carry out economic activity of intermediary in abroad employment within the framework of the international contract (agrement) between the licensee and the foreign business entity on the provision of mediation services for abroad employment. That is, an international contract can be concluded with any partner from any country (except for unrecognized countries). At the same time, there is no need to even report this to the licensing authority.
Three days later, upon signing the contract with the Client on the provision of legal services, paperwork, signed by Polish partners, came from Poland, and was then signed by the Client. Their copies along with other documents were submitted to the licensing authority to obtain a license.
The license was obtained within the minimum period of time. Now, having received a license and legal advice on conduct of the type of business that the Client had chosen, he could begin to work.
Thus, we have the opportunity to help with the search of foreign partner to obtain a license to work abroad. You can get familiar with the terms of providing services for license obtainment under the link or by calling our company.
We are ready to help you!
Contact us by mail [email protected], by phone number +38 044 499 47 99or by filling out the form: