Our lawyers drafted charter of charity with legal entity as a founder
Cost of services:
from 9000 UAH
Charity Fund Registration Fee
32000 UAH
Foreign Charitable Fund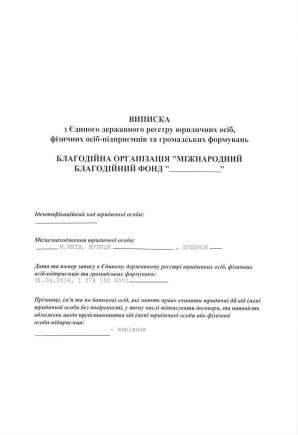 Reviews of our Clients
Palyonko O., Сaritable organization "International charitable fund"My native village"
I was convinced that the principle "We treat every client as a single one" indeed applies to this firm and is not just a loud motto...
Forming of charity with legal entity as founder in Ukraine
Our firm was contacted by an enterprise that wanted to found a charitable foundation in Ukraine. The Client wanted to found this organization for support of children from low-income families, orphans and talented youth.

Lawyers of our firm advised the Client on peculiarities of registration and functioning of charitable organizations as well as on legal status of a founder (legal entity) and other members of a charitable foundation.

During provision of preliminary advice we highlighted the possibility of conduction of international charitable activities which the Client was interested in.

As the result we drafted charter of the charitable foundation and protocol of a general meeting during which the decision about foundation was made.

When drafting the charter we paid special attention to:
Proper wording of foundation's goals which would be in complete compliance with its charitable activities;
Forms of goals fulfillment which would allow the Client to carry out charitable programs of different kinds;
Possibility to carry out international projects;
Status of foundation's founder and other members.
Also the Client wanted the charter to include provisions about creation of Supervisory Board, procedure of its creation and legal status. Despite provisions of Section 2 of Article 19 of the Law of Ukraine "On charity activities and charitable organizations" which allowed not to create supervisory board for charitable foundations with less than 10 members, we managed to satisfy the Client's request.

Thus, our Client understood how charitable organizations function in Ukraine as well as received a complete set of documents for registration of the foundation which had been founded by a legal entity.
We are ready to help you!
Contact us by mail [email protected] or by filling out the form: