Resolved Client's situation in relations with law enforcement officers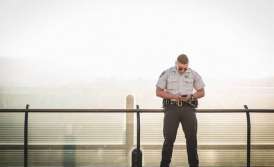 Our law firm was retained by a Client who received investigative request from Shevchenko district police department of Kyiv (hereinafter – Shevchenko district department) in August 2018 and wanted legal assistance on how to respond to it properly.
Since receiving a letter from this type of bodies awoke a certain fear, then generally, people seek professional help from lawyers to be sure that they are acting in accordance with relevant legislation.
In our case, the essence of the matter was that under the investigation was a person, who posted vacancies from a company, headed by our Client. Therefore, an investigator was suspected that the person had previously worked in the company, precisely because he wanted to get some information about it.
Our lawyers got acquainted with the request from the law enforcement body and, after a detailed analysis of the requested data, offered legal advice with further preparation of the answer that fully satisfied the Client, since he had some doubts about a content of the document, which he had to send to the police department.
A work consisted of the following stages:
the lawyers talked to the Client and found that he did not physically have the information required by the law enforcement officers, since he had no official employment relationship with the person, in respect of which the request was received;

verification of requisites of the request of the law enforcement body showed that it has no signs of forgery;

having received advice from an ex-employee of the Security Service of Ukraine, who is a permanent adviser to our firm in this kind of affairs, the specialists of our firm prepared a response, based on the information provided by the Client and the requirements of the law;

sent a completed document by e-mail.
It should be also noted that the analysis of the requested information showed that the investigator did not really have grounds to demand it. According to the law, this situation allows you to leave the request unanswered. We informed the Client on this at first, but he insisted on answering to the law enforcement officers.
The case demonstrates that communication with law enforcement bodies in Ukraine needs to be careful, even if ground seems unimportant. Of course, you can study normative documents regulating the activities of the National Police and other law enforcement bodies by yourself, however, we advise you to contact professionals, who will prepare a response to request, as well as advise on how to continue to communicate with law enforcement officers based on long experience of communication with the authorities of the Ministry of Internal Affairs of Ukraine, public prosecutor's office, Security Service of Ukraine, State Fiscal Service of Ukraine etc.
We are ready to help you!
Contact us by mail [email protected], by phone number +38 044 499 47 99or by filling out the form: