Registered bilingual magazine for a Client who lived abroad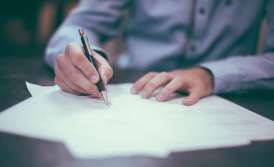 Registration of bilingual magazine in Ukraine
In mid-May of 2014 our firm received a request from a client who ordered a standard procedure of registration for all-Ukrainian printed periodical (magazine).
One of the particularities of this project was the fact that our Client was outside of Ukraine and had no a representative in Kiev. Besides, the Client did not fully understand the statutory regulation of periodicals' activities, stages and their order of priority: from obtainment a certificate of state registration of a printed periodical, to registration of editorial body and hiring of journalists.
Remote work with the Client using e-mail, Skype and courier delivery services for correspondence is not a problem for the specialists of our law firm all long ago.
The standard procedure of printed periodical registration does not provide comprehensive counseling of the Client concerning the activities of print media. It consists exclusively of documents preparation for the registration of a magazine and actual registration acts in the Ministry of Justice of Ukraine. We also advise on questions relating to filling out an application for magazine registration. These include the rates of the state fee for printed periodical registration, the sphere of magazine distribution, the program objectives, the type of the printed periodical subject to the designated purpose, the frequency of issue, the format, the volume of the periodical, and other similar issues.
Therefore, having reached a consensus on the cost of consulting services the lawyers of our firm gave all necessary answers for Client's questions and helped him to organize the process of magazine launching for press with maximum effect. Counseling also touched upon questions of legal interaction between the editorial body and journalists, both staff members and those that the magazine plans to engage for individual projects.
The lawyers of registration department from our law firm quickly and efficiently prepared a package of documents, which is set forth in the statutory documents for magazine registration, successfully escorted its consideration in the Ministry of Justice of Ukraine and got a favourable decision in the terms specified in legal services agreement.
The Client got answers to all questions of interest on legal regulation of the activities of printed periodical, as well as a certificate of state registration of his own magazine in pre-agreed terms and at fixed cost. We guarantee such result if you order standard procedures in our firm.
We are ready to help you!
Contact us by mail [email protected] or by filling out the form: