Accreditation of health institutions in Ukraine: the procedure and documents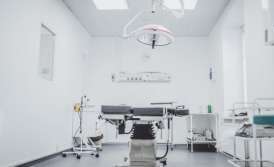 To conduct activities related to provision of medical services it is not enough just to have an appropriate license. A qualification level that was proven during license obtainment is required to be periodically confirmed through process of state accreditation. Such accreditation is an official recognition of healthcare institution status (hereinafter – medical institution), confirmation of conditions required for provision of medical and sanitary care and the fact whether it meets the requirements set by the Ministry of Healthcare of Ukraine.

According to the Resolution of the Cabinet of Ministers of Ukraine number 765 dated 15.07.1997 all medical institutions (legal entities or their branches that have licenses for medical practice) despite ownership form including pharmaceutical institutions are subject to accreditation. The fist accreditation is conducted not later than 2 years from the moment when an institution started its activities and further accreditations are conducted every 3 years. In order to raise its qualification level a medical institution may request unscheduled accreditation which is conducted only after a year after the last accreditation.

State and private medical establishments are accredited by the Main Accreditation Commission and communal institutions are accredited by accreditation commissions created on the basis of regional departments of healthcare.

To be accredited it is required to collect the following documents:
Notarized copy of medical institution statute (regulations);
Copies of documents that prove the legal right to use a facility where a medical institution is located and right to use equipment required to provide medical and prophylactic care. These documents may include copies of rental agreements, copies of documents that prove ownership rights to these facilities, equipment etc. As a rule these copies are certified by seal of an institution and Head's signature;
Information about number of medical institution employees and their qualification levels (is also certified by a signature and seal of a medical);
Approved description of a medical institution structure;
Conclusion of State Sanitary and Epidemiological Surveillance Service on epidemic conditions in an institution;
Conclusion of the State Fire Surveillance Service on conditions of fire safety in an institution;
Conclusion of the State Inspection on Industrial Safety and Labor Protection on safety and facilities operating conditions in an institution;
Report of a medical institutions on its involvement in the implementation of local healthcare programs;
Report of a medical institution on medical work that have been done over the past three years and for the first accreditation –the first two years;
Approved by a medical institution analysis of its activities on the quality of medical care and the criteria for its evaluation;
Report of a medical institution about scientific and pedagogical activities (if there are any);
Copies of previous accreditation certificates (if there are any).
The mentioned documents are submitted to a corresponding accreditation commission which must perform the accreditation within 3 month. In order for this to be achieved the commission appoints an expert to make an expertise of medical institution conformity with the state accreditation requirements. The expert forms an expertise group and approves it with the Ministry of Healthcare of Ukraine. The term of such expertise is set by a corresponding accreditation commission.

The purpose of the expertise is to find out whether a medical institution meets the requirements of state accreditation. For medical and prophylactic care institutions fall under such standards approved by the Order of the Ministry of Healthcare of Ukraine number 142 dated 14.03.2011. These standards are divided into 25 sections each of which contains several subsections and clauses that stand for a number of points. However only the standards that correspond to an institution type and kind of medical and prophylactic care that is provided by it are subject to such evaluation.

In practice to avoid problems with accreditation medical institutions personally or with a help of exterior counselors (including law firms) analyze which standards already meet the requirements and which are to be improved. At the same time the strategy of behavior during possible inspections of an expertise group and best arguments for accreditation denial appealing is formed. The expertise must be obligatory conducted with the Head of a medical institution or its representative being present.

The results of the expertise are reflected in an expertise report on whether a medical institution meets the requirements of state accreditation. It contains evaluations of compliance with standards regarding a medical institution, the total amount of points received, maximally possible amount of points to receive taking into account the type of institution, percentage of achieved result. To obtain accreditation it must receive at least 69% of maximally possible amount of points. Considering this number an expertise group must provide recommendations on obtainment of second degree (70 to 79%), first degree (80 to 89 %) or the highest degree (90 to 100%) of accreditation. Expertise report is signed by members of the expertise group and is submitted by an expert to an accreditation commission within 14 days after such expertise.

Based on the documents submitted by a medical institution and expertise report an accreditation commission makes a decision on accreditation being performed and classification of a medical institution according to a corresponding accreditation degree or an accreditation denial. The decision is validated by the Head of accreditation commission and a medical institution is notified of it within 10 days. When a decision on accreditation is being positive a medical institution receives an accreditation certificate the validity term for which is set the accreditation commission but cannot exceed 3 years.

This article was prepared within the practice of "Medical and Pharmaceutical Law" and is closely related to our service "Accreditation of health institutions."
We are ready to help you!
Contact us by mail [email protected], by phone number +38 044 499 47 99or by filling out the form: