Gaining of veterinary practice license in Ukraine
Cost of services
Cost of services:
7000 UAH
For an individual entrepreneur
7000 UAH
For a legal entity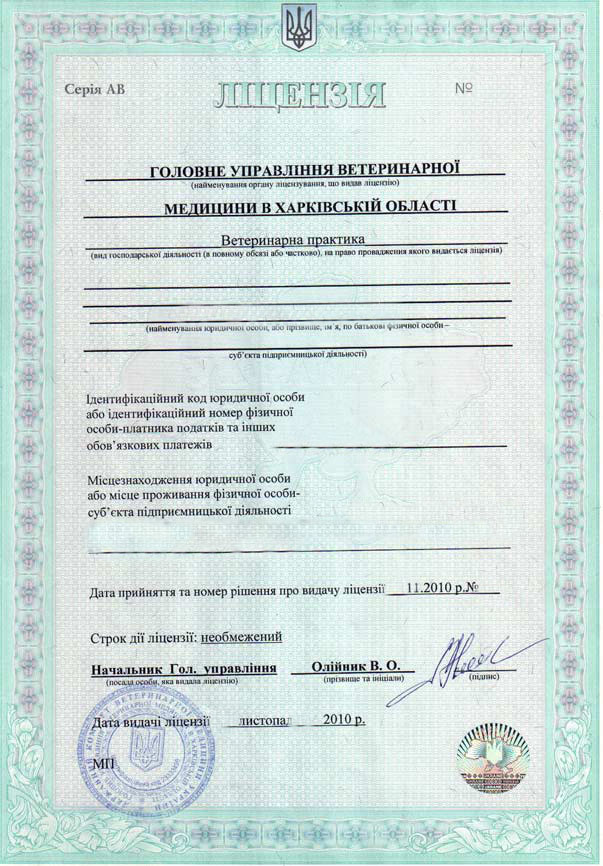 Reviews of our Clients
Partner, Denis Y. Lysenko, Vasil Kisil & Partners
... we would like to express our respect and gratitude for the fruitful cooperation.
... our work on joint projects assured us of your high level of professionalism

General Manager Stashkevych I.Y., LLC "Trading company" Rud"
We would like to indicate that law firm "Pravova Dopomoga" has become a reliable partner for legal services provision and we can recommend it as a team of qualified professionals who are easy and pleasant to deal with
L. Chervonyuk, LLC "Vitalux"
Vitalux company highly appreciates results of cooperation with Law firm "Pravova dopomoga", can characterize it as a reliable partner and based on personal experience is ready to recommend it to interested persons...
Chief ophthalmologist of Ukraine, Oksana Vitovska, All-Ukrainian alliance of ophthalmologists
We would like to express sincere gratitute to the team of Law firm "Pravova dopomoga" and personally to Volodymyr Gurlov for professionalism and purposefulness in your work.
General director I.Logvinenko , Bravo Airways
Bravo Airways company expresses its gratitude to law firm "Pravova Dopomoga" for high quality and timely provision of legal services.

President Tedeev E.S., Ukrainian wrestling association
Ukrainian wrestling association would like to express its sincere appreciation to the team of Law firm "Pravova Dopomoga" for mutually beneficial cooperation
G. Zeynep Kucuk, SANOVEL ILAC SAN. ve TIC. A.S.
Helped with the liquidation of a foreign representative office in Ukraine
General director Skibinskiy V., Yokogawa Electric Ukraine Ltd.
Yokogawa Electric Ukraine Ltd. recommends Vladimir Gurlov and his team of lawyers as a reliable legal partner and advisor for foreign businesses in Ukraine...
What we offer
consult the Client on issues relating to obtaining veterinary practice license, in particular, in respect of documents preparation, staff qualification and the fineness of chosen premises and/or assist with the choosing;
fill in all necessary documentation and submit an application per power of attorney, without personal attendance of the Client;
escort obtaining a license in the licensing authority for the entirety of the period;
take charge of solving of problem situations of the Client during the documents review in the state authorities;
obtain confirmation of license issuance in a hard copy.
Documents for obtaining a veterinary practice license
List of documents
For IE: a copy of passport and identification code For legal entity: EDRPOU code of the company
Documents on the premises (certificate of ownership or lease agreement)
Personnel qualification documents
Legal advice on obtaining a licence to practise veterinary medicine
If you want to understand all the nuances of applying for a license to practice veterinary medicine, we recommend that you seek introductory advice from our experts.
Our lawyers will provide you with answers to the following questions during the introductory consultation:
Is the premise you have chosen suitable for veterinary practice? Would you be better off opening a veterinary clinic, clinic or clinic?

What documents are needed to get a license?

What are the requirements for staff of the veterinary clinic and do your employees meet them?

Can you open a veterinary pharmacy on the premises of the clinic?
During the introductory consultation, our lawyer will analyse your case and provide recommendations based on its particular characteristics. He will also work out the clearest possible algorithm for achieving your objectives, depending on your wishes, so that you can get your licence to practise veterinary medicine easily and in the first instance.

The procedure for issuing a licence for veterinary practice
Upon the Client's request we provide a consultation and, as a general matter, conclude an agreement, in which all the necessary clauses concerning the services of obtaining a veterinary practice license are outlined. It is of the utmost importance that the Client provides all the necessary documents in a timely manner, since the quickness of license obtaining for the most part depends on this. All it takes from you is a signature on the documents that we prepare and submit to the licensing authority, where we fully follow-up the procedure of license obtaining.

Documents, which confirm the personnel qualification, are the copy of diploma and certificate of professional development.
Attention! The cost of veterinary practice license does not include an official payment to the state budget - one subsistence minimum for able-bodied persons (from July 01, 2019 – UAH 2,007.00) and execution of notarized power of attorney for lawyers to submit and follow-up documents (notarized power of attorney is necessary only for IE (individual entrepreneur).

The term for obtaining a license is 14 days.

A veterinary practice license for enterprises and entrepreneurs from all regions of Ukraine is issued in Kyiv.
Why us
Fixed cost of services
We determine the cost of our services by signing the contract at the beginning of cooperation with the Client. The cost is not subject to increasing during the work period.
Considerable experience in obtaining veterinary practice licenses
In the process of the firm's practice, beginning from 2006, our lawyers studied all the nuances associated with the peculiarities of obtaining a veterinary practice license that gives you the advantage of obtaining it as soon as possible.
Business reputation
Our business reputation is in place, our clients trust us and come back to us again. We, in our turn, are doing everything possible to provide the services of highest quality.
We are ready to help you!
Contact us by mail [email protected], by phone number +38 044 499 47 99or by filling out the form:
Requirements to the legal entity:
to have at least one employee-veterinary practice professional with a state-recognized diploma as a member of staff;
to have job descriptions for individuals who will be directly involved in veterinary practice;
to ensure compliance with the requirements of the law in respect of material and technical base.
Requirements to IE:
to hold a diploma of educational and qualification degree of training of junior specialist, bachelor or master in specialty "Veterinary Medicine", as well as a certificate of professional development (to be obtained every five years);
to ensure compliance with the requirements of the law in respect of material and technical base.
Requirements depending on the material and technical base:
The license applicant must have the right to use the premises where the veterinary practice will be carried out. The premises can be rented or owned on the basis of the right of ownership.
According to the condition of the material and technical base the premises that are intended for veterinary activities are divided into:
clinics;
ambulatories;
stations.

The clinic of veterinary medicine makes it possible to provide treatment-and-prophylactic services, as well as to conduct clinical trials in a variety of ways: on outpatient basis, on inpatient basis or on house-call basis.
Ambulatories of veterinary medicine make it possible to provide services of prophylactic and treatment of animal diseases, which are provided on an outpatient or on house-call basis.
Veterinary medical stations make it possible to provide treatment-and-prophylactic services with a visit of specialist to the business entities of different forms of ownership.
The premises of the ambulatory should include:
a work office of veterinary medicine professional;
a place intended for storage of medicines, biologicals and medical instruments;
a sterilization room (a room, in which the sterilization of used materials, instruments and special clothing will be carried out);
a place for the registrar;
a manege;
an operating room (premises intended for carrying out of treatment procedures);
a place intended for storage of housekeeping equipment.

For clinics, this list is amended by one more point: an isolator, to put it in other words, a room for sick animals. The premises, in which the animals are kept, must be isolated from other premises and must have a disinfectant pan at the entrance.
Clinics and ambulatories can also have an X-ray room and an ultrasonic diagnosis room.
For the veterinary station, the requirements are somewhat different. It should have:
a place for work of specialist;
a place for storage of medicines, medical instruments and biologicals;
a place for sterilization of materials, instruments and special clothing;
a place intended for storage of housekeeping equipment.

As you can see, the main difference is that a clinic or ambulatory necessitates a separate room for some categories, when the veterinary medical station can have only a separate place (that means a part of the room) for them. The other differences in the list are determined by the fact that the station cannot provide services of veterinary medicine, they are provided only on house-call basis.
If you still have any questions or you want to get a high-quality support of the procedure of obtaining a veterinary practice license, you can always contact our lawyers.
The assistance of an experienced lawyer will help to avoid most of the mistakes, to be completely acquainted with the legal requirements and apply them correctly in your activities.
Answers to frequently asked questions
The veterinary practice license is issued for an unlimited term, but it can be revoked should the client wish so or if there are other grounds for this.
In both of the above cases, it is considered that the license applicant does not have the necessary education. Nevertheless, it is possible to obtain a veterinary practice license. In order to do this, you should register a legal entity (enterprise) and hire an employee with the necessary degree of training and a state-recognized diploma.
In such case, it is necessary to enter into a contract with one of the state laboratories of veterinary medicine (at the location in a certain geographical administrative division or with another accredited laboratory).
In accordance with the law, the time period for making a decision on issuance of license, which is also held in practice, is 10 working days. Prior to the submission of application on issuance of license the terms largely depend on the Client: how timely he will provide us with all the necessary documents.
Veterinary practice license – additional information
Veterinary practice is an activity related to the services of animal diseases treatment, their prevention and diagnostics, as well as with the provision of advice on issues relating to veterinary medicine, which is carried out by medical institutions in the field of veterinary medicine.
The obtained license gives evidence of compliance with the standards of the material and technical base and the qualifications of the employees of the business entity, and also gives the right:
to carry out diagnostics and treatment of animal diseases;
to conduct prevention of animal diseases or illnesses;
to carry out veterinary and sanitary inspection of both animal and plant products;
to issue veterinary certificates (documents confirming the veterinary and sanitary condition of animals or certain products of animal origin).
How to get a license for veterinary activity with us?
Veterinary licensing with us is simple, safe and effective.

How does our firm differ from many other law firms in the market?

The answer is simple: we have our own quality standard of services and strictly follow it.


Our lawyers have deep legal expertise. This means that their rich experience and a set of knowledge in different areas of law helps to approach any issue from several positions at once. And this, in turn, makes it possible to find the most optimal option.
We focus on the goal, not the task. In our practice it has happened more than once that the Client, who came with one request, after a detailed consultation understood that in order to achieve his main goal it is necessary to perform completely different actions. We are not focused on the mechanical work to perform Your tasks, but on optimizing the entire process to achieve Your ultimate goal.
It's easy with us. We try to simplify any legal process for our Clients, make it understandable, and the goal is easily achievable.

If You want to get a license for veterinary practice simply and quickly - call us!