Contract law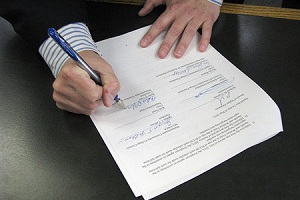 Properly drafted or comprehensively reviewed agreement provides the background for security of your interests in case of any disputes, conflicts claims or misconduct of the partner.

Our law firm provides Clients with accurate regulation of relations between your business partners not only from the legal point of view, but also taking into consideration complex business interests and possible risks.

We can work out the optimal scheme for almost any possible contractual relations and provide related services.

We can offer fixed prices for services within the practice after the complexity of the case has been estimated.
What we do
Consultation on the matters of drafting and development of agreements;
Legal expertise of pre-contractual situations;
Drafting and development of standard agreements (civil, commercial, employment), individual agreements,
Working out recommendations related to the improvement of contractual work;
Analysis and minimizing contractual risks;
Settlement of contractual disputes;
Complex support of contractual work of business entities.
Related publications
Our experience
Our team
Ask a question
Appreciation letters of our Clients
All appreciation letters