Legal support for charitable organizations in Kiev
Cost of services
Cost of services:
5000 UAH
Basic provision of services for the foundation
negotiable price
Individual provision of services for the foundation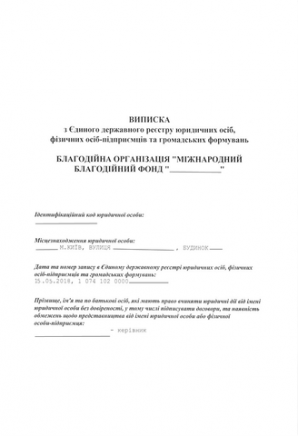 Reviews of our Clients
Vice President E. Nayshtetik , All-Ukrainian Council for Patients' Rights and Safety
We highly appreciate professionalism of your team as well as your personal qualities in the field of regulatory support of activities of charities, contractual formalization of relations, tax legislation
What we offer
We pay attention to the following key moments while providing legal services to charitable organizations:
type of a charitable organization, which is the most suitable for interests of founders (there are three types of charitable organizations in Ukraine, namely, a charitable community, a charitable foundation or a charitable institution);
immigration advice and obtaining documents - residence permit, work permit;
provisions of constitutional documents of the charitable organization, which allow founder / founders to be sure in their possibility to control the organization and its activities;
legal support of schemes for raising money to charitable organization;
legal support of charity help, including verification of compliance with the requirements of the Law of Ukraine "On Charity Activities and Charitable Organizations";
legal advice on tax issues regarding benefactors and beneficiaries.
Our firm has provided legal support of the activities of charitable organizations in Kyiv since 2009. Most of the charitable organizations have undergone a primary public registration with our legal help.
In addition to charitable organizations originally registered in Ukraine, we also support the activities of subdivisions of foreign charitable organizations in Ukraine.



Мы готовы Вам помочь!
Свяжитесь с нами по почте [email protected], по номеру телефона +38 044 499 47 99 или заполнив форму: