Buy a construction company
Cost of services
Cost of services:
Negotiable
Construction company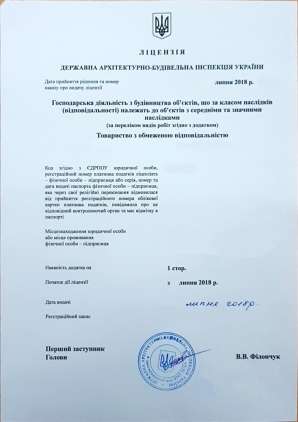 Reviews of our Clients
General Manager Stashkevych I.Y., LLC "Trading company" Rud"
We would like to indicate that law firm "Pravova Dopomoga" has become a reliable partner for legal services provision and we can recommend it as a team of qualified professionals who are easy and pleasant to deal with
General director I.Logvinenko , Bravo Airways
Bravo Airways company expresses its gratitude to law firm "Pravova Dopomoga" for high quality and timely provision of legal services.

L. Chervonyuk, LLC "Vitalux"
Vitalux company highly appreciates results of cooperation with Law firm "Pravova dopomoga", can characterize it as a reliable partner and based on personal experience is ready to recommend it to interested persons...
G. Zeynep Kucuk, SANOVEL ILAC SAN. ve TIC. A.S.
Helped with the liquidation of a foreign representative office in Ukraine
President Tedeev E.S., Ukrainian wrestling association
Ukrainian wrestling association would like to express its sincere appreciation to the team of Law firm "Pravova Dopomoga" for mutually beneficial cooperation
Chief ophthalmologist of Ukraine, Oksana Vitovska, All-Ukrainian alliance of ophthalmologists
We would like to express sincere gratitute to the team of Law firm "Pravova dopomoga" and personally to Volodymyr Gurlov for professionalism and purposefulness in your work.
General director Skibinskiy V., Yokogawa Electric Ukraine Ltd.
Yokogawa Electric Ukraine Ltd. recommends Vladimir Gurlov and his team of lawyers as a reliable legal partner and advisor for foreign businesses in Ukraine...
Partner, Denis Y. Lysenko, Vasil Kisil & Partners
... we would like to express our respect and gratitude for the fruitful cooperation.
... our work on joint projects assured us of your high level of professionalism

What we offer
obtain initial information from the Client regarding the characteristics which the acquired company has to comply with (??registration district, tax system, list of necessary works in the annex to the license etc.);
select a relevant construction company that meets the requirements of the Client;
after agreeing upon the contractual and financial aspects, provide the constitutional and accounting documents for the Client to review;
close the sale deal at the notary;
if necessary, provide re-registration services of the construction company, as well as notifying the licensing authority regarding the changes being made.
Documents
List of documents
List of the types of activities to be licensed
Desired area of the company registration
Other peculiarities and requirements to the company
In case of ordering a turnkey purchase and sale service, the Client shall also provide us with:
Passport details of the new owners and director of the company;
Information on the company's new name (if changed);
Information on the company's new address (if changed).
The price of the construction company depends on the types of activities specified in the Annex to the license. The full list of construction activities can be found here.
The minimum price covers the sale of the company, which is licensed to carry out activities from Section 1.00.00 and 2.01.00, falling under the consequence class CC2. If the Client wants to buy a company licensed to carry out activities related to construction and installation of external networks, the cost of such a company will increase accordingly.
The purchase price of the company, which is licensed to carry out activities at objects of the consequence class CC3, as well as to carry out certain types of activities related to restoration, construction of transport infrastructure, long distance oil pipelines, etc., will be even higher.
We initiate work after the final price is agreed upon and the advance payment is made by the Client.
The cost of services does not cover the re-registration of the company, as well as notification of the licensing authority about the relevant changes.
Why us
Transparent history of the company's activity
We sell only the companies with approved history. This will prevent you from buying "a pig in a poke".
A wide range of companies
We can offer you the construction company that best meets your needs: registration area, the list of types of activities, with or without the history of activity.
We are ready to help you!
Contact us by mail [email protected], by phone number +38 044 499 47 99or by filling out the form:
Specifics of buying a construction company
Before we offer you a construction company, we shall discuss with you all important issues. We decide on the types of activities to be licenced: the Client may personally choose types of activities from the list provided, or our specialists can do it themselves based on the Client's requirements. Another important factor to be agreed upon is the history of the company's activity.
This allows us to offer you the construction company that best meets your needs.
Answers to frequently asked questions
The Client makes an advance payment in the amount of 10% of the company's price. We reserve for you the relevant company for the period of its inspection and re-registration. After the Client provides us with all the necessary information by e-mail (or through other means), we arrange signing of a notary-approved deed within one day. At this stage the Client shall also make a final payment the company, regardless of whether the company is to be re-registered by our specialists or by the Client. If the registration of changes is to be carried out by us, the Client gets all the changes related to the owners and director of the company registered in the Unified State Register of Legal Entities, Individual Entrepreneurs and Public Organizations of Ukraine within 1-2 days.
Any changes to the types of activities (if necessary) can be made after the company's acquisition. This is due to the fact that any changes in the types of activities shall be carried out separately on the license commission. We can also help you with this issue.
Buying an existing construction company (firm)
The cost of obtaining a сonstruction license is lower than the cost of buying an existing company with all necessary permits. So, what is the reason to buy an existing construction company? It depends on how fast you need to start carrying out construction works. Obtaining a license takes about a month, and buying an existing company will take only two days.

Obtaining construction licenses is one of our company's core activities. This means you may entirely rely upon competence of our specialists. In any case, we personally check compliance of the construction company.

It's worth noting that you are not obliged to re-issue the license due to changes related to buying the company (change of name, address, etc.).

But you shall notify the licensing authority (the State Architectural and Construction Inspectorate of Ukraine) of the relevant changes within a month. Otherwise, the licensing authority will have all grounds to revoke the construction license.

Since our lawyers have extensive expertise and experience in this area of law, we can offer you high-quality complex service (if so previously agreed).
Key advantages of working with us
If you're ready to buy an existing construction business, then you realize the financial gain it can bring to you.

And when there is a lot of money at stake, you should be prudent in your choice of a legal partner. These are the people who will be responsible for ensuring legality of your transaction and mitigating future risks associated with the company's acquisition.

Our successful experience is confirmed by positive feedback statements on our website received from a large number of satisfied Clients. Behind each comment there is a real person who we assisted to successfully address their legal issues.


We offer our services to those people who know the value of their time. Because such people understand futility of their attempts to gain insight of a large number of current laws and regulations, as well as of legal complexities of the procedure for obtaining a license.

We can offer you an existing business with a preliminary analysis of all the risks, as well as with subsequent legal support, if the Client is willing to continue cooperating with us.

We are reliable and committed, first of all, to address any legal issue in a simple, safe and efficient manner. This is the core philosophy of our company.

If you want to buy a ready-made construction company, contact us!