Obtainment of an Tax Identification Number in Ukraine
Cost of services
Cost of services:
5000 UAH
Obtainment of TIN
from 15000 UAH
Get TIN in 1 day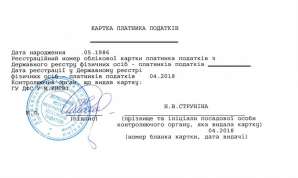 Reviews of our Clients
Daniel Holmes, Citizen of USA
Based on our positive experience of cooperation with Volodymyr Gurlov and his team we can recommend them as a reliable legal advisor on the matters of Ukrainian law...
What we offer
A foreign citizen does not have to come to Ukraine for a foreign tax identification number obtainment

Service of identification number (hereinafter - TIN) obtainment for a foreign citizen includes:
preparation of power of attorney for obtaining the tax ID code;

filing of documents with the tax authorities for foreign tax ID number;

tax identification number application (after online lookup);

receiving of the certificate (tax identification code).
Documents for obtainment of tin
List of documents
A copy of alien's passport
Power of attorney for our lawyers
How to get foreign tax identifying number

: documents, request process and how to apply
If the foreigner does not reside in Ukraine, the procedure starts with getting their passport copy via E-mail. Based on the passport, we prepare a power of attorney that has to be signed by the client and authenticated by a notary in the state of residence; then it shall be endorsed with an Apostille and transferred to Ukraine.
If the foreigner resides in Ukraine, we will need their passport copy with a translation authenticated by a notary, which contains an entry stamp of Ukraine.
Regarding personal information, we request place of birth of the foreigner and his\her address of residence in Ukraine. We can describe the process of getting TIN number in Ukraine during consultation.
Duration and price of tax ID for a foreign citizen
Standard cost of our firm's services for tax ID for foreigners registration is 5000 UAH. In this case the TIN can be received within 5 business days.
Sometimes a Client may have a need of expedited obtainment. Our firm can ensure receiving of the tax identification number document within 1 day which will cost from 15000 UAH (depending on complexity of the particular case).
Obtainment of TIN in one business day means that it can be received within the next business day from the day of payment for our services. Ability of our lawyers to get TIN within 1 day for the particular client has to be agreed on. For this expedited procedure the foreign national's passport translation has to be available as of the moment when deadline countdown begins.
Price does not include mailing of documents, notarization expenses related to issuance of power of attorney and translation of passport.
As the result our Client can get an original of Ukrainian tax identification number.
Why us
We obtain tax numbers as a part of our regular services
We continuously register firms for foreign nationals, obtain employment permits for them in Ukraine as well as permanent resident statuses. These services always start with obtainment of identification number. Hence we have significant experience and high service quality.
We can obtain a tax code within one working day
In our practise we have often faced the need for accelerated tax identification number registering. In accordance with the general rules, the procedure lasts nearly 5 working days. We are able to get the certificate of TIN assignment for a foreigner within 1 day.
We are ready to help you!
Contact us by mail [email protected], by phone number +38 044 499 47 99or by filling out the form:
Important to know about obtainment of itin (
identification tax number

)

A foreigner should obtain a TIN if he wants to:
register a legal entity (found a company in Ukraine);

become a shareholder or a founder of a legal entity;
get employed in Ukraine;
study in Ukraine;
obtain a residence permit in Ukraine;
obtain Ukrainian citizenship;
open a bank account in Ukraine.
Procedure of TIN certificate obtainment (
How to obtain TIN?

)

Requirement for TIN ID: upon reaching the final agreements on cost and term of service provision a Client signs a contract with the firm and pays for the services. At the same time he or she provides the documents mentioned in section "REQUIRED DOCUMENTS" which will be reflected in an Act of Acceptance.

Our lawyers perform all the necessary actions to obtain a TIN and after this within agreed term give him an original of a document that certifies issuance of an TIN (this is reflected in the Act of Acceptance signed by the Client).

Service provision procedure on obtainment of a TIN may be changed upon common agreement.

We can also help with tax identification number renewal and consult You on how to apply for tax identification number during online consultation.

We will help You to obtain

individual tax id number

fast and easy!