License for medical practice in Ukraine
Cost of services
from 16 000 UAH
1-2 specialties
from 16 000 UAH
Alteration
from 24 000 UAH
More than 3 specialties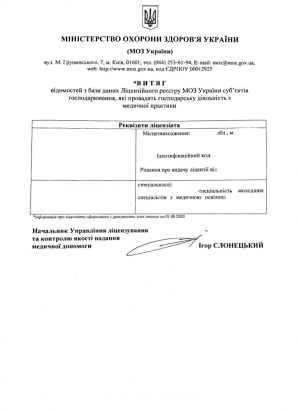 Reviews of our Clients
Director I. Garkusha, "Medyk" LLC
During provision of the services legal experts of the firm proved to be a professional team
Director L. Susenko, Medychni diagnostychi systemy LLC
We would like to express our appreciation to law firm "Pravova Dopomoga" for the provided services related to licensing of medical practice
I. Pruzhnyak , Sole trader I. Pruzhnyak
Despite complexity of licensing procedures, your lawyers got a positive decision about issuance of license for medical practice after the very first submission of documents...
Director S. Sokolova, LLC "Company"Nika-S"
Quick work of your lawyers allowed us to continue our medical practice without unnecessary breaks related to obtainment of the new license. Due to this we managed to avoid financial losses and continued providing high quality dental care services to our clients
Director A. Stelmakh, Private enterprise "ESTO"
We got consultations about organization of the medical center's work, formalization of labor relations with employees, legal regulations on use of different medical equipment...
N. Gorova, Sole trader N. Gorova
I want to recommend this firm to everyone, who wants to start his or her own medical practice...
S. Lyubynetskyi , Sole trader S. Lyubynetskyi
Without any recommendations I chose law firm "Pravova dopomoga" among all other companies on the market and not once did I regret my choice...
Director Mykhailo Bogdanovych Havrylyshyn, Kalush City Center of Primary Health Care
…we can confidently recommend the lawyers of Law firm «Pravova dopomoga» as reliable legal partners on the matters of medical practice licensing and other procedures related to the Ministry of Health of Ukraine.
Chief physician Romanyuk E.V., Municipal non-profit enterprise "Central district hospital of Busk"
... Having used the services of the Law Firm "Pravova dopomoga", we managed to solve our problems, as well as found a qualified and reliable partner.
What we offer
drafting and submitting documents to the licensing state body (

medical license application service

);
consultation about all matters which are related to the procedure of getting a medical license;
submitting a bank receipt as confirmation of official fee payment;
supervision of documents examination;
Additionally our lawyers can provide legal support about:
opening and closing of branches;
employment and dismissal of personnel;
informing about other changes, for example, equipment.
legal support during licensing inspections, etc.
Documents for obtaining a medical license
List of documents
Copy of Sanitary and Epidemiologic Service certificate
Copy of company/sole trader registration certificate
Copy physician's medical diploma and certificates
Sample documents for download
After signing a legal services contract, our lawyer contacts the client and provides full list of required documents and information.

If a client does not have Sanitary and Epidemiologic certificate, our law firm can help with it for an additional price (only in Kyiv).
Introductory Consultation of a Lawyer on Starting a Medical Business
The process of opening a clinic, as well as any other business, is not just about getting one document - the question is always broader and has many nuances: how and how many doctors you can hire, how to properly place all the rooms of the future clinic, or how to issue internal technical documentation of the clinic. These are the questions we will answer for you. Introductory consultation - this is an analysis of your specific situation, not an answer to a formal question, which will not give you a solution to your problem.
"Introductory" consultation is an opportunity to get acquainted with a lawyer, and clearly understand how your issue will be resolved.
Attention! During an introductory consultation, a lawyer will answer the following questions:
How does the procedure for starting a medical business work?

How long does it take to do certain things?

What is the cost of legal services?

How do we advise to conduct the procedure?

If your question is more extensive - for example, it is related to other aspects (technical, accounting, tax), or if you need step-by-step instructions - we recommend ordering the "Road Map". The lawyer will analyze your exact case and provide a detailed algorithm of actions taking into account your wishes and needs. The cost of the "Road Map" is included in the price of obtaining a license, if you order it from us.
Duration of medical practice license obtainment
Average license is obtained within 1 month. In certain situations the license can be obtained faster - in two weeks.
Our services may include not only service of getting medical practice license but also a guarantee that the license won't be revoked during upcoming license inspection by controlling authorities.

By helping a Client to get medical or dental license, we are ready to add particiaption of our lawyers during next inspection of the Client by Ministry of Health of Ukraine. If the Clients license is revoked then we guarantee return of money or obtainment of a new license for free.

You must pay an official license fee additionally (one subsistence minimum).

Our company has a significant experience in the field of medical practice license. Large number of clients allowed us to single out licensing of dentists. This license has its a great many of peculiarities and is very popular among our clients.

We provide our service not only to private practitioners, but also to city hospitals and clinics which have a lot of medical and diagnostic specialties.

We can guarantee obtainment of a medical license during hearing of the nearest licensing commission of the Ministry of Health.
Before signing legal services agreement our lawyers need to receive the following documents:


copy of company/sole trader registration certificate;
copy of Sanitary and Epidemiologic Service certificate;
Copy physician's medical diploma and certificates.
Service packages offers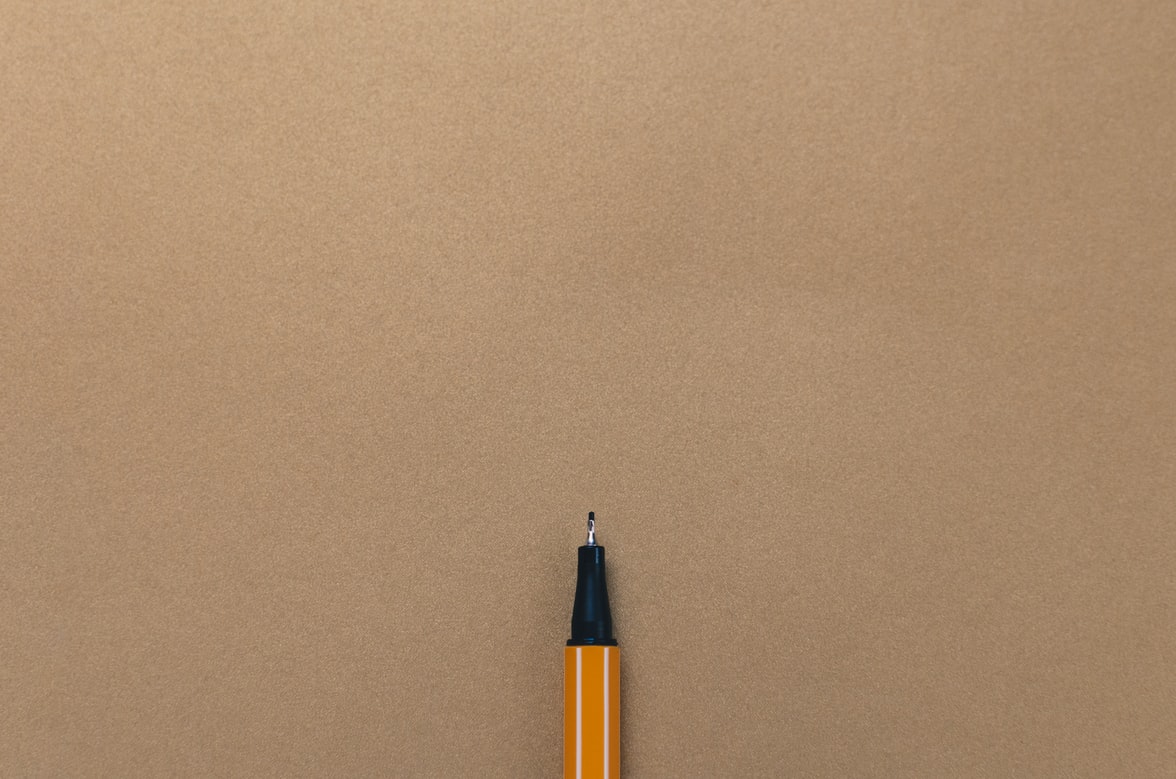 Standard
from 400 USD
For 1-2 specialties, provided all necessary documents are available:
Data analysis (by qualification, equipment, premises for medical practice)
Preparation of a package of documents at the Ministry of Health, filling out the application, information, description, in accordance with the established requirements
Submission of documents to the Ministry of Health
Decision monitoring and preparation of details for payment
*if necessary, we will help to obtain the SES Act for the premises. The cost of the service is from 800 USD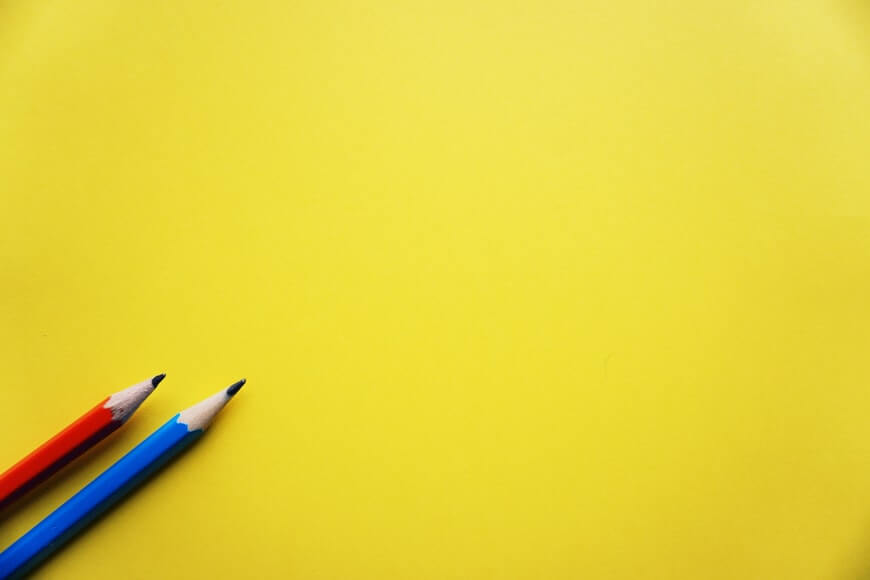 Standard +
from 600 USD
From 3 specialties.
Data analysis (by qualification, equipment, premises for medical practice)
Preparation of a package of documents at the Ministry of Health, filling out an application, information, description, etc.
Submission of documents to the Ministry of Health
Decision monitoring and preparation of details for payment
*
if necessary, we will help to obtain the SES Act for the premises. The cost of the service is from 800 USD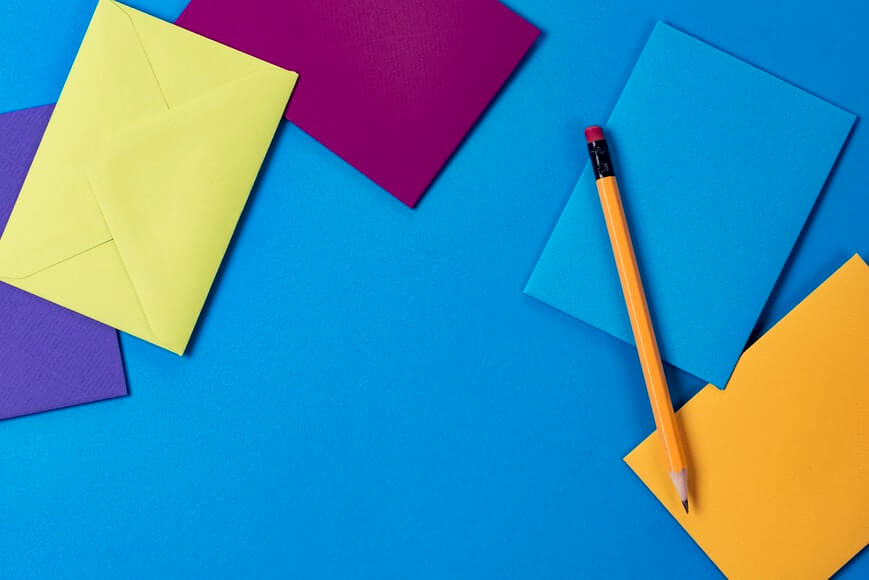 Alterations
from 400 USD
Data analysis (regarding qualifications, equipment, premises for medical practice)
Preparation of notification of changes and other documents at the Ministry of Health
Submission of documents to the Ministry of Health
Monitoring of changes
*
if necessary, we will help to obtain the SES Act for the premises. The cost of the service is from 800 USD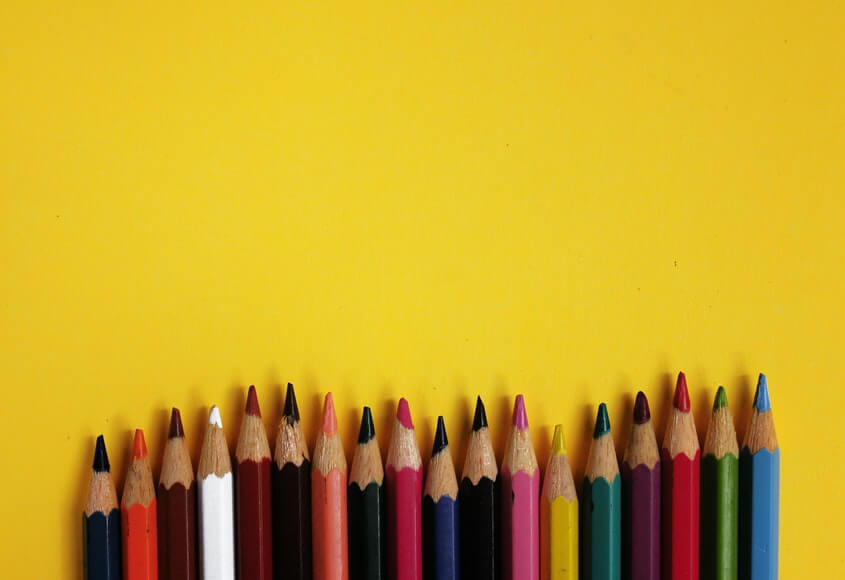 Business start
from 2000 USD
initial consultations regarding the vision of creating a business, choosing a form of business;
consultations on choosing a tax system, employment of personnel;preparation of a package of founding documents and registration support;
assistance and/or support in finding a room, preparation of a lease agreement, proposals for vacation rentals for the duration of repair works;
obtaining the SES Act for the premises;
supporting the preparation of documents for obtaining licenses;
assistance with the formation of a package of personnel documentation of the institution;
assistance with the search and registration of relations with the medical director of the institution;
development of the basic technical documentation of the medical institution (regulations on the medical board, contracts for the provision of medical services, templates for refusal to receive treatment, etc.)*.
*the amount of required documentation is set for each client separately, and affects the final cost of the package.
Cost of the medical license in Ukraine
The cost of a medical license with our lawyers depends on several factors:


a license is obtained by an individual entrepreneur or legal entity;
the specific medical specialties to be included in the license and their total number;
number of business addresses.
In addition, you pay an official payment to the state - one subsistence minimum for able-bodied persons, established at the time of submission of documents to the licensing authority (for January 2021 - UAH 2270, from 07/01/2021 - UAH 2379, and from 12/01/2021 - 2481 UAH).
Why us
Cost doesn't increase
The cost doesn't increase in the process.
13 years of experience
The comapny "Pravova dopomoga" has worked in legal field since 2006.
Effeciency
More than 30 institutions were licensed with our support in 2018. The most popular license is dental one.
Saving your time
After final approval all you have to do is sign documents and mail them to our lawyers.
Responsibility
Your documents will be thoroughly examined and drafted by our lawyers. It is very important because every inaccuracy can be considered as misleading of the Ministry. The liability for such mistake is revocation of a license and prohibition to submit documents again for a certain period of time.
For big and private institutions
We got licenses for both big medical institutions (city clinic with more than 30 specialties and more than 70 doctors) and for private medical practitioners (one specialty, one doctor).
We are ready to help you!
Contact us by mail [email protected] or by filling out the form:
The list of medical specialties and corresponding qualification requirements can be found in the Digest of qualification requirements of employees' professions (Issue no. 78 "Healthcare"). For example, not all dentists know that there are 6 different dental specialties that are subject to licensing, not one. The differences between specialties can be found in the Digest.

After getting a license medical institutions are supposed to pass the accreditation of medical institution which is held by the Ministry of Health of Ukraine (for legal entities). At the same time private licensed practitioners don't have this obligation.

The latest version of medical practice license regulations is dated March of 2016. We had written about it previosly.
Answers to frequently asked questions
Yeah, that's true. This license had been issued for 5 years before but now it doesn't have this validity term. At the same time unlimited status may be lost in order to license's revokation (own wish of licensee or infringement of Licensing regulations) or putting changes into the laws.
Yes, you can. The new Licensing regulations define an opportunity to get a medical practice for individuals without a medical education but only if this licensee hires medical personnel and also follows the Regulations.
There are two types of term: a legal one and a real one. A legal term will take 10 working days since the moment of submitting an application form. A real one is consisted of the prepared stage also. This stage includes incorporation process, getting a copy of Sanitary and Epidemiologic Service conclusion excerpt etc. You also should take into an account that there may be some remarks from the licensing state body. It also takes time and the process will last endlessy. If You decide to get a license with our help then the term is 1,5 months, including the prepared stage.
No, you can't. According to the laws a medical practice mustn't be hold without premises. So this activity won't be licensed. Even while outgoing examination a doctor must have his own cabinet which is in accordance with the sanitary requirements.
Advantages of getting a medical license with us:
more than 50 institutions were licensed with our support in 2016;
we got licenses not only for private but also for public medical institutions;
the current year has become more productive. Dental specialty is still one of the most popular and getting license for orthopedic and therapeutic dentistry are leaders in this category. State and municipal healthcare institutions refer for legal support more and more often. Also we license medical centers and infirmaries of summer camps for children, different companies, including businesses related to aviation and road transportation etc.
Your documents will bethoroughly examined and drafted by our lawyers. It is very important because every inaccuracy can be considered as misleading of the Ministry. The liability for such mistake is revocation of a license and prohibition to submit documents again for a certain period of time;
You will definitely save your time. The only thing you have to do is to approve the final drafts of documents and sign them;
the cost doesn't increase in the process.
Additional information: medical license lookup
Medical license grants the right to practice in particular premises (approved by several authorities) and within particular specialties (according to the Nomenclature of medical specialties). Medical practice license is issued for dentists (for a dental practice),dermatologists, operations with MRI and other.

A medical license is issued for unlimited term.

Applicant must have rented or own premises where medical activity will be held.

A lot of entrepreneurs want to know whether a medical practice is possible not according to their place of registration. They would like to conduct business activity in another city. Providing medical services is possible in a few places. At the same time you must coordinate every location with the Ministry of Health of Ukraine.

If You want to know about medical equipment for doctors' offices then you should read the order of the Ministry of Health no. 739. At the same time when speaking about equipment the Order of the Ministry of Health of Ukraine no. 158 dated the 11th of April 2005 is one of the most important documents for a dental license.

Conducting an economic activity of medical practice by a dental hygienist also has to be licensed. A hygienist provides a list of services which is the similar to the list of usual dentist, but simpler. Despite the fact that he uses almost the same medical, but methods are significantly decreased. Our company has a huge experience on getting licenses for dentists.

The procedure of getting a license for medical practice
When term, cost and procedure of license obtainment are agreed Client signs legal services agreement with our firm. Once the required documents are approved the Client:


issues power of attorney;
signes required documents.

Then our lawyers submit the documents to the Ministry of Health of Ukraine.

After receiving notification about positive result Client gets account details at the State Fiscal Service of Ukraine for paying an official license fee (the code of payment is 22011800).

If necessary, our lawyers can pay the official fee on behalf of the Client. In this case a Client just provides the necessary funds.

At the Client's request standard procedure of medical license obtainment can be changed to more convenient one (if possible).

Notification about changes in license documents/license reissuance Notifying Ministry of Health about changes in license documents arguably may be even more popular service than initial obtainment of license.

Such notification shouldn't be confused with license reissuance which can only take place when rights to private medical practice are inhereted.

The most popular changes are:


changing (adding or deleting) an address where medical practice is held/ or where a legal entity/individual is registered;
adding/replacement/stricking off doctors into or from the existing license;
submitting documents in accordance with the new form (after changing of licensing regulations).

Licensees should keep in mind that they have only one month for documents submission after the changes happened.

Forms of medical business structuring in Ukraine
Choice of the form of doing business is one of the first steps when You start medical business.

There are such forms as:


An individual (sole trader).
A legal entity (which can be in one of the forms listed below):
Limited Liability Company (LLC);
Private enterprise;
Joint-stock company;
Municipal company/state company;
Charitable organization;
Other types of legal entities.

Except organizational forms, legal entities must choose one or more healthcare institutions which will be considered their divisions:


Medical center;
Diagnostic center;
Medical and diagnostic center;
Infirmary;
Other types (the full list of institutions you can find here).

Some legal entities (it depends on their types of activity) can open infirmaries just for their workers. These infirmaries are not considered to be medical institutions.

It is possible to get a medical license not for a legal entity (LLC) but for a group of sole traders. They will conduct their activity according to the agreement of joint activity, for example.

Except multi-profile institutions, narrow-profile establishments are also very popular. For example, dermatovenereological, pediatric, ophthalmic hospitals call on our firm for getting licenses very often. It means that they will provide services only by one profile.

Licensing of conducting pre-travel and after-travel overview of drivers
The Licensing regulations also regulate the procedure of opening medical cabinets/points at enterprises. In particular, licensing of conducting pre-travel and after-travel overview of drivers is the most popular request.

In this case an enterprise gets a license for itself and sign labor agreements with medical personnel. It means that it is not established a separate healthcare institution. Medical services are provided only for workers of an enterprise.

You can read more detail information about opening of a medical point/cabinet in the article of our lawyer.

Putting several doctors into one cabinet
There are a lot of situations when a medical institution doesn't have enough necessary square meters or enough number of cabinets. In this case there is a question whether they can put several doctors of different specialties into one cabinet.

This option is possible because there are no clear requirements for putting doctors. It is legal to put them into one cabinet if there is a correct work schedule and all necessary equipment.

Dentists usually use this option, putting two or more specialists into one cabinet at one stomatologic chair and making a correct working schedule. As follows you can make the same with other doctors but keep in mind that there should be all necessary equipment for each of them.

Revocation/suspension of a medical license
Taking into account a considerable competition in the medical services market, an instable situation in eastern Ukraine and other business factors often require a temporary pause in work or a complete and permanent stop of performance.

Our lawyers regularly help to suspend a license in the following cases:


temporary impossibility of using the premises (including when moving to a new premises, if such a process requires a considerable amount of time);
temporary absence of medical staff, without which carrying out a medical practice is impossible;
from others, including personal reasons, which do not allow to conduct medical practice, however, do not exclude its continuation in the future.

The procedure on revocation of a medical license is used as well. The main reasons are:


permanent stop of performance of a medical practice;
a desire to obtain a new medical license;
a desire to avoid a verification of licensing authorities;
other reasons.

It is worth to note that the abovementioned messages should not be neglected, since a suspended or non-revocable license gives a full power of the licensing authority to carry out a verification of your business entity.

Meanwhile, if you revoke your license, the licensing authority will be properly warned, and even if on-site verification is still going to carry out for technical reasons, you will have reliable protection from it.

It should be kept in mind that if the verification is already determined to you, the license cannot be revoked by virtue law.

Revocation of the license by the licensee's own desire does not prevent the re-submitting for a new license. Such a method is chosen by enterprises, which once had a license, but at the moment neither documents, nor information provided at the initial obtainment of the license was saved, and it is easier to revoke the current license and submit for a new one. The benefits of such a revocation are:


time savings (instead of the procedure of changing that lasts longer than a month, in most cases, you can simultaneously submit an application for revocation and issuance of a new license, which is usually considered in 2-3 weeks);
licensees are obliged to keep all documents submitted for a license, therefore, in the case, when such documents are not kept due to the frequent change in management, lack of proper documentation etc., it is reasonably to revoke the license in order to avoid sanctions with possible verifications;
Getting a medical license without medical education
Nowadays every entrepreneur can get a medical license without medical education according to the new Licensing regulations. At the same time it doesn't mean that any individual has a right to treat people by himself. He must comply with the following requirements:


hire qualified personnel of specific specialties;
rent or own approved premises, equipment.

It should be noted that in the past only doctors could get this license.


As of today sole practitioners cannot do surgeries (except surgical dentistry). This is the main disadvantage to choose individual as a form of doing medical business.

We can help in obtaining process of various

medical license types.



For getting additional information and ordering the services call on our specialists.