Hazardous waste permit
Cost of services
Cost of services:
Negotiated
Hazardous Waste Management License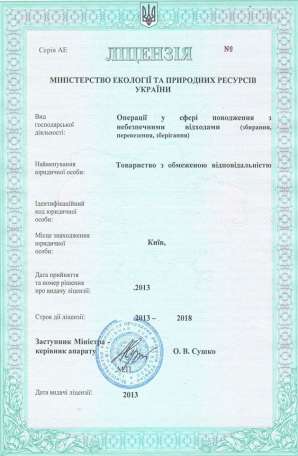 Reviews of our Clients
General Manager Stashkevych I.Y., LLC "Trading company" Rud"
We would like to indicate that law firm "Pravova Dopomoga" has become a reliable partner for legal services provision and we can recommend it as a team of qualified professionals who are easy and pleasant to deal with
G. Zeynep Kucuk, SANOVEL ILAC SAN. ve TIC. A.S.
Helped with the liquidation of a foreign representative office in Ukraine
Partner, Denis Y. Lysenko, Vasil Kisil & Partners
... we would like to express our respect and gratitude for the fruitful cooperation.
... our work on joint projects assured us of your high level of professionalism

General director I.Logvinenko , Bravo Airways
Bravo Airways company expresses its gratitude to law firm "Pravova Dopomoga" for high quality and timely provision of legal services.

L. Chervonyuk, LLC "Vitalux"
Vitalux company highly appreciates results of cooperation with Law firm "Pravova dopomoga", can characterize it as a reliable partner and based on personal experience is ready to recommend it to interested persons...
General director Skibinskiy V., Yokogawa Electric Ukraine Ltd.
Yokogawa Electric Ukraine Ltd. recommends Vladimir Gurlov and his team of lawyers as a reliable legal partner and advisor for foreign businesses in Ukraine...
Chief ophthalmologist of Ukraine, Oksana Vitovska, All-Ukrainian alliance of ophthalmologists
We would like to express sincere gratitute to the team of Law firm "Pravova dopomoga" and personally to Volodymyr Gurlov for professionalism and purposefulness in your work.
President Tedeev E.S., Ukrainian wrestling association
Ukrainian wrestling association would like to express its sincere appreciation to the team of Law firm "Pravova Dopomoga" for mutually beneficial cooperation
What we offer
Help the Clients to decide whether they need to obtain a Hazardous Waste Management License. If their activities are not subject to licensing, or if obtaining a license is not mandatory, we propose the best possible plan of actions;
If it is necessary to obtain the License, we advise the Client on procedural issues and necessary documents;
Fill in all the necessary documents and submit them to the licensing authority under the power of attorney granted by the Clients; the Client's personal presence is not required;
Provide legal support and assistance during the consideration of the documents by the licensing authority;
If any problems arise during the documents consideration, we are committed to address any of them.
Documents and information required for obtaining the Hazardous Waste Management License
List of documents
EDRPOU code of the company
Information on the waste types to be managed
Information on the types of waste management (collection, disposal, burial, etc.)
The list of documents required for obtaining the hazardous waste permit may vary depending on the type of waste to be managed and the types of activities (collection, disposal, burial, etc.). Therefore, the final list of documents is determined after consultation and clarification of the above information.

However, in any case, the Client shall provide the following documents:
scanned copies of documents certifying the ownership or right to use the sites and/or premises where activities related to waste management will be carried out;
Scanned copies of documents for the equipment to be used for waste management.
The cost of hazardous waste permit obtainment does not include the state fee for the License issue.

The state fee amounts to one minimum subsistence level for able-bodied persons (04.2020 - 2102UAH)
Why us
Our key goal is to meet the Client's needs, not just to get a License
Not all activities related to hazardous waste management shall be licensed. Sometimes Clients think they need to get a license, but in fact it is enough to conclude an agreement with another company that already has the Hazardous Waste Management License and transfer their waste to it. Unlike other law firms that work on the principle of "Do you want a license? Here's your license", we forecast the Clients' true needs.
We have extensive experience in the field of waste management regulation
To obtain the Hazardous Waste Management License, a company shall meet a number of criteria and obtain a number of certificates and permits. In particular, the Environmental Impact Assessment Report, the Permit for Air Pollutant Emissions, the State Sanitary and Epidemiological Certificate, etc. Our company can assist you not only in obtaining the License, but also in getting the necessary permits and certificates.
Мы готовы Вам помочь!
Свяжитесь с нами по почте [email protected], по номеру телефона +38 044 499 47 99 или заполнив форму:
Answers to frequently asked questions
You need to know their exact composition. And then look for these substances in section A of the Waste Yellow List. If they are not mentioned there, then they are not hazardous.
Only when hazardous waste management is the core activities of the company. If the waste is generated as a result of its activities (e.g. production), you can conclude an agreement with a professional hazardous waste disposal company.
Obtaining Hazardous Waste Management License
The current Law of Ukraine "On Waste" provides for preferential conditions for enterprises operating in the field of hazardous waste management, concerning the provision of credit products under a simplified scheme. At the same time, domestic enterprises can participate in public tenders. In order to gain preferential terms, it is necessary to comply with certain conditions and submit an application to local authorities for a permit in a timely manner.

Hazardous waste contains physical, chemical, biological and many other substances that have threats to humans and environment in general. Actually, they are dangerous for human organism. That is why hazardous waste management implies the use of special methods and auxiliary means. According to the law of Ukraine, the specified activity should be licensed and kept under close state control.

The licensing procedure involves obtaining a large number of official permits from regulatory authorities, conclusions and many other technical documentation. Thus, to obtain the license in the shortest possible time, it is recommended to contact competent specialists who possess the relevant legal (technical) experience and expertise.
How can we help you with hazardous waste permit obtainment?
Our extensive experience and expertise will be very useful in such a time-consuming process.

The lisense is issued for a period of 5 years. In order to obtain it, the applicant shall provide the regulatory authorities with a standard set of documents and pay the state fee in the amount of one minimum wage.

The key benefits of mutually beneficial cooperation with our law firm include:
Successful completion of complex and time-consuming licensing procedures;
Strict compliance with the procedures envisaged by law;
Absolute confidentiality (information will not be made available or disclosed to unauthorized persons);
We help our Clients to save time, nerves and energy, which they can spend on further dynamic development of their own business.
After signing the agreement with the Client, our specialists determine the list of necessary documents, elaborate the key details of the forthcoming cooperation. Then, we analyze and update the documentation to be further submitted to the licensing authority. Our company's experts always coordinate and supervise the documents at each stage of the licencing procedure. Then they receive the license form and deliver its original to the Client.

Our company's experienced specialists will provide comprehensive legal support and assistance, as well as represent the Client's interests in case of any inspection of the regulatory authorities. Call us!