The most important points for accreditation of healthcare establishment in Ukraine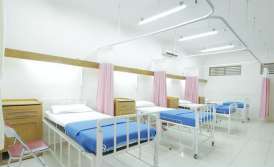 Medical establishments (legal entities) are obligated to undergo the procedure of accreditation by the Ministry of Healthcare of Ukraine upon 2 years of functioning.

We are not intended to highlight the general aspects of accreditation of a medical establishment (stages, rules on how to fill out the application form, required documents, terms etc.) since there already exists our article about these aspects.

Purpose of the material is to provide a reader with the following information:
evaluation of points after conduction of accreditation expertise;
number of points and ways to get them.
| | |
| --- | --- |
| ! | Some documents that are required for the successful completion of accreditation are available for downloading at the bottom of the page (in Ukrainian) |

So the highest score that an establishment can get during the accreditation expertise (hereinafter -expert evaluation) depends directly on the kind of medical care and type of the establishment.

A medical establishment can deliver primary, secondary and (or) tertiary medical care in accordance with permitted nomenclatures of medical specialties. The accreditation commission will consider these types of care when deciding whether or not to check some sections of the general list of standards.

Categories in which you can get points:
Click on any of the links above and download a document which will include information (in Ukrainian) about the particular documents, procedures, reports that one needs to get points.


In order to get ready for the accreditation expertise you will have to know the kind of care that is delivered by your medical establishment. You provided this information when obtaining the medical practice license (in clause 2 of the
form on material and technological base
).
Based on the nomenclature of medical specialties and specialization of a medical establishment it is necessary to figure out which sections of the standards will be subject to inspection and extent of the latter.


The maximum point that can be scored by a medical establishment based on the abovementioned criteria is considered to be 100%.

The amount of points that is given to you as the result of expert evaluation based of the abovementioned standards will be converted into percentage of the maximum amount of points.

The points (percentage) that are scored by a medical establishment allow it to receive one of the following accreditation categories:
the second (70-79,9%);
the first (80-89,9%);
higher (90% and more).

Lets exemplify the abovementioned information by a case from our practice
The maximum amount of points that can be scored by one of our Clients who currently undergo the accreditation procedure is 819 points.

Thus, if the institution scores less than 573 points, the accreditation commission of the Ministry of Healthcare of Ukraine will make the decision about denial of its accreditation. Moreover, the accreditation commission will be obligated to inform the licensing body about its decision within 10 days which most likely will result in unscheduled inspection of the institution.

At the same time, if the amount of points is greater than 573 the institution will receive a certain accreditation category based on the commission's decision. The accreditation categories include the second (573 to 654 points), the first (655 to 736 points) or higher (more than 737 points).

We understand that when facing the accreditation procedure you will be greatly concerned with preparation of documents that are necessary for the successful completion of the procedure.

This is why we provide our samples of some documents that may be useful for you (in Ukrainian):
You may find it useful to read the following materials: