Renewing security firm's info in licensing register in Ukraine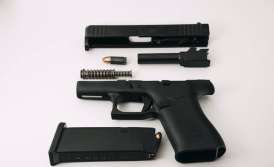 In January 2017, a Client contacted our company with a request to update the information contained in the license register. It was a security company, which changed its security specialist. And in accordance with Part 2 of Art. 15 of the Law of Ukraine "On licensing of types of economic activity", a business entity is obliged to inform the licensing authority of any changes in the information submitted upon receipt of the license, within the time period established by the licensing conditions, but no later than one month from the day such changes occur. The licensing conditions for the implementation of security activities also set a period of one month.
The lawyers of our company, for whom cases in the area of licensing security services are among the core ones, checked the information provided by the Client, conducted all the necessary consultations and promptly prepared documents for submission to the licensing authority. However, the Client was worried about the only question: how can he be sure that the licensing authority took note of his documents. It should be noted here that the licensing body should send a notification letter about the results of the consideration of documents. However, in practice, the Ministry does not do this. Moreover, when submitting documents to the licensing authority, its officers refuse to sign and put any other marks on the description of the documents, arguing that this is not provided for by applicable law. And although the position of the licensing authority for security activities is illegal, it is also characteristic of many other licensing bodies. In some of them, documents are generally received through the mailbox. That is, the licensee has no guarantee that his documents will be accepted into work, as there is no evidence of compliance with the requirements of the licensing conditions.
While a particular licensee has encountered these kinds of problems for the first time, our company, having had extensive practice in the area of legal support of security companies, has accumulated the whole spectrum of uncoordinated questions in this area and, of course, has been seeking and finding answers to them. The Client who contacted our company was insured against possible claims in the future, when conducting licensing checks, regarding non-compliance with the license conditions, since we did everything right.
We cannot rule out a situation where documents, or some of them may already be lost in the licensing body itself, therefore we do not recommend going the simplified way and submit documents without receiving evidence of this filing.
Our Client received a notice about the accession of documents to the materials of the licensing case and can be sure that his activities are conducted in full accordance with the applicable law.
We are ready to help you!
Contact us by mail [email protected], by phone number +38 044 499 47 99or by filling out the form: