Helped to draft employment contract with head of detail and obtain security license in Ukraine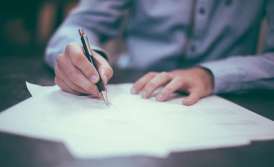 In June of 2017, our company was contacted by a Client who intended to obtain a Security License. The Client informed us that he had a person who, in his opinion, met the requirements for a security specialist. However, to make assurance doubly sure, the Client wanted to have his documents analyzed by specialists.

After the signing of the Legal Services Agreement with the Client, our specialists got down to business. Having analyzed the documents of the candidate for the position of a security specialist (hereinafter - the Specialist), it was concluded that he was really a right person. We informed the Client of our conclusion and advised him to conclude an Employment Agreement with the candidate. As far as the Employment Agreement concluded with the Specialist is one of the key documents to be submitted for obtaining the License, we asked the Client whether he needed our assistance in drafting the document. After having received an affirmative answer, we developed an Employment Agreement to be concluded by and between the Client and the Specialist.
Having reviewed the Agreement drafted by our lawyers, the Client admitted that he wouldn't handle it without our assistance. At first, he wanted to simply download a standard employment agreement from the Internet, but then he thought that as far as he applied for professional assistance in obtaining the Security License, all the documents should be drawn up properly, taking into account all the nuances and requirements of the law. So, the Client decided to request our specialists to draft the Employment Agreement.

It should be noted that the license regulations in the field of security activities do not set forth any requirements to the Employment Agreement to be concluded by and between the company and a security specialist. The license regulations set forth only the list of documents to be submitted to the licensing authority together with the license application. That is, according to the license regulations, the Employment Agreement shall be presented, no matter in what form. But at the same time, the Employment Agreement is a transaction subject to the Civil Code of Ukraine and the Labor Code of Ukraine. The degree to which the agreement is legally correct affect not only the outcome of the license procedure, but also further activities of the security company, in particular - the arrangement of employment relations with an employee.
Thus, the Client was doubly pleased, because we managed to obtain the Security License in the shortest possible time and laid the foundation for the legally correct functioning of his security company.
We are ready to help you!
Contact us by mail [email protected], by phone number +38 044 499 47 99or by filling out the form: