We have successfully registered an NGO in Ukraine within two weeks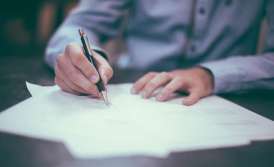 At the end of 2015 one of our Clients contacted us in regard to registration of an NGO (non-governmental organization) within shortest possible term.
According to the Client's wishes, no more than two weeks had to pass from the moment of signing the contract for the provision of legal services until the registration of the NGO in the Unified State Register. Moreover, no more than a week was allotted to our lawyers from the moment of signing the contract on the registration of an NGO in the Unified State Register, kept by the Ministry of Justice.
The deadlines were not dictated simply by the desire or a whim of the Client, but were associated with the need to judicially protect the interests of the industry of which our Client was a representative.
An NGO is a type of a public association, as well as a public organization, the founders of which can only be legal entities. This, of course, is a rarer form of registration of a public association than a public organization, and a limited number of law firms have got experience in getting them registered.
Work done to register an NGO
The lawyers of our company, at the time the Client contacted us, had already had experience in registering NGO's, so they took the challenge.
Within one day, we conducted analysis of the charter and minutes of the constituent assembly of the NGO, prepared by the Client; made the necessary changes and submitted them to the Client for approval. Our lawyers also developed an application for registration, statements about the governing bodies of the NGO, a power of attorney and other documents necessary for registration.
The main difficulty at the stage of preparing the documents was that during the constituent meeting the Client did not prepare the register of the meeting participants, as required by applicable law. Therefore, it was necessary to hold the constituent assembly of the NGO again.
The registration of the NGO with the judicial stice authorities and the state registration service took place within the timeframe expected by the Client: the judicial authorities - within one week; the state registration service - within three days. The main reason for success, we believe, is the high-quality preparation of a package of documents for registering an NGO, and no time wasted on finalizing and processing documents.
Eventually, our company received a certificate for the registered NGO on its listing in the register of non-profit organizations, which ended the provision of legal services for registering an NGO.
We are ready to help you!
Contact us by mail [email protected], by phone number +38 044 499 47 99or by filling out the form: