Adding vehicles to a transportation license
Cost of services:
from 16000 UAH
Standard +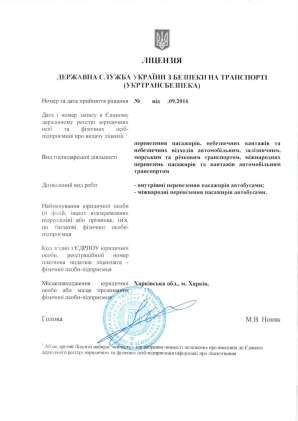 Reviews of our Clients
Director A. G. Starodub, LLC "Ukrainian Hotel Group"
... It is pleasant to note responsibility and accuracy during preparation and submission of documents, as well as attention to the Client's needs.
When opening a transportation company, few enterprisers start with a large fleet of vehicles. More common is the situation, when a business starts with one or two cars, and if things are going well the owner will buy additional vehicles. At the same time license for carriage of passengers or cargoes, which was originally received by such an enterpriser, does not usually undergo any changes in view of the addition / replacement of cars. In this publication we will review the main cases where changes to the license or license case need to be made, as well as sanctions for breach of the relevant requirements.
First of all, it needs to be explained that according to the resolution of the Cabinet of Ministers of Ukraine number 1001, which was adopted on 02.02.2015 and by means of which the license terms for transportation (hereafter – License terms) were approved, there are 9 types of transportation. Among them only part is within the territory of Ukraine:
Domestic transportation of passengers by taxi;
Domestic transportation of passengers by cars of category "B";
Domestic bus transportation;
Domestic transportation of hazardous materials.
Corresponding types of transportation are carried out in the international direction. In addition, there are also international transportations of regular cargo (not hazardous materials).
Changes within one type of transportation
The most common case is the addition of cars of the same category. For instance, a taxi services provider purchases new cars of category "B". In such a case, the license obtained by the enterpriser, does not change. At the same time, the enterpriser's license case is subject to changes. In accordance with the Law of Ukraine "On Licensing Types of Economic Activities", No. 222-VIII dated 02.03.2015 (hereafter - the Law on Licensing) the licensing authority is to be notified about all changes in the documents submitted with the initial licensing application. The licensee is obligated to make such notification within the period established by the license regulations.
One of the documents submitted for the issuance of a transport license is an information form about the vehicles where the licensee's vehicle fleet is listed. In addition, copies of vehicle registration certificates are also submitted to the licensing authority. Consequently, the addition of vehicles entails an obligation to notify State Service of Ukraine for Transport Safety, which is the licensing authority in the field of transportation.
For such a notification, the License Terms establish a term of 1 month from the moment of changes.
It is worth pointing out that this rule applies not only to expansion of the fleet, but also to replacement of one car with another or reduction of the number of vehicles.
Starting a new type of passenger or freight transportation
The addition of cars from other categories of transportation is quite common. An example would be a situation, when a bus carrier decides to purchase a car of category "B" with eight passenger seats and provide passenger transportation services using it in addition to the category "D" buses. In this instance, for the lawfulness of his work it will be necessary to file an application (and required documents) for license extension instead of notifying the licensing authority about changes as described above. In accordance with the Law on Licensing, the procedure of license extension almost fully repeats the procedure of a new license obtainment, including payment of an official fee to the state.
Therefore, the addition of vehicles which do not correspond with the current type of licensee requires a new license obtainment, which should stipulate both existing cars and those that are added.
At the same time, analysis of the language of the Law on Licensing in respect of license reduction (when the licensee does not have cars of a specific category) allows to conclude that the licensing authority handles such applications free of charge and under simplified procedure.



Licensing of trailers / other auxiliary motor and non-motor vehicles
Considering the conclusions stated above, many freight carriers often have a question if it is necessary to notify about new trailers and semi-trailers.Although they have their own registration certificates, in accordance with the Law of Ukraine "On Motor Vehicle Transport", No. 2344-III dated April 5, 2001 (hereafter referred to as the Law on Transport), they are not considered to be motor vehicles, and there is no requirement to notify authorities about their purchase. The matter is that according to the current licensing regulations in respect of freight carriage, the following types of transportation are licensed:
Internal ADR trucking;
International ADR trucking;
International trucking of regular cargo (NOT ADR);
The Law on Transport defines a truck as a vehicle intended for the carriage of cargo according to its construction and equipment, while the term "vehicle" is defined as a wheeled vehicle driven by a source of energy.Trailers and semi-trailers do not possess such properties, therefore the licensing authority does not accept documents for either obtaining a license or for its extension.
Likewise, it is not necessary to notify the licensing authority of other auxiliary vehicles, such as tractors etc.
Possible sanctions
In accordance with the Code of Ukraine on Administrative Offences, namely Article 164, a carrier who did not notify the licensing authority in time of changes in the license and / or did not extend the license is subject to punishment in the form of a fine in the amount of 17,000 to 34,000 hryvnia with possible seizure of the earnings and even vehicles. Also, the Law on Licensing, allows to revoke a license of an enterprise or a sole trader for such breach of the licensing legislation.
Conclusion
Therefore, in order to avoid possible negative situations, we advise you to familiarize with the license terms in advance or to reach out to the professionals, as by doing so you first of all acquire the confidence in steady work of your business.


We are ready to help you!
Contact us by mail

[email protected]

or by filling out the form:
We are ready to help you!
Contact us by mail [email protected] or by filling out the form: