Individual doctor's license
Cost of services:
from 16 000 UAH
1-2 specialties
from 16 000 UAH
Alteration
from 24 000 UAH
More than 3 specialties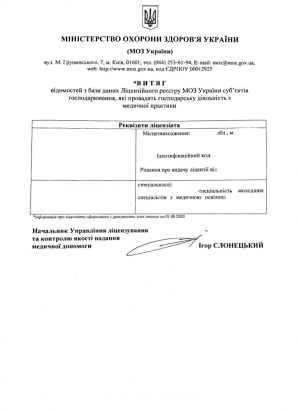 Reviews of our Clients
Director I. Garkusha, "Medyk" LLC
During provision of the services legal experts of the firm proved to be a professional team
Director L. Susenko, Medychni diagnostychi systemy LLC
We would like to express our appreciation to law firm "Pravova Dopomoga" for the provided services related to licensing of medical practice
I. Pruzhnyak , Sole trader I. Pruzhnyak
Despite complexity of licensing procedures, your lawyers got a positive decision about issuance of license for medical practice after the very first submission of documents...
Director S. Sokolova, LLC "Company"Nika-S"
Quick work of your lawyers allowed us to continue our medical practice without unnecessary breaks related to obtainment of the new license. Due to this we managed to avoid financial losses and continued providing high quality dental care services to our clients
Director A. Stelmakh, Private enterprise "ESTO"
We got consultations about organization of the medical center's work, formalization of labor relations with employees, legal regulations on use of different medical equipment...
N. Gorova, Sole trader N. Gorova
I want to recommend this firm to everyone, who wants to start his or her own medical practice...
S. Lyubynetskyi , Sole trader S. Lyubynetskyi
Without any recommendations I chose law firm "Pravova dopomoga" among all other companies on the market and not once did I regret my choice...
Director Mykhailo Bogdanovych Havrylyshyn, Kalush City Center of Primary Health Care
…we can confidently recommend the lawyers of Law firm «Pravova dopomoga» as reliable legal partners on the matters of medical practice licensing and other procedures related to the Ministry of Health of Ukraine.
Chief physician Romanyuk E.V., Municipal non-profit enterprise "Central district hospital of Busk"
... Having used the services of the Law Firm "Pravova dopomoga", we managed to solve our problems, as well as found a qualified and reliable partner.
As part of the medical reform, the Ministry of Health is initiating the introduction of a professional licensing procedure for doctors (also known as an individual medical license, hereinafter referred to as IL). Consonance with an existing license for medical practice gives rise to misunderstandings and numerous questions in the medical community, and therefore, in this material we will try to consider the preliminary concept note on professional licensing of doctors, which was submitted by the Ministry of Health on its official website.
The main issues that are most often posed in the market of medical services in relation to this topic are:
will the individual medical license replace the licenses for medical practice already issued by the Ministry of Health as of today and will it be necessary to renew the latter in accordance with the new licensing procedure?
what are the basic requirements for obtaining an individual medical license?
when will the requirement for individual licensing of doctors come into force?
What is an individual medical license and how does it compare with how medical practice is licensed today?
The initiative to introduce individual licensing is the result of the inefficiency of the current system of certification of doctors, and the name itself was chosen due to the availability of documents with the same name in many developed countries of the world. While the license for business activities in medical practice is aimed at ensuring the proper organizational and personnel requirements, as well as the material and technical base of the business (of a legal entity or a sole trader), an individual license should become a guarantee of compliance with the qualification and ethical standards of each individual doctor regardless of his/her place of work.
In other words, an individual license should replace today's certificates of a medical specialist and certificates of assignment of qualification categories. At the same time, an IL does not cancel the licensing of medical practice for sole traders and healthcare institutions, but only affects the qualification requirements stipulated by license conditions for business.
What are the main points to consider when obtaining an individual license?
To implement this concept, in addition to directly presenting the licensing procedure, a number of changes should be made in the medical education system. So, in addition to the traditional internship and KROK 3, after which today access to independent practice follows, the new concept provides for the introduction of an additional stage - residency, the duration of which will be determined by the Ministry of Health. In this regard, new professional licenses will be divided into 2 types:
limited licenses;
full licenses.
A limited license will be issued after the completion of KROK 3 and will have the following characteristics:
the procedure and treatment methods are established by the residency program;
a doctor with a limited license works under the supervision of a doctor with a full license, and all documents issued by the former must be certified by the signature of the latter.
In case of a successful completion of residency, the doctor is allowed to practice independently through obtaining a full license for a period of 3 years. License renewal is carried out through an appropriate decision of an independent body (Licensing Council) by submitting an online application. When continuing with a full license, the following will be taken into account:
continuous professional development of the doctor, which will consist of participating in workshops and other training events for which points will be assigned (to renew the license, the Ministry of Health will set a certain amount of points that the doctor will have to score);
doctor's medical practice history;
reputation (which, among other things, will be based on patient complaints).
When should a new licensing system be introduced and how will the transition process be organized for practicing physicians?
The project proposed by the Ministry of Health contains two main stages of the transition to licensing:
The transition phase, which should continue during 2018-2019. At this stage, the current form of certification of doctors will apply, including the assignment of qualification categories, however, a system of continuous professional development will be actively introduced. In addition, the regulatory framework for introducing professional licensing will be brought into compliance;

The introduction of licensing, which should begin in 2020. At the same time, doctors should be given a transitional period to pass the necessary exams before the end of 2024.
In regard to practicing doctors, the concept does not yet contain a definite solution. The following procedure seems most likely:
a development for doctors to pass an exam similar to KROK 3, but with a lower level of difficulty;

a 5-year period for exam preparation with 3 attempts to pass.
In case of failing the exam, the doctor is barred from practicing without completing an internship and passing a comprehensive "KROK 3".
Conclusions
To date, the transition to professional individual licensing of doctors is only at the project stage, and therefore its further fate is unknown. At the same time, the Ministry of Health is actively working in this direction, and therefore doctors need to be prepared for changes.
A license for professional medical practice will not cancel the license for medical practice, but will only become a prerequisite for obtaining the latter (in terms of qualifications of medical personnel of a healthcare institution or a sole trader).
For practicing doctors, a transition period and a somewhat simplified exam similar to KROK 3 will be introduced, but in the future the licensing procedure will be similar with the interns that have just finished their training.
The preparatory stage for the transition to the new certification system has already been launched and should continue until the end of 2019. Starting from 2020, practicing doctors will be given a transitional period to take their exams, and starting the end of 2024 the licensing system will work on a full scale and will completely cancel certification in its current form.
We are ready to help you!
Contact us by mail [email protected] or by filling out the form: