How to obtain Ukrainian citizenship for foreigners fighting for Ukraine?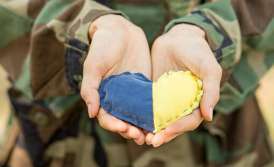 More and more foreign citizens come to Ukraine to join military service and defend our state. After the end of war, no matter what citizenship they have: Russia, Belarus, Afghanistan, Poland, Turkey or another country, they can all obtain Ukrainian citizenship.
A simplified procedure has already been developed for foreign servicemen in Ukraine. But, of course, in order to take advantage of it, there is an obligatory condition, namely recognition and compliance with the requirements of the laws and the Constitution of Ukraine.
Also the right to become citizens of Ukraine according to such procedure also have family members - wife (spouse) and minor children (up to 18 years old) of a foreign serviceman.
Please note that for children from 14 to 18 years old their consent to acquire Ukrainian citizenship is obligatory.
Persons who have committed crimes, including crimes against humanity or genocide will not be able to acquire Ukrainian citizenship. In this case it does not matter where such a crime was committed - in Ukraine or abroad.
However, with regard to foreigners who are in military service in Ukraine, this requirement does not always apply to them. For example, if a foreign citizen of Russia participated in the activities of defense and deterrence of armed violence of Russian Federation in Donetsk and Lugansk regions, then there is no requirement for information confirming absence of criminal record on the territory of Russia.
Our lawyers will help you to understand this question.
Interesting: Is it possible not to leave Ukraine while awaiting citizenship?
Procedure for obtaining Ukrainian citizenship for those who protect it
What documents do foreigners in military service need to provide to the bodies of the migration service?
First, it is a valid passport of a foreigner, as well as a certificate that the person is a member of the Armed Forces of Ukraine (serving) and a copy of the relevant contract.
Secondly, depending on the specific case it is:
A document that the person has resided in Ukraine for at least three years after entering into a contract of military service in the Armed Forces of Ukraine. For example, it may be a military ID card;

Copy of the document confirming that the person has been awarded any state award in Ukraine;

obligations to terminate foreign citizenship or the right to renounce the citizenship of a foreign state.
Please note that a person who obtained citizenship of Ukraine and submitted a declaration of renunciation of foreign citizenship is obliged to return the passport to the authorized bodies of the foreign state.
Attention, these documents are not needed:
knowledge of the national language,

permission for immigration,

confirmation of financial security for living in Ukraine.
The algorithm for obtaining citizenship for military foreigners is complex and of course that everyone has different situations, but our lawyers will help:
Find the best option for you;

Form a package of documents specifically for your case;

deal with the problems of surrender of foreign citizenship, including the return of the passport to the relevant authorities of a foreign country.
Attention! The Head of the state has already announced that legislation and regulations are being developed in addition, which will facilitate the acquisition of Ukrainian citizenship by foreigners, who have joined the armed forces and defend the independence of our state.
Our lawyers are tracing all changes concerning this question in order to be the first to offer you the easiest and the simplest algorithm of actions for receiving the Ukrainian passport.
Did not find an answer to your question?
All about obtaining Ukrainian citizenship here.
We are ready to help you!
Contact us by mail [email protected], by phone number +38 044 499 47 99or by filling out the form: