How to withdraw profit from real estate transactions for a non-resident from Ukraine?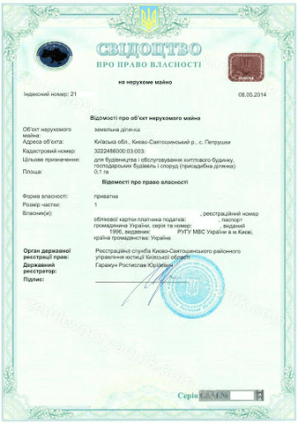 Reviews of our Clients
L. Chervonyuk, LLC "Vitalux"
Vitalux company highly appreciates results of cooperation with Law firm "Pravova dopomoga", can characterize it as a reliable partner and based on personal experience is ready to recommend it to interested persons...
Partner, Denis Y. Lysenko, Vasil Kisil & Partners
... we would like to express our respect and gratitude for the fruitful cooperation.
... our work on joint projects assured us of your high level of professionalism

G. Zeynep Kucuk, SANOVEL ILAC SAN. ve TIC. A.S.
Helped with the liquidation of a foreign representative office in Ukraine
General Manager Stashkevych I.Y., LLC "Trading company" Rud"
We would like to indicate that law firm "Pravova Dopomoga" has become a reliable partner for legal services provision and we can recommend it as a team of qualified professionals who are easy and pleasant to deal with
Chief ophthalmologist of Ukraine, Oksana Vitovska, All-Ukrainian alliance of ophthalmologists
We would like to express sincere gratitute to the team of Law firm "Pravova dopomoga" and personally to Volodymyr Gurlov for professionalism and purposefulness in your work.
General director I.Logvinenko , Bravo Airways
Bravo Airways company expresses its gratitude to law firm "Pravova Dopomoga" for high quality and timely provision of legal services.

President Tedeev E.S., Ukrainian wrestling association
Ukrainian wrestling association would like to express its sincere appreciation to the team of Law firm "Pravova Dopomoga" for mutually beneficial cooperation
General director Skibinskiy V., Yokogawa Electric Ukraine Ltd.
Yokogawa Electric Ukraine Ltd. recommends Vladimir Gurlov and his team of lawyers as a reliable legal partner and advisor for foreign businesses in Ukraine...
It wasn't that long ago that Ukrainian real estate became an investment vehicle for foreigners. According to some statistics, the share of foreign buyers in the Ukrainian real estate market is increasing every year.
This can be explained by the fact that the Ukrainian legislation practically does not restrict foreign nationals in the possibility of buying real estate. Foreigners, owners of real estate, have the right to dispose of it equally with Ukrainian citizens, namely: use the property, lease, donate, inherit, use as collateral, contribute to the authorized share capital, and sell.
Of course, the most common purpose of buying real estate is an investment in the future profit from its sale. It is important not only to be confident in the safety of the transaction when selling real estate, but also to understand in advance whether it will be possible to withdraw money from the sale of the apartment, and how to do it.
Let's consider below the algorithm of the profit withdrawal from Ukraine, as well as the check of Ukrainian banks, which a non-resident will face.
You may also like: General Real Estate Sale Procedure in Ukraine For a Foreigner
How to get ready for the sale of real estate in Ukraine and withdrawal of money abroad?
On the territory of Ukraine all monetary settlements related to real estate transactions must be made only in hryvnia.
Payments exceeding the amount of UAH 50,000 must be made by transferring money from the current account to the current account, i.e. non-cash settlement. In this case it is necessary to open a current account in a Ukrainian bank. In addition, non-residents planning to make a profit from investments in Ukraine will need to open an investment account.
The first step in preparing to sell real estate and withdraw the money abroad will be opening a current (investment) account by a non-resident in a Ukrainian bank. Such an account is not so difficult to open, but you need to know which bank is better to apply to, and which of the Ukrainian banks has extensive experience in working with foreign clients.
The bank opens a current account for a client in the following order:
The client (an individual) must show the bank employee his/her passport or other document confirming the identity.
In addition to the passport, the client must provide the bank with the data of the tax identification number (the TIN must be already issued to you, when buying an apartment).
The client fills out and signs an application for a current account.
The foreigner and the bank sign an Agreement on the opening and maintenance of the bank account.
In addition, the bank opens an account only after the financial monitoring of the client - primarily after identification and verification of the client.
Below we will elaborate on the identification and verification procedures, and consider other measures of financial monitoring that the banks may apply to non-residents when they deposit to and withdraw funds from the account.
You may also like: The Procedure of Notarial Execution of Documents in Real Estate Transactions
What is bank identification and verification?
The purpose of financial monitoring is to identify the client's income that may have been obtained illegally, as well as to prevent the financing of terrorism.
So, identification allows establishing the identity of the client on the basis of collected data about him/her, and verification allows to check the reliability of the data.
These procedures are conducted before you open a current account. At this stage our lawyers will be able to analyze and help you to prepare documents required for successful financial monitoring, as submitting documents for monitoring is an important factor in the subsequent withdrawal of money from the Ukrainian account.
Important: Personal presence of a non-resident is required for initial identification, i.e. a current account can't be opened for a non-resident by proxy. We ensure that you get prepared for account opening and monitoring, and develop a follow-up algorithm for your account operations.
For the purpose of financial monitoring, banks collect and check the following data.
For individuals:
last name, first name, patronymic (if any) and date of birth;
number and series of the document (passport) that certifies the client's identity and can be used on the territory of Ukraine for conclusion of official deals, and also the date of issue and the name of the issuing authority;
citizenship;
information on residence or place of temporary stay of the client in Ukraine.
For a foreign company:
the full name and location of the account;
details of the bank where the account is opened and the number of such account;
Information on the management bodies of the company;
Identification of the persons entitled to dispose of the accounts and property of the company.
For the purpose of verification, the bank must be provided with a copy of a legalized (apostilled and notarized) extract from the commercial, bank or court register, or a notarized registration certificate of the authorized body of the foreign country of registration of the company.
What is the result of client identification and verification?
Once banks have established and verified the identity of the client or the client's company, they qualify the client for financial transaction and business relationship risks.
In doing so, the banks apply a risk-based approach, through which they determine whether a given financial transaction has a risk of money laundering, etc. The banks then set the appropriate risk threshold for each financial transaction.
In case of the successful monitoring procedure, banks define the transaction as one with a low risk threshold. In this case the client is subject to a simplified verification procedure.
Please note! Banks now use the risk-based approach on a permanent basis and check all clients without exception.
Banks may set a high or unacceptably high risk level for financial operations, for example, depending on:
the country of registration, residence or stay of the client;
the geographic location of the financial institution through which the client transfers or receives funds.
Banks are required to set a high level (threshold) of risk for foreigners if the place of registration or location of the host bank is an offshore zone.
Banks will particularly closely monitor all financial transactions, which they may consider to be complex, unusually large, and for many other reasons.
Conclusion: Withdrawals from real estate sales are always subject to financial monitoring. You must be prepared for additional checks. And to pass them successfully, you must know what documents you must prepare, and how to pass financial monitoring without problems.
What additional documents can banks request from a citizen of a foreign country?
The success of financial monitoring and withdrawal of funds from Ukraine depends on the way the funds for the purchase of the object of sale (investment) were initially introduced into Ukraine.
Bank always carries out verification (documented) of the client's sources of funds on the basis of official documents.
Non-residents of Ukraine may confirm their sources by a copy of the tax statement with a stamp of the control body of a foreign state.
But you can also use other documents:
information about accrued wages;
documents on the income received from the sale of products, services provided;
documents on income from the sale of property;
documents on income from inheritance, etc.
There are no time limits for the documents.
What is an investment account and what is it for?
Investment account for non-residents is a current account in foreign currency or hryvnia, opened by a foreign investor in a Ukrainian bank for investment activity in Ukraine. For example, for purchase of real estate or for return of foreign investments and funds received from such activity in Ukraine.
Investment accounts can be opened both in hryvnia and currency. After opening such an account the non-resident can use it for returning the foreign investment and profit - for example from selling real estate.
Please note! If the money for the initial purchase of real estate was not transferred through an investment account, the bank may not credit the money from the sale of the real estate for transferring it to the client's foreign account.This requirement applies to all non-residents planning investment activity in Ukraine, irrespective of the amount of funds.
Please note! Such an account must be opened before buying real estate as an investment, and our lawyers will help you with this.
What to do if you did not have an investment account when purchasing an apartment?
In this case your status of being a resident of Ukraine at the moment of buying the apartment can play into your hands. So, if you were a resident (e.g. you had a Temporary Residence Permit), you were not required to have an investment account at the time of purchase.
But! You must open an investment account to withdraw funds.
In addition, when withdrawing money from Ukraine, banks will ask you for a certificate from the tax office or a declaration from the tax office of your country on your income for the last 3 years. As well as a certificate of currency transfers.
Depending on your situation, we will find the best solution and help you to withdraw funds in the most convenient way for you.
What is the risk of "wrong" deposit and withdrawal of funds from Ukraine?
Penalties in this case may be stopping of financial transactions or freezing of the client's assets without prior notice.
Therefore, answering the question of how non-residents can withdraw profits from real estate transactions from Ukraine with minimal risks, we recommend the following:
Deposit money through an investment account.
Submit only official and authentic documents to the bank for identification purposes.
Provide your complete and true data.
Even before opening an account at the bank, prepare documents to prove the sources of funds. If it is the proceeds from the sale of real estate, such a document will be the sale and purchase agreement.
Do not use the services of correspondent banks, the geographical location of which is in the list of offshore zones.
Carefully choose a foreign bank to act as a correspondent bank for your financial transaction.
Avoid "threshold" tranches of TUAH 400 and more (single amount).
Avoid complex schemes of financial transactions (money transfers) carried out by a single person.
Invest money in Ukraine in a transparent and legal manner.
Seek the assistance of lawyers for the correct execution and conduct of financial transactions and professional support of your investment activities.
We recommend that you seek the assistance of our lawyers for legal advice, analysis and preparation of all necessary documents, even if you are not sure that you have deposited money correctly.
We can assess all the risks and find the best way to resolve your problem.
Didn't find an answer to your question?
A foreigner's Guide for buying and Selling Real Estate in Ukraine here.
We are ready to help you!
Contact us by mail [email protected] or by filling out the form: