Non-standard reasons for refusal to issue a medical practice license
Cost of services:
from 16 000 UAH
1-2 specialties
from 16 000 UAH
Alteration
from 24 000 UAH
More than 3 specialties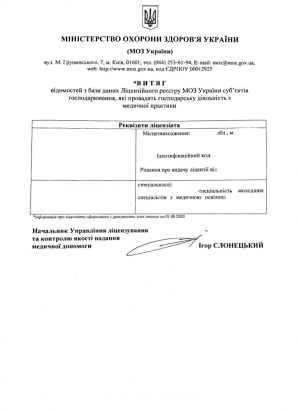 Reviews of our Clients
Director I. Garkusha, "Medyk" LLC
During provision of the services legal experts of the firm proved to be a professional team
Director L. Susenko, Medychni diagnostychi systemy LLC
We would like to express our appreciation to law firm "Pravova Dopomoga" for the provided services related to licensing of medical practice
I. Pruzhnyak , Sole trader I. Pruzhnyak
Despite complexity of licensing procedures, your lawyers got a positive decision about issuance of license for medical practice after the very first submission of documents...
Director S. Sokolova, LLC "Company"Nika-S"
Quick work of your lawyers allowed us to continue our medical practice without unnecessary breaks related to obtainment of the new license. Due to this we managed to avoid financial losses and continued providing high quality dental care services to our clients
Director A. Stelmakh, Private enterprise "ESTO"
We got consultations about organization of the medical center's work, formalization of labor relations with employees, legal regulations on use of different medical equipment...
N. Gorova, Sole trader N. Gorova
I want to recommend this firm to everyone, who wants to start his or her own medical practice...
S. Lyubynetskyi , Sole trader S. Lyubynetskyi
Without any recommendations I chose law firm "Pravova dopomoga" among all other companies on the market and not once did I regret my choice...
Director Mykhailo Bogdanovych Havrylyshyn, Kalush City Center of Primary Health Care
…we can confidently recommend the lawyers of Law firm «Pravova dopomoga» as reliable legal partners on the matters of medical practice licensing and other procedures related to the Ministry of Health of Ukraine.
Chief physician Romanyuk E.V., Municipal non-profit enterprise "Central district hospital of Busk"
... Having used the services of the Law Firm "Pravova dopomoga", we managed to solve our problems, as well as found a qualified and reliable partner.
Our firm often receives requests from the Clients who have already tried to obtain a medical license through their own effort, but repeatedly have got the refusal from the licensing authority.
So, among the reasons for refusing to issue a medical practice license, there may be fairly obvious reasons: the lack of doctors whose specialties are indicated in the list, and for which the Client wishes to obtain a license or the lack of mandatory equipment for doctors' rooms.
In this material, we will try to analyze the non-obvious, yet quite frequent reasons for the refusal to issue a license for medical practice, which entrepreneurs who wish to obtain it have faced.
Related article: Equipment in doctor's offices: what problems may arise?
Question of doubling up
When obtaining a license for medical practice, you must specify the information from the sole trader's or medical director's work record book, if the license is received by a healthcare institution, that is, a legal entity. In practice, the medical director usually works also as one of the doctors for whose specialty a license is obtained.
The reason for the refusal in this case may be the situation when the work record book contains a record of employment of a medical director, but there is no record that such a person will also work part-time as a doctor.
Related article: Can a person with a medical degree work as a junior specialist?
Registration of a sole trader
Today, a sole trader can also obtain a license for medical practice in Ukraine, even if he/she does not have a medical education degree, while ensuring that people with a medical education degree are employed by them. But before applying for a license, it is necessary to conduct state registration of a sole trader.
The reason for the refusal in this situation may be that the person first signs the necessary lease agreements for the premises, where he/she will carry out medical practice and submit documents for a license, and only then conduct a state registration of the sole trader.
Processing paperwork for a medical license
Before you sign the information that is submitted to obtain a license for medical practice, you must fulfill one more requirement of the licensing conditions, namely, number and sew together the files, as well as attest it with the signature of the head of the legal entity or the sole trader.
The reason for refusal in this case may be a plain lack of page numbering and the fact that documents have been submitted in an unsewn-together form and do not have the signature of an authorized person.
Related article: Preparation of documents for obtaining a medical practice license: what do you need to know?
Office Routine
The most licensed conditions do not provide for this, but the reason for the refusal may even be non-compliance with the Model Regulation on record keeping in ministries and other central executive bodies.
For example, you can get a refusal if the signature in the statements that are submitted to obtain the license is on the last page, on which there is only the signature itself, without a note that the person confirms the accuracy of the data specified in the information.
How to handle a registration of a medical license in Ukraine?
The procedure and preparation of the package of documents for obtaining a license for medical practice is clearly regulated and formalized, and therefore any inaccuracy or inconsistency in the preparation of the package of documents is the basis for refusing to issue a license.
If you have nevertheless decided to obtain a license for medical practice through your own effort , but got a refusal, it is better to try contacting specialists in this area. After all, they can give recommendations on eliminating the errors that have caused the refusal. Unfortunately, the licensing authority does not always indicate the reasons why they decided to refuse to issue a license, which means it's very difficult to figure it out on your own.
If you still have questions about the procedure for obtaining a medical license, or if you just want to receive a ready-made set of documents, please contact our specialists.
We are ready to help you!
Contact us by mail [email protected] or by filling out the form: