Restorative medicine. Features of licensing in the field
Cost of services:
from 16 000 UAH
1-2 specialties
from 16 000 UAH
Alteration
from 24 000 UAH
More than 3 specialties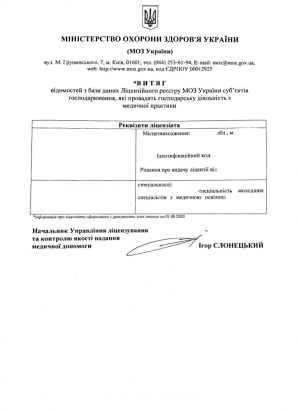 Reviews of our Clients
Director I. Garkusha, "Medyk" LLC
During provision of the services legal experts of the firm proved to be a professional team
Director L. Susenko, Medychni diagnostychi systemy LLC
We would like to express our appreciation to law firm "Pravova Dopomoga" for the provided services related to licensing of medical practice
I. Pruzhnyak , Sole trader I. Pruzhnyak
Despite complexity of licensing procedures, your lawyers got a positive decision about issuance of license for medical practice after the very first submission of documents...
Director S. Sokolova, LLC "Company"Nika-S"
Quick work of your lawyers allowed us to continue our medical practice without unnecessary breaks related to obtainment of the new license. Due to this we managed to avoid financial losses and continued providing high quality dental care services to our clients
Director A. Stelmakh, Private enterprise "ESTO"
We got consultations about organization of the medical center's work, formalization of labor relations with employees, legal regulations on use of different medical equipment...
N. Gorova, Sole trader N. Gorova
I want to recommend this firm to everyone, who wants to start his or her own medical practice...
S. Lyubynetskyi , Sole trader S. Lyubynetskyi
Without any recommendations I chose law firm "Pravova dopomoga" among all other companies on the market and not once did I regret my choice...
Director Mykhailo Bogdanovych Havrylyshyn, Kalush City Center of Primary Health Care
…we can confidently recommend the lawyers of Law firm «Pravova dopomoga» as reliable legal partners on the matters of medical practice licensing and other procedures related to the Ministry of Health of Ukraine.
Chief physician Romanyuk E.V., Municipal non-profit enterprise "Central district hospital of Busk"
... Having used the services of the Law Firm "Pravova dopomoga", we managed to solve our problems, as well as found a qualified and reliable partner.
Today there is a problem at the practical and legislative level, when a number of massage specialists, physical therapist and rehabilitation physicians increases every day, and some of them want to conduct medical practice on their own, but there is no applicable relevant legislative and procedural regulation of the process.
It is straightforward that most of these specialists are informally related to the field of restorative medicine, however, they are not considered as physicians; in addition, it is needed to understand the difference between employment opportunities after medical and physical education and qualification requirements for conducting such activities as this distinction is a key problem in the field.
Questioning
Against the background we decided to prepare the material in order to answer the following key questions:
Can people with physical education work in the field of restorative medicine?

What are the requirements for rehabilitation physicians and the place of their activities? How does it affect obtaining of license for a medical practice?

Does a license for a medical practice give the right to conduct rehabilitation activities, and how can such type of activity be legalized?

What is a legislative regulation of this type of activity?
In order to deal with this problem in detail, it is needed to explore the issue in accordance with the legislation and clarify some of its provisions. Order of the Ministry of Health of Ukraine number 195, which defines the list of specialties, on which a medical practice can be conducted, stipulates that a specialist with physical education is somebody, who can provide medical services. But is it a case or not?
Practical realization
In practice, this is not the case, because the same order stipulates that such activities can be conducted only in medical institutions, that is, you will not be able to register as a sole proprietor and obtain a license for a medical practice, as the Law of Ukraine "Fundamentals of the Legislation of Ukraine on Health Care" states that a medical institution is a legal entity of any form of ownership established for the purpose of providing medical care services of the population on the basis of the relevant license and having a medical staff.
The second problem is that the mentioned order is outdated and contradicts the Licensing conditions for conducting medical practice, since the requirements to all possible rehabilitation specialists is stated that they must have a Diploma in Medicine. Proceeding from the fact that the Licensing conditions is a newer regulatory act, the Ministry of Health of Ukraine still prefers to it, that is, we see another reason for the impossibility of licensing this type of activity.
In addition, there is a third, practical problem, as if it is necessary to make changes to a license for a medical practice, it will be impossible to add a physical specialist, because this is not a medical specialty, which also contradicts the Licensing conditions, which does not stipulate for the corresponding specialty and courses for improvement qualifications.
However, despite all these problems and deficiencies, it is a possibility of obtaining a special permit from the Ministry of Health of Ukraine as an alternative resolution of the problem.
In addition, the licensing authority is working on the development of new regulatory acts, which are more likely to legalize such activities fully and without problems.
Conclusions
As we see, there are a number of uncertain provisions and contradictions in legislation, however, before the Ministry of Health of Ukraine decides how to resolve this, we already know how to divide these zones of "medical" practice. Therefore, in case of additional questions, you can contact the lawyers of our firm and they will advise you on how to conduct such activities absolutely legally and correctly.
We are ready to help you!
Contact us by mail [email protected] or by filling out the form: