Corporate agreement: by whom and why is it concluded
Cost of services:
from 9000 UAH
Cost for LLC's registration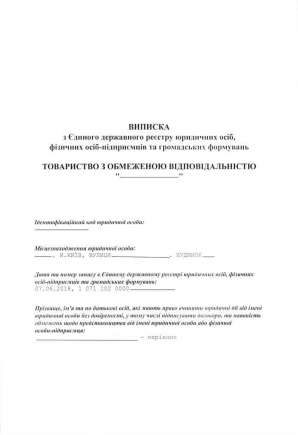 Reviews of our Clients
Founder and Chief Editor M. Aristov , "Geoprofil" magazine
We would like to recommend this firm which provides legal services professionally and in a timely manner
Director V. Kovernyk, LLC "Company "VNA"
We highly appreciate quality of your work in regard to minimization of legal risks for our business as well as your ability to deal with controversial situations arising from interaction with controlling authorities
Director S. Astashev, LLC "Company "Biznes proekt"
Our experience of work with you in the field of litigation, tax consultations, registration of legal entities and others showed that you can be entrusted not only with ordinary projects but also with those that require creativeness in protection of interests
Prior to establishing a business, partners often wish to formalize their agreements on how they will manage the future company and promptly address any emerging issues. The concept of a corporate agreement was recently introduced into legislation, so it has become a fairly common practice.
A corporate agreement is a written arrangement among participants in a business entity (LLC/JSC) in which they commit to exercising their rights and authority in a specific manner or refraining from doing so.
Essentially, it is a contract entered into by future members (shareholders) of a company before its establishment, enabling them to discuss matters related to its creation and future management.
In Ukraine, this legal instrument is relatively new and was not extensively regulated at the legislative level until the enactment of the Law on Limited and Additional Liability Companies in 2018.
In Ukraine, when it comes to resolving corporate disputes, courts used to approach such agreements with skepticism, sometimes even prohibiting the use of specific terms in their formation. This, to some extent, limited the rights of shareholders (see the recommendations of the Higher Commercial Court of Ukraine dated December 28, 2007, No. 04-5/14, and the resolution of the Plenum of the Supreme Court of Ukraine dated October 24, 2008, No. 13).
As a result, the recent changes introduced into the existing corporate legislation in recent years are of utmost importance for the implementation of a corporate agreement. At present, this agreement can be fully employed by investors within the legal framework of Ukraine. We will elucidate how to achieve this and who stands to benefit from it.
You may also like: Alternative Payment Methods for Business in Ukraine
What issues can be resolved through a corporate agreement?
Typically, a corporate agreement is established during the formation of commercial entities, specifically Limited Liability Companies (LLCs) or Joint Stock Companies (JSCs) that issue corporate rights. This aligns with international legal practices where creating such a document is a common occurrence.
Such an agreement can be highly advantageous when launching a new business and foreseeing potential future disputes. For example, in cases where the partnership within the company is evenly split at 50-50, it inherently carries certain management risks, as critical decisions cannot be made without the unanimous agreement of all partners. Likewise, if there is a question concerning the sale of an investor's stake, it is highly likely to impact the overall business project and may incite conflicts among participants. All of these aspects can be proactively addressed through a meticulously structured corporate agreement.
The list below is not exhaustive and includes various aspects of a future business's operations that can be regulated through a corporate agreement:
Governance of the company.
Financing of the company.
Dividend distribution.
Voting procedures for specific matters.
Mandatory sale of shares or stakes in certain situations (including through irrevocable proxies).
Distribution of assets upon liquidation.
Resolution of disputes (deadlock situations).
And more.
At times, a corporate agreement proves useful in addressing the specific preferences of shareholders. In one instance within the company's practice, a newly established holding company focused on metal scrap processing. The partners insisted on the mandatory simultaneous signing of all operational documents by both the General Director and the Chief Financial Officer, a practice not commonly observed in Ukrainian companies. The intricacies of such interactions were delineated in the previously executed corporate agreement among the partners.
Another case from the company's experience underscores the challenges a business can encounter without formalizing corporate relationships. For example, a year after the formation of an LLC, one of the partners expressed a desire to exit the company and attempted to withdraw a portion of their investment. Unfortunately, the company's charter did not include provisions for an exit procedure for members, leading to a significant corporate conflict between the partners. It's worth noting that if they had entered into a corporate agreement beforehand, this issue could have been swiftly resolved.
You may also like: Corporate Relations Among LLC Members in Ukraine
What can we offer?
The formation of a corporate agreement can significantly bolster the legal framework of your upcoming business venture, setting forth precise and comprehensive understandings among its stakeholders from its initial phases.
It's important to note that drafting such an agreement necessitates expertise in corporate law, which often includes international experience, along with a firm grasp of commercial and civil law. Given these complexities, crafting such an agreement without professional legal guidance can be impractical.
Our company offers a range of services for creating and formalizing these agreements, tailored to your specific circumstances and needs. If you require assistance, please do not hesitate to contact us. We're here to help.
Our services include:
Participation in mediating negotiations between partners before the contract's execution.
Drafting the contract.
Organizing the contract signing and notarization.
Providing consultation services for the contract's subsequent implementation.
Making amendments to the contract and addressing issues related to its termination.
We offer assistance not only in preparing and drafting corporate agreements but also in planning, structuring, and launching your business in Ukraine.
Please contact our specialists for the cost of our services. We've designed a personalized service package tailored to your specific goals and needs in Ukraine.
We are ready to help you!
Contact us by mail [email protected] or by filling out the form: