Obtained license for gynecologic and ultrasound medical office in Kiev
Cost of services:
from 16 000 UAH
1-2 specialties
from 16 000 UAH
Alteration
from 24 000 UAH
More than 3 specialties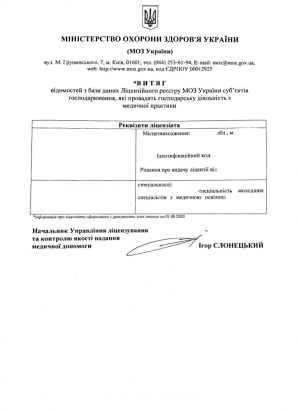 Reviews of our Clients
Director I. Garkusha, "Medyk" LLC
During provision of the services legal experts of the firm proved to be a professional team
Director L. Susenko, Medychni diagnostychi systemy LLC
We would like to express our appreciation to law firm "Pravova Dopomoga" for the provided services related to licensing of medical practice
I. Pruzhnyak , Sole trader I. Pruzhnyak
Despite complexity of licensing procedures, your lawyers got a positive decision about issuance of license for medical practice after the very first submission of documents...
Director S. Sokolova, LLC "Company"Nika-S"
Quick work of your lawyers allowed us to continue our medical practice without unnecessary breaks related to obtainment of the new license. Due to this we managed to avoid financial losses and continued providing high quality dental care services to our clients
Director A. Stelmakh, Private enterprise "ESTO"
We got consultations about organization of the medical center's work, formalization of labor relations with employees, legal regulations on use of different medical equipment...
N. Gorova, Sole trader N. Gorova
I want to recommend this firm to everyone, who wants to start his or her own medical practice...
S. Lyubynetskyi , Sole trader S. Lyubynetskyi
Without any recommendations I chose law firm "Pravova dopomoga" among all other companies on the market and not once did I regret my choice...
Director Mykhailo Bogdanovych Havrylyshyn, Kalush City Center of Primary Health Care
…we can confidently recommend the lawyers of Law firm «Pravova dopomoga» as reliable legal partners on the matters of medical practice licensing and other procedures related to the Ministry of Health of Ukraine.
Chief physician Romanyuk E.V., Municipal non-profit enterprise "Central district hospital of Busk"
... Having used the services of the Law Firm "Pravova dopomoga", we managed to solve our problems, as well as found a qualified and reliable partner.
In November of 2016, our lawyers of medical and pharmaceutical law practice were contacted by a Client who intended to open a medical center in Kyiv and practice medicine under such specialties, as ultrasound diagnostics and obstetrics, and gynecology, including prenatal care.

As in most cases of our cooperation with the Clients wishing to obtain a Medical License in Kyiv or other region of Ukraine, we divided our work into two stages, namely, the consultation stage and the stage of the documents development and legal support at the licensing authority, namely, the Ministry of Health of Ukraine.
At the time of contacting our law firm, the Client had some understanding of the functioning and structuring of the medical business, which was largely based on the old license regulations that ceased to be in force almost a year ago. You can find more information about the key innovations in the license regulations in our News section. That is why, after having been notified of the Client's needs, our specialists advised him to register as an individual entrepreneur and obtain a Medical License for a individual entrepreneur, instead of setting up a limited liability company and open a medical center on its basis, since this option, with minimal disadvantages, was much more advantageous.
Since at the time of contacting our company, the Client already had premises, which met all sanitary norms, and obtained the Sanitary and Epidemiological Conclusion certifying the conformity of the premises, following the consultation stage and registration of the individual entrepreneur, our lawyers proceeded directly to obtaining of the Medical License for the medical office of the gynecologist and ultrasound doctor.
Thus, our specialists analyzed the documents provided by the Client and properly filled in the statements on the material resources and qualifications of health care workers, as well as other supporting documents. This allowed us to get a positive decision on the issuance of the Medical License in the shortest possible time, so that the Client could start its business activities before the New Year holidays.
It should be added that at the time of receipt of the positive decision in December, our lawyers also helped the Client to pay the official license fee in the amount of one minimum wage: they obtained the bank details of the local budget, made a payment on behalf of the Client and submitted a payment document to the licensing authority.
You can find more information about the procedure for obtaining the Medical License in Kyiv or other region of Ukraine on Our Services page.
We are ready to help you!
Contact us by mail [email protected] or by filling out the form: