We've obtained medical license for a medical center and its 4 branches
Cost of services:
from 16 000 UAH
1-2 specialties
from 16 000 UAH
Alteration
from 24 000 UAH
More than 3 specialties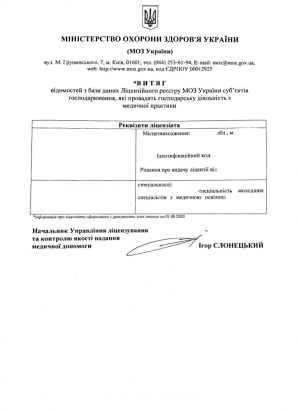 Reviews of our Clients
Director I. Garkusha, "Medyk" LLC
During provision of the services legal experts of the firm proved to be a professional team
Director L. Susenko, Medychni diagnostychi systemy LLC
We would like to express our appreciation to law firm "Pravova Dopomoga" for the provided services related to licensing of medical practice
I. Pruzhnyak , Sole trader I. Pruzhnyak
Despite complexity of licensing procedures, your lawyers got a positive decision about issuance of license for medical practice after the very first submission of documents...
Director S. Sokolova, LLC "Company"Nika-S"
Quick work of your lawyers allowed us to continue our medical practice without unnecessary breaks related to obtainment of the new license. Due to this we managed to avoid financial losses and continued providing high quality dental care services to our clients
Director A. Stelmakh, Private enterprise "ESTO"
We got consultations about organization of the medical center's work, formalization of labor relations with employees, legal regulations on use of different medical equipment...
N. Gorova, Sole trader N. Gorova
I want to recommend this firm to everyone, who wants to start his or her own medical practice...
S. Lyubynetskyi , Sole trader S. Lyubynetskyi
Without any recommendations I chose law firm "Pravova dopomoga" among all other companies on the market and not once did I regret my choice...
Director Mykhailo Bogdanovych Havrylyshyn, Kalush City Center of Primary Health Care
…we can confidently recommend the lawyers of Law firm «Pravova dopomoga» as reliable legal partners on the matters of medical practice licensing and other procedures related to the Ministry of Health of Ukraine.
Chief physician Romanyuk E.V., Municipal non-profit enterprise "Central district hospital of Busk"
... Having used the services of the Law Firm "Pravova dopomoga", we managed to solve our problems, as well as found a qualified and reliable partner.
Preparation of proper documents for medical practice license
We were addressed by the head of a medical center in Ukraine which was unable to obtain a license for medical practice as well as copies of license for its 4 branch offices for more than 4 months.

As of the moment when the Client requested our assistance he had already received 4 denials from the Ministry of Healthcare of Ukraine.

The center had suffered significant losses for the time of license absence: five completely equipped premises and medical staff couldn't conduct their activities.

So our goal was to ensure the quickest possible obtainment of license for the center and copies for the branch offices.

Lawyers of our firm examined all the versions of documents that had been previously submitted to the Ministry of Healthcare of Ukraine as well as the Ministry's denials.

Despite the fact that denials of the Ministry provided different wordings it became clear that the key problem was formalization of branch offices of the center (requirements regarding formalization of branch offices of medical establishments were amended along with license terms for conduction of medical practice in January of 2013).

Our lawyers assisted with proper formalization of branch offices of the medical center as well as corrected a number of less significant mistakes in license documents:
formalized documents about material and technical basis in a proper manner;
complemented the list of standardization documents;
corrected technical mistakes in filled out documents on employees.
New documents along with an application were submitted to the Ministry of Healthcare of Ukraine and the very next commission made the decision to issue the license for the medical center and 4 copies of the license for branch offices of the center.
We are ready to help you!
Contact us by mail [email protected] or by filling out the form: