Organized an opening of the massage room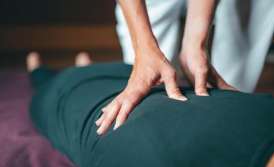 This article will be useful for:
doctors who intend to run private practice (as a main work or supplemental job)

entrepreneurs who want to open a therapeutic massage salon.
A client - an entrepreneur from Zhytomyr - contacted our firm in the summer of 2018. He worked in the field of IT, and because of such a long sedentary job, the locomotor system suffers. Therefore, the client decided to prevent negative consequences for people leading a sedentary lifestyle. He had a desire to invest in the opening of a massage room. Namely, such a room, which specializes in massage and other non-surgical methods of treating the back.
Since the client did not have a medical education and experience in running a medical business, he had a number of questions:
Is it need to have a license or other permission documentation for such an activity?

Is it possible to obtain a license for his sole proprietorship if there is no specialized medical education? Is it need to register an LLC / other legal entity;

what are the requirements for the room and the masseurs?

what else should be paid attention to in order to obtain a license for a medical room?

requirements for advertising such a business.
Our lawyers analyzed documents of the client and listened to his vision of conducting the business.
And, taking this into consideration, we developed a plan of actions for organizing a therapeutic massage room:
obtain a license for wage fund with the help of hiring medical staff;

hire medical staff of doctors rather than junior medical staff in virtue of specificity of the services, which were planned to be provided;

divide informational advertising materials into those, which are required by the Ministry of Health of Ukraine (a licensing authority) and those that can be used additionally (without violating advertising and medical legislation)

obtain a license for one medical room with waiting and treatment rooms (directly a massage room). In the future, the room can be used for other specialists of various medical profiles, this does not require large expenses on alterations and the search for additional premises.



However, our lawyers had such difficulties in the process of opening of the massage room:
in case of remote work format, it is difficult to analyze options for the premises to organize the massage room and support an obtainment of a Certificate of Sanitary and Epidemiological Service (SES certificate)

selection and agreement on qualified staff, since the client's room was located in a small settlement;

selection of equipment, which would comply with both a list of equipment approved by the Ministry of Health of Ukraine and needs of the room.
Since a significant amount of work was done remotely (by the client according to the recommendations of our lawyers), a main attention was paid to clearly get a message across to the client regarding order and features of communication with the relevant state authorities and so forth.
Additionally, we had to perform several tasks in parallel, which significantly accelerated the final result (for instance, we selected and agreed on staff at the stage of renovations to the premises and obtaining of the Certificate of Sanitary and Epidemiological Service (SES certificate)).
It was important to take into consideration the client's plans for expanding services so that it would be possible to scale up the business in a simplified manner in the future (for instance, obtaining the Certificate of Sanitary and Epidemiological Service for a number of other specialties, which were only planned to be added to the license).
What did we achieve?
Were able to choose an optimal business form for the client, thereby minimizing expenses and efforts to administrate the business.

Helped to choose a universal medical specialty, for which the relevant medical worker was selected.

Conducted a comprehensive advice on related issues of tax law, advertising legislation, and so forth. Consequently, the massage room is ready to work without extra expenses in time and finances and with the prospect for further development.
If you plan to open an room for private medical practice, call!
We are ready to help you!
Contact us by mail [email protected], by phone number +38 044 499 47 99or by filling out the form:
We are ready to help you!
Contact us by mail [email protected], by phone number +38 044 499 47 99or by filling out the form: