Helped our client to get license to practice medicine in Ukraine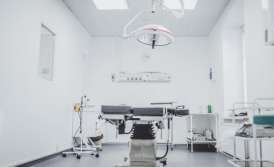 License for two medical diagnostic specialties
At the beginning of 2016, our licensing department for medical practice received a request from a sole trader to obtain a license for medical practice in two medical specialties, namely cardiology and functional diagnostics. Also, under this license, nursing was licensed, because our Client needed the help of nursing staff in his work.
Services for obtaining a medical license were provided in several stages. The first was the consultation stage, during which our lawyers provided their legal advice on the list of necessary documents, including the preparation of a conclusion of the sanitary-epidemiological examination. Since the Client was from Khmelnitsky region, and our company provides services for obtaining a license for medical practice in Kiev, he had to receive the SES (Sanitary Epidemiological Service) conclusion in person, but under the constant supervision of our lawyers, which allowed us to get the document as quickly as possible and without errors.
At the time of receiving a copy of the conclusion of the Sanitary Epidemiological Service, our employees had already collected the entire package of documents and filled out statements on the availability of material resources (the premises and its compliance with the standards, devices and medical equipment in accordance with the specifics of medical specialties), statements on normative acts and accounting and statistical forms , statements on the qualifications of our Client in cardiology and functional diagnostics, as well as on the qualifications of a nurse.
As soon as the statements were signed by the Client and sent to us by courier delivery, our lawyers submitted them to the licensing authority for consideration. This work procedure is most convenient for Clients who do not live in Kiev or in the immediate vicinity of the city, especially if they are still working in a hospital or with another sole trader in the process of obtaining a license.
Applications and attached documents were considered at the very first commission of the Ministry of Health, which decided positively on issuing a license.
The process of paying the official fee was also accompanied by our lawyers, which in turn, expedited the receipt of the original form of a license for medical practice.
We are ready to help you!
Contact us by mail [email protected] or by filling out the form: