Obtained medical license for ultrasonography doctor in Ukraine
Cost of services:
from 16 000 UAH
1-2 specialties
from 16 000 UAH
Alteration
from 24 000 UAH
More than 3 specialties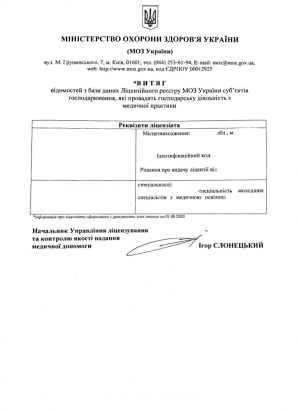 Reviews of our Clients
Director I. Garkusha, "Medyk" LLC
During provision of the services legal experts of the firm proved to be a professional team
Director L. Susenko, Medychni diagnostychi systemy LLC
We would like to express our appreciation to law firm "Pravova Dopomoga" for the provided services related to licensing of medical practice
I. Pruzhnyak , Sole trader I. Pruzhnyak
Despite complexity of licensing procedures, your lawyers got a positive decision about issuance of license for medical practice after the very first submission of documents...
Director S. Sokolova, LLC "Company"Nika-S"
Quick work of your lawyers allowed us to continue our medical practice without unnecessary breaks related to obtainment of the new license. Due to this we managed to avoid financial losses and continued providing high quality dental care services to our clients
Director A. Stelmakh, Private enterprise "ESTO"
We got consultations about organization of the medical center's work, formalization of labor relations with employees, legal regulations on use of different medical equipment...
N. Gorova, Sole trader N. Gorova
I want to recommend this firm to everyone, who wants to start his or her own medical practice...
S. Lyubynetskyi , Sole trader S. Lyubynetskyi
Without any recommendations I chose law firm "Pravova dopomoga" among all other companies on the market and not once did I regret my choice...
Director Mykhailo Bogdanovych Havrylyshyn, Kalush City Center of Primary Health Care
…we can confidently recommend the lawyers of Law firm «Pravova dopomoga» as reliable legal partners on the matters of medical practice licensing and other procedures related to the Ministry of Health of Ukraine.
Chief physician Romanyuk E.V., Municipal non-profit enterprise "Central district hospital of Busk"
... Having used the services of the Law Firm "Pravova dopomoga", we managed to solve our problems, as well as found a qualified and reliable partner.
Licensing of diagnostic sonography practitioners
In October 2014, a sole trader from Vinnitsa region, who intended to carry out medical practice in ultrasound diagnostics and needed legal support to obtain a license for a doctor's office, contacted our law firm.
Prior to seeking the help of lawyers, this sole trader had tried for a long time to obtain a medical license on his own, however, a significant amount of information to be submitted by a licensee to the Ministry of Health as well as various nuances of filling it out, made it impossible to obtain a license without qualified assistance.
The situation our Client found themselves in was further complicated by the fact that delays in obtaining a license for medical practice caused concerns of the lessor of the premises of the medical office in a local hospital, and they expressed their intention to terminate the lease agreement previously concluded. That is why our lawyers were faced with the challenge of obtaining a license within the minimum period of time.
Based on the information provided by the Client, our lawyers helped fill out statements on the availability of the facilities and resources of the ultrasound doctor's office, the availability of regulatory acts, including reporting forms, which are necessary for medical practice in this specialty, as well as information about the educational and qualification level and work experience in the specialty. A separate point in working with this Client was consulting on the equipment and medical devices available in their medical office, among which special emphasis was made on the main kind of the diagnostic equipment, namely the ultrasound diagnostic apparatus.
Our medical law practitioners studied the compliance of the licensee's office premises with state building and sanitary standards, and also helped in obtaining a sanitary and epidemiological examination certificate that would meet all applicable statutory requirements.
Our Client was also wondering whether a break of several years in carrying out their medical practice would be an obstacle in order to obtain a license from the Ministry of Health for a private practice. After looking into the norms of the current labor and medical legislation, our lawyers explained to the Client that in this case the continuity of activity was not required, and the absence of several years of experience did not affect the compliance of the Client's qualification level with the requirements of the licensing requirements of the Ministry of Health of Ukraine.
Since the licensing authority is located in Kyiv, the documents were delivered to our office by a courier and submitted by our lawyers by a power of attorney from the Client, which saved the time spent on the preparation process.
The decision to issue a license was received after the first submission of documents. After making all official payments to the budget and submitting payment documents in confirmation of the fact of payment, the Client arrived in Kyiv in order to obtain a license in the Single Window of the Ministry of Health of Ukraine. The fact is that a sole trader can obtain licenses for medical practice only in person. You can read more about the requirements of the Ministry of Health on obtaining a license in the analytical material of our company's lawyer.
Thanks to the prompt work of our lawyers in medical law practice, the ultrasound doctor was not just able to start providing medical services, but also resolved the conflict, which threatened his further private practice.
We are ready to help you!
Contact us by mail [email protected] or by filling out the form: