Our Client from Kharkiv got medical license for two dental specialties
Cost of services:
from 16 000 UAH
1-2 specialties
from 16 000 UAH
Alteration
from 24 000 UAH
More than 3 specialties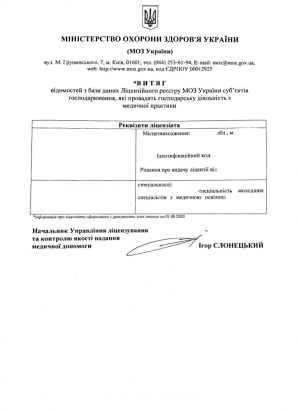 Reviews of our Clients
Director I. Garkusha, "Medyk" LLC
During provision of the services legal experts of the firm proved to be a professional team
Director L. Susenko, Medychni diagnostychi systemy LLC
We would like to express our appreciation to law firm "Pravova Dopomoga" for the provided services related to licensing of medical practice
I. Pruzhnyak , Sole trader I. Pruzhnyak
Despite complexity of licensing procedures, your lawyers got a positive decision about issuance of license for medical practice after the very first submission of documents...
Director S. Sokolova, LLC "Company"Nika-S"
Quick work of your lawyers allowed us to continue our medical practice without unnecessary breaks related to obtainment of the new license. Due to this we managed to avoid financial losses and continued providing high quality dental care services to our clients
Director A. Stelmakh, Private enterprise "ESTO"
We got consultations about organization of the medical center's work, formalization of labor relations with employees, legal regulations on use of different medical equipment...
N. Gorova, Sole trader N. Gorova
I want to recommend this firm to everyone, who wants to start his or her own medical practice...
S. Lyubynetskyi , Sole trader S. Lyubynetskyi
Without any recommendations I chose law firm "Pravova dopomoga" among all other companies on the market and not once did I regret my choice...
Director Mykhailo Bogdanovych Havrylyshyn, Kalush City Center of Primary Health Care
…we can confidently recommend the lawyers of Law firm «Pravova dopomoga» as reliable legal partners on the matters of medical practice licensing and other procedures related to the Ministry of Health of Ukraine.
Chief physician Romanyuk E.V., Municipal non-profit enterprise "Central district hospital of Busk"
... Having used the services of the Law Firm "Pravova dopomoga", we managed to solve our problems, as well as found a qualified and reliable partner.
Medical license for sole practicing dentist with two specialties
In May 2014, we received a request from a Client, an individual entrepreneur from the Kharkiv region, for legal support and assistance in obtaining a medical practice license.
The Client previously worked as a dentist at a local dental care centre, but then he decided to start his own business.
Medical practice was planned to be conducted due to the following specialties: Therapeutic dentistry, Prosthetic dentistry, Dentistry.
While analyzing the documents we found out that the doctor's certificates in the specialty of Dentistry expired, and in order to save time, it was decided to obtain a license for medical practice in only two specialties.
As the Client lived and worked far from Kyiv, all necessary documents and information were sent by courier service and e-mail.
We focused our activity on two aspects, namely: providing legal advice to ensure the compliance of all documents and premises of the future dental office with the License requirements for conducting business activities related to medical practice, as well as completing records of the business entity and preparing a set of documents to be submitted to the Ministry of Health of Ukraine, a medical licensing authority.
When the Client contacted our company, he already had a sanitary-epidemiological conclusion confirming the compliance of the dental office premises with the law requirements.
Against that background, our lawyers provided the Client with legal advice on the existing premises, as well as on the necessary equipment, requirements for metrological verification of the measuring instruments and tools (for example, the verification procedure shall be applied to the sterilizer and tonometer) and so on.
We advised the Client on how to properly combine two specialties in medical practice.
When completing the records, our lawyers helped to correctly specify methods used in medical practice, as well as to indicate a complete list of regulations governing the dental practice of individual entrepreneurs, which usually pose the biggest difficulties for licensees when completing forms.
That aspect was of particular importance, since at that time a significant number of regulations became or would have become invalid, and therefore it was important to specify only the regulations applicable on the day of submitting the documents. Our lawyers have successfully met all these requirements.
Our employees were delegated to submit documents to the licensing authority under a power of attorney, that allowed the Client to save time and money.
Having received a positive decision on the issuance of a medical practice license, our specialists advised the Client on the official license fee to be paid to the local budget for issuance of a medical license and submitted a bank receipt confirming official fee payment to the Ministry of Health of Ukraine.
We are ready to help you!
Contact us by mail [email protected] or by filling out the form: