Licensing of sole traders without medical education in Ukraine
Cost of services:
from 16 000 UAH
1-2 specialties
from 16 000 UAH
Alteration
from 24 000 UAH
More than 3 specialties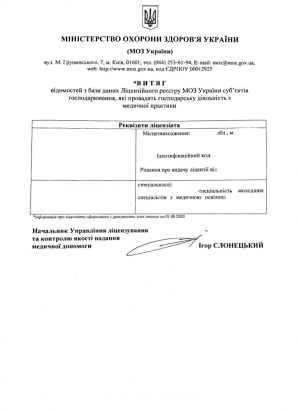 Reviews of our Clients
Director I. Garkusha, "Medyk" LLC
During provision of the services legal experts of the firm proved to be a professional team
Director L. Susenko, Medychni diagnostychi systemy LLC
We would like to express our appreciation to law firm "Pravova Dopomoga" for the provided services related to licensing of medical practice
I. Pruzhnyak , Sole trader I. Pruzhnyak
Despite complexity of licensing procedures, your lawyers got a positive decision about issuance of license for medical practice after the very first submission of documents...
Director S. Sokolova, LLC "Company"Nika-S"
Quick work of your lawyers allowed us to continue our medical practice without unnecessary breaks related to obtainment of the new license. Due to this we managed to avoid financial losses and continued providing high quality dental care services to our clients
Director A. Stelmakh, Private enterprise "ESTO"
We got consultations about organization of the medical center's work, formalization of labor relations with employees, legal regulations on use of different medical equipment...
N. Gorova, Sole trader N. Gorova
I want to recommend this firm to everyone, who wants to start his or her own medical practice...
S. Lyubynetskyi , Sole trader S. Lyubynetskyi
Without any recommendations I chose law firm "Pravova dopomoga" among all other companies on the market and not once did I regret my choice...
Director Mykhailo Bogdanovych Havrylyshyn, Kalush City Center of Primary Health Care
…we can confidently recommend the lawyers of Law firm «Pravova dopomoga» as reliable legal partners on the matters of medical practice licensing and other procedures related to the Ministry of Health of Ukraine.
Chief physician Romanyuk E.V., Municipal non-profit enterprise "Central district hospital of Busk"
... Having used the services of the Law Firm "Pravova dopomoga", we managed to solve our problems, as well as found a qualified and reliable partner.
New medical practice licensing regulations brought a great deal of changes to the field. Among other things, the Ministry of Health allowed sole traders without medical education to obtain medical licenses in Ukraine if they hire suitable medical staff. For comparison, we note that in the past it was impossible to obtain a medical license without a specialized education. Moreover, even with a medical education, doctors virtually did not have the opportunity to freely recruit medical personnel, since the employment of other doctors with a sole trader could only take place if the employer had the highest medical category and only in the specialty indicated in the certificate of category assignment.
From the very beginning of the introduction of the new regulation, our lawyers have been accompanying the receipt of medical licenses by such entrepreneurs from all regions of Ukraine. Since the key requirement for licensing sole traders without a medical education is the availability of appropriate medical personnel and the material and technical base, our first priority when licensing a sole trader's medical rooms is consultation on:
staff qualifications (correspondence of diplomas, certificates of medical specialists, certificates of assignment of a category, advanced training courses)
the material base that will be used to perform economic activity (correspondence of height, area and other parameters of the rooms of medical premises, compliance of medical equipment and machinery, etc.)
However, the lawyers of our company provide legal assistance not only in the form of consultations, but also in obtaining certificates of sanitary inspection on the premises, filling out applications and statements, other documents, included in the license package.
Our practice of submitting documents by proxy allows customers from all over Ukraine to concentrate on their business instead of traveling to Kyiv, where the licensing authority is located. Our specialists submit documents and carry out a full-fledged representation of the interests of the owners of medical offices up until the moment of obtaining a license.
In connection with the above changes in licensing legislation, it should be noted that in recent years there has been a tendency to transfer the medical business from legal entities to private entrepreneurs. This structuring has several advantages, namely:
the need for the position of a chief physician disappears;
there is no need to allocate a separate office in the structure of the health care institution for the chief physician;
there is no need for an accreditation process.
The only significant drawback of licensing medical practice for a sole trader is the restriction on the implementation of certain categories of surgical treatment.
From the end of 2016 to the beginning of 2017, more than a dozen private entrepreneurs without a medical education degree used our licensing services for their medical business.
You can learn more about our services for obtaining a license for medical practice on the page of the corresponding services of our law firm.
We are ready to help you!
Contact us by mail [email protected] or by filling out the form: