Changed director, address and founders of a company in one day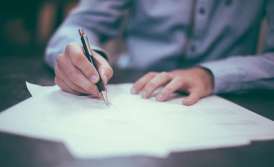 In its life cycle, a company may face a situation when for various reasons it is required to replace its shareholders, chief executive officer, and registration address within the shortest possible term. This is the exact situation that our long-standing Client contacted us in regard to right before the New Year. The changes had to be completed very fast and fast meant just one business day.

During 2016, the procedure for registering changes to the constituent documents of legal entities was constantly "simplified". As a result of these simplifications, the standard registration period has increased and got to two business days. Comprehensive changes, for example, of directors and founders, began to be carried out in two stages, sequentially, which further increased the duration of the registration procedure.
Since November 2016, an "anti-takeover" law came into force, according to which not only the charter of the enterprise but also the minutes of the general meeting of participants was subject to notarization. If before that the minutes could be signed at any convenient place, then from the moment this law was passed, the old and new members of the company, as well as the old and new company leaders, had to be brought together at a notary's office at the same time. Of course, this creates difficulties in organizing the process of signing documents, which also negatively affects the timing of the provision of such services.
In the situation of our Client, it was necessary to make changes within one day, so that not only could we not afford ourselves making a mistake but also had to use all the experience gained in representing the Client in the State Registration Service of Ukraine, so that the process went through as quickly as possible.
We never undertake obligations if we do not know how to fulfill them. This, of course, is not a guarantee that everything will always go smoothly with us, but we are sure that it is not impossible to achieve more. In this way, we constantly maintain our skills and ability to solve the most non-standard legal problems.
In this case, we did not disappoint our Client and organized the preparation of documents, their notarization and registration of changes within one day. In this comment, we do not touch upon the nuances of fulfilling the Client's order but present this material in order to inform the reader about the capabilities of our law firm.
You can familiarize yourself with the terms of cooperation via the link or by calling us on the phone number indicated on the website. We look forward to working with you!
We are ready to help you!
Contact us by mail [email protected], by phone number +38 044 499 47 99or by filling out the form: