Directions for registration of a Limited Liability Company (LLC) in Ukraine
Cost of services:
from 9000 UAH
Cost for LLC's registration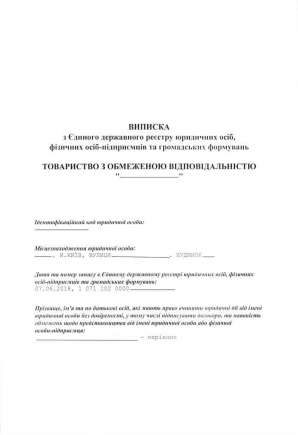 Reviews of our Clients
Founder and Chief Editor M. Aristov , "Geoprofil" magazine
We would like to recommend this firm which provides legal services professionally and in a timely manner
Director V. Kovernyk, LLC "Company "VNA"
We highly appreciate quality of your work in regard to minimization of legal risks for our business as well as your ability to deal with controversial situations arising from interaction with controlling authorities
Director S. Astashev, LLC "Company "Biznes proekt"
Our experience of work with you in the field of litigation, tax consultations, registration of legal entities and others showed that you can be entrusted not only with ordinary projects but also with those that require creativeness in protection of interests
LLC is a legal entity whose charter capital is divided into shares with their sizes determined by the company's founding documents.
According to Ukrainian law, "state registration of legal entities" involves certifying the creation or termination of a legal entity, as well as other registration actions required by law, by making corresponding entries in the Unified State Register.
Registering an LLC in Ukraine is a relatively fast process. However, it's important to start by understanding your goals, as this will determine the steps you need to take and the answers to many organizational and technical questions, such as:
What should you name your company in Ukraine?
What KVED (business activities) codes should you choose for your company?
Who will be the director of the LLC in Ukraine?
Which tax system should you choose when registering an LLC?
You may also like: How to Start a Company with VAT in Ukraine?
Algorithm of LLC registration in Ukraine
To register an LLC, there are a few steps you need to follow:
1) Determine the main types of activities of your LLC, including its goals and subject matter of activities;
2) Choose a name and location for your LLC;
3) Prepare the Charter or use a pre-approved template from the Cabinet of Ministers of Ukraine;
4) Hold a meeting to establish the LLC and make decisions about:
creating the LLC
forming the authorized capital of the LLC
approving the articles of association or using a pre-approved template
electing the head of the LLC;
5) Sign and notarize the articles of association. If you use a pre-approved template, you don't need to notarize it;
6) Submit your LLC's documents for state registration.
If you're a foreign citizen looking to register an LLC, you'll need to contact the Center for the Provision of Administrative Services or a notary. To register your LLC, you'll need to provide the following documents:
two copies of the constituent documents (the charter, constituent agreement)
completed and signed registration cards
a protocol of the constituent assembly on the creation of the limited liability company or a decision of the founder, if there is only one founder
a power of attorney
a notarized translation of the passport of the foreign founder of the LLC
if the founder of the LLC is a foreign legal entity, a legalized or apostilled document confirming the registration of the foreign entity in the country of its location, such as an extract from the trade, banking or judicial register.
Once your limited liability company is registered with the government, the state registrar will give you a certificate from the Unified State Register of Legal Entities and Individual Entrepreneurs, and send your information to the tax authorities.
The next step is to get a company seal. While it's not mandatory, you may want to get one. You can go to a specialized company that makes seals and stamps to get it made. They can even make one for you within a day.
You may also like: Why Do You Need a Nominee Director When Registering an LLC by a Foreigner in Ukraine?
What are the next steps to take after registering an LLC in Ukraine?
Depending on the type of activities the LLC will engage in, as well as other factors, the company may need to obtain additional permits, such as permits to commence work or licenses/patents to carry out certain types of activities.
You may also like: How to Manage Relationships Between Business Owners in Ukraine if Some of Them are Foreign Nationals
Why using a template charter for a financial company is a bad idea
It's easy to find templates for LLC charters of various kinds online. While using a template can save time and effort compared to drafting a charter from scratch, it's not always the best option. Every company and every type of activity is unique, so a generic charter may not fit every situation.
Let us illustrate with a case from our practice that shows the importance of having a properly drafted charter for a financial company. Such a charter will save you time and hassle in the long run, especially when problems arise and changes need to be made.
We recently had a client approach us to register a new company for conducting financial activities in Ukraine.
There are several types of such activities. After discussing the details with them, we discovered that they wanted to establish a factoring company. This presented a challenge, as we not only had to register the company to meet their needs, but also had to obtain a specific type of license for them.
Factoring is a set of financial services that helps manufacturers and suppliers engaged in trading on deferred payment terms.
Factoring services include:
financing working capital;
recovering debts for clients;
insuring against non-payment of amounts owed by clients.
For a financial company to operate smoothly, it needs to be registered with the registry of financial institutions and obtain a license.
However, the registration process can be quite complex, with many nuances to consider. Here are the main requirements for registration:
The company's authorized capital must be at least 3 million hryvnias.
The director must meet specific requirements related to education, work experience, seniority, and reputation.
The company's charter is also essential, and must be written and executed correctly. When registering a financial company engaged in factoring, the charter has its own specific requirements. For example, the subject of the company's activities cannot include any other services or types of activities except for financial services.
If these requirements are not met, the entire registration and licensing procedure could be unsuccessful. At our firm, we have successfully registered many financial companies and have drawn up charters that meet the specific needs of their owners.
You may also like: Threats of Registering LLC to the Home Address
Limitation of the Director's Authority in the LLC Charter
When embarking on a project with significant investments, it is important to consider the agreements between founders and the director's powers right from the start. In this situation, the founders of a limited liability company (LLC) acted correctly by seeking our help as specialists in drafting LLC charters.
The problem with template LLC charters, which can be found freely available on the internet, is that they do not offer additional limitations on the director's powers. They may not even contain provisions regarding the dismissal of the director or other nuances crucial to the LLC's operations.
This can lead to the need to seek legal assistance in dealing with a dishonest director or for protection in court. In the worst cases, it can result in significant losses of funds or even the business itself.
So, how can you limit a director's powers with the help of the LLC charter?
For example, you can clearly define the upper limit of a transaction's price that a director can independently conclude on behalf of the company without the approval of the LLC's shareholders;
You can also provide for the types of transactions that the director can or cannot make independently;
Additionally, you can require the director to obtain the LLC shareholders' consent before taking out a loan on behalf of the company;
You can also provide for the existence of a supervisory body, such as a supervisory board, as an additional means of controlling the director's actions.
Personalized LLC charter can help in many cases, including pre-emptively safeguarding your business and providing you with as many management tools as you need.
Our team offers assistance not only with registering an LLC in Ukraine, but also with ongoing business consultation, accounting and personnel management organization, and help obtaining licenses and other regulatory documents.
If you are looking for a reliable legal partner for your business in Ukraine, please do not hesitate to contact us.
We are ready to help you!
Contact us by mail [email protected] or by filling out the form: