How to legalize a long-term residence in Ukraine for family members of a temporary resident?
Cost of services:
starts at 800 USD
TRP on the basis of work in Ukraine
from 600 USD
Residence permit extension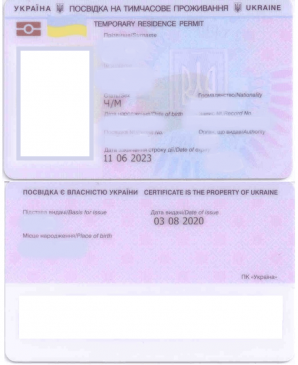 Reviews of our Clients
Daniel Holmes, Citizen of USA
Based on our positive experience of cooperation with Volodymyr Gurlov and his team we can recommend them as a reliable legal advisor on the matters of Ukrainian law...
After a long-term relocation to Ukraine many foreign workers have the question: how to legalize their family members?
This problem is current for foreign workers, as well as for students, volunteers etc.
In many cases, for a legal stay of a wife / husband (spouse) in Ukraine, foreign citizens create separate companies, then obtain a work permit and hold senior positions. However, in this situation it is irrational both from the standpoint of finance and time expenditures.
In the case of children, such a scheme can rarely function at all, because children have diminished capacity, so they can not set up a company/take corresponding positions in it. This scheme is only possible for minors, starting from the age of 16, who obtained a corresponding consent of their parents.
Therefore, in this material, we will consider a ground, which will allow family members of a foreigner (who stay in Ukraine on the legal grounds) to live with him/her absolutely legally for a long period of time and with minimal expenses.
Criteria for a host party
1.
Legality of stay in Ukraine
. This criterion means that a foreigner (or stateless person) must obtain a temporary residence permit in Ukraine on one of the following grounds:
work in Ukrainian companies, branches of foreign non-governmental organizations, representative offices of foreign companies, foreign financial institutions;
volunteer activity;
studying in Ukraine;
journalistic activity;
other grounds, the list of which is exhaustive.
A permit of the host party is given in the original personally by a foreigner, to whom it was issued, and returned immediately. A certified copy is attached to an application.
2. Establishment of family relations with invited foreigners. By default, family members of a foreigner include minor children, wife/husband (spouse) and disabled parents. At the same time, the Law of Ukraine "On the Legal Status of Foreigners and Stateless Persons", as well as the Procedure for Issuing Temporary Permits (the Resolution of the Cabinet of ministers of Ukraine, number 322, dated April 25, 2018) stipulates that other persons may be family members of a foreigner if they are considered as such in compliance with the law of the state of origin. Therefore, their list can theoretically be broader providing documentary confirmation;
3. An ability to financially keep invitees. The list of documents, which confirm this fact, is quite broad (provided by the Law of Ukraine "On the Legal Status of Foreigners and Stateless Persons"). In practice, a certified excerpt from a bank account on a status of the account is usually provided. Or, a much simpler and more widespread option is a notarial guarantee of a host party to take on all financial obligations related to entry / departure and stay in Ukraine of an invited person.
Criteria for an invited party if she is a husband/wife (a spouse)
Stay in family relationships with a foreigner, who has already obtained a permit in Ukraine on one of the abovementioned grounds;

Availability of a certificate about marriage. If a marriage was concluded outside Ukraine, a certificate (or other document), confirming this fact, must be legalized in an orderly manner, including through apostilization (for the corresponding countries). Considering this fact, not registered marriages (so-called civil marriage) or most marriages, concluded in the form of a religious ceremony, do not give the right to obtain a permit;

As a general rule, an invited party must obtain a type D visa based on the "Reunification of the Family" before entering into Ukraine to obtain a permit.
Criteria for an invited party if it is a child/children
1. Age of a foreigner's child. For the purposes of this reason, children are meant to be
minor foreign citizens
. It is important to mention that minor foreign citizens must not undergo a migration registration in Ukraine (a permit is not required), as provided by Article 16 of the law regulating the legal status of foreigners / stateless persons (the Law number 3773-VI, dated September 22, 2011).
However, in practice, the lack of registration can hypothetically lead to a number of difficulties, which can be avoided by obtaining an ID card. If an invited child is 16 years old, an application for an obtainment of an ID card will be submitted personally, whereas an application is submitted by a host party for foreigners, who are younger than the stated age;
2. Documentary confirmation of the fact of paternity by a foreigner, who legally resident in Ukraine (based on a residence permit). As in the case of a marriage, the corresponding document is subjected to the procedure of legalization / apostilization in the issuing country with further notarization of translation into the Ukrainian language. It should be noted that you can invite both common children of spouses and a child, whose parent is only an inviting party;
3. Obtainment of a type D visa.
Criteria for other invitees
For both disabled parents and other family members, the list of requirements is rather typical, so the same points for husband / wife (spouse) and children are duplicated, namely:
Establishment of the fact of family relations. For disabled parents it is a birth certificate, where parents and a child are stated. For other family members, the list of conforming documents is inexhaustible due to features of one or another national legislation. However, the most important proof of kinship can be called the corresponding court decision. All of these documents are subjected to legalization and translation into the Ukrainian language;
Obtainment of a corresponding migration visa.
Conclusions
Legalizing a long-term residence in Ukraine for family members of a temporary resident is a possible task that does not require a company registration or other complicated grounds.
You can invite a husband or wife (spouse), children under the majority age and parents of retirement age. It is theoretically possible to invite other members of the family if they are considered as such according to the legislation of their state of origin. However, such a fact is much harder to confirm documentary.
Although the relevant legislation exempts minor foreign citizens from obtaining a permit, such a procedure can raise a number of issues when crossing the border (as well as in other situations), therefore it will be more appropriate for them to obtain a status of a temporary resident, which is permitted according to the relevant legislation.
Do you need a legal help with obtaining a residence permit? Please, call the number
We are ready to help you!
Contact us by mail [email protected] or by filling out the form: