How to stop illegal construction: cancelation of declaration of State Architectural and Construction Inspection of Ukraine
Cost of services:
17 000 UAH
CC 2 General construction + internal networks
21 000 UAH
CC 2 General construction + internal networks + external networks
Negotiated price
CC 3 or special clauses of Designation nomenclature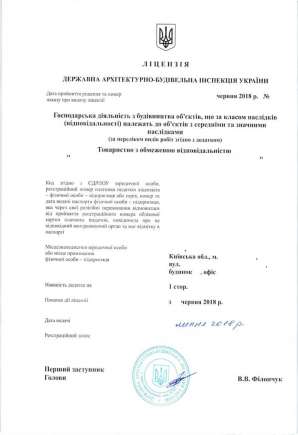 Reviews of our Clients
Director Danko Petro Pavlovych, Quick response forse "Tiger" LLC
Quick response forse "Tiger" LLC expresses gratitude to Law firm «Pravova dopomoga» for long-term cooperation, which brings only positive results.
Rector, Doctor of Law, Professor M. M. Kurko, Interregional Academy of Personnel Management
We wish to your firm continuous development and strengthening, new prospective and loyal clients!
The commencement and completion of any construction takes place through the obtainment of certain permits.
Unfortunately, in real life, construction of residential houses, shopping centers or any other real estate is not always carried out in accordance with the requirements of the current legislation. The real estate developers do not always have all necessary permits, right of land use or other documents.
In addition, construction works create noise, dust, and other nuisances which can affect neighbours.
Today we will talk about when and what steps can be taken to stop construction.
Related article: We Assisted Our Client In Defining Persons Responsible For Maintenance Of Green Plantations
What steps can be taken to stop illegal construction?
An active group or association of citizens opposing construction may appeal against or revoke the declaration of the State Architectural and Construction Inspectorate (hereinafter - the SACI).
There are two options this plays out:
They can send requests, petitions to GASI to check the construction documents;
Or go directly to court with a claim to revoke declarations or other permits for construction, if any. If there are no relevant construction documents, it should be a question of stopping construction as a whole.
Why is it worth trying to revoke the SACI declaration?
In fact, the key peculiarity of SACI declarations (notifications) is that they do not need any response from the regulatory authority, and therefore the real estate developer does not face any difficulties, when obtaining them.
Of course, the mere presence of a SACI declaration does not give the real estate developer the right to start construction. It is also necessary to pay attention to other mandatory documents, which the real estate developer shall have.
In addition, the declaration does not give the right to immediately build a foundation or set piles.
The declaration (notification) actually gives the right to erect temporary workers' quarters, create access roads, temporary engineering networks, rather than permanent structures.
However, a real estate developer has no right to carry on further works without this declaration.
It is impossible to prevent construction before the declaration is issued, because it has just begun and its effects are unlikely to be felt. However, once the declaration has been obtained and the preparatory work has begun, you can try to revoke the declaration. This will help to stop the illegal construction.



How does this work in practice?
Imagine that you live or work near the place where the workers began to suddenly erect a fence, bring in construction materials, level the landscape of the territory, set temporary workers' quarters and prepare a place for erecting construction object.
This stage is called the commencement of construction and during this period the real estate developer needs to obtain a declaration for the start of their construction.
However, if such construction affect you or your colleagues, you can:
Initiate the process of suspension of construction and cancellation of the declaration;
Make the real estate developer remove the fence and look for a new location;
Make the construction team coordinate their actions with all those who care about this process.
Of course, the result depends on the quality of legal actions taken to appeal the declaration. The most effective method would be to file a complaint with the regulatory authority or a suit with the court.
Related article: Our Lawyers Obtained The License For Restoration Of Cultural Monuments
How to determine the court jurisdiction that decides the cases of the SACI declaration (notification) revocation?
Until 2018, such disputes had to be referred to the civil or commercial courts, since when a proactive group wanted to demolish an illegal construction, the group appealed to the real estate developer.
However, the court practice has now changed, and since April 2018, in case of unauthorized construction or in case the construction contradicts the norms of urban planning, a claim shall be filed with the court to protect not only the interests of a particular person or group of persons, but also the interests of a wide range of citizens and their rights.
In addition, the relations that arise in this case have the character of authoritative powers, which typify administrative legal relations. Therefore, it is necessary to go to the administrative court.
On the other hand, third party claims challenging the registration of the declaration about readiness of the object for exploitation shall be heard by the civil courts.
In order to understand which court an action to cancel the SACI declaration shall be filed in and how to properly prepare it, it is advisable to contact qualified lawyers who have the relevant experience. Otherwise, your claim may be considered for a long time, and then the judge may decide to transfer your case to another court, and as a result, you will waste your money and time.
Do not forget that real estate developers usually have in-house lawyers who will defend the interests of their clients more professionally than ordinary people.
If you want to carry your point and achieve the termination of construction, don't hesitate to contact us!

We are ready to help you!
Contact us by mail

[email protected]

or by filling out the form:
We are ready to help you!
Contact us by mail [email protected] or by filling out the form: