Medical practice license for yoga and chi kung schools
Cost of services:
from 16 000 UAH
1-2 specialties
from 16 000 UAH
Alteration
from 24 000 UAH
More than 3 specialties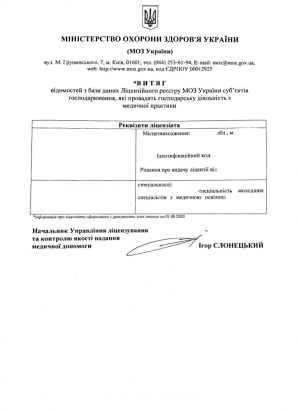 Reviews of our Clients
Director I. Garkusha, "Medyk" LLC
During provision of the services legal experts of the firm proved to be a professional team
Director L. Susenko, Medychni diagnostychi systemy LLC
We would like to express our appreciation to law firm "Pravova Dopomoga" for the provided services related to licensing of medical practice
I. Pruzhnyak , Sole trader I. Pruzhnyak
Despite complexity of licensing procedures, your lawyers got a positive decision about issuance of license for medical practice after the very first submission of documents...
Director S. Sokolova, LLC "Company"Nika-S"
Quick work of your lawyers allowed us to continue our medical practice without unnecessary breaks related to obtainment of the new license. Due to this we managed to avoid financial losses and continued providing high quality dental care services to our clients
Director A. Stelmakh, Private enterprise "ESTO"
We got consultations about organization of the medical center's work, formalization of labor relations with employees, legal regulations on use of different medical equipment...
N. Gorova, Sole trader N. Gorova
I want to recommend this firm to everyone, who wants to start his or her own medical practice...
S. Lyubynetskyi , Sole trader S. Lyubynetskyi
Without any recommendations I chose law firm "Pravova dopomoga" among all other companies on the market and not once did I regret my choice...
Director Mykhailo Bogdanovych Havrylyshyn, Kalush City Center of Primary Health Care
…we can confidently recommend the lawyers of Law firm «Pravova dopomoga» as reliable legal partners on the matters of medical practice licensing and other procedures related to the Ministry of Health of Ukraine.
Chief physician Romanyuk E.V., Municipal non-profit enterprise "Central district hospital of Busk"
... Having used the services of the Law Firm "Pravova dopomoga", we managed to solve our problems, as well as found a qualified and reliable partner.
Nowadays methods on improving and strengthening of a human body are popular, in particular Indian yoga and Chinese Gymnastics Qigong. Numerous instructors convince potential clients on huge possibilities of these practices and their safety for health. Unfortunately, most people don't know about legislation in this sphere. So a lot of law requirements become surprising for specialists of this sphere. Clients and students of these schools also don't know enough information about firms which provide services.

The legislation regulates that entrepreneurs must be registered if they conduct this activity. In other cases it is possible to work through signing a labor contract with a company.

We will examine Indian yoga and Chinese Gymnastics Qigong according to the Law of Ukraine "On licensing some types of business activity". The main problem is that Indian yoga and Chinese Gymnastics Qigong are not medical methods or sports directions according to the laws of Ukraine. The previous edition of law regulated that physical fitness and wellness was licensed. At the moment this type of activity isn't licensed and schools of Indian yoga and Chinese Gymnastics Qigong can function without a license.

However, it is not so simple according to the laws. If classes of Indian yoga and Chinese Gymnastics Qigong have a medical target then it is medical services. In the most cases these methods have a target to solve health problems. So you must get a license for medical practice. Except it, a lot of schools tell that they provide services on Indian yoga and Chinese Gymnastics Qigong for improving and strengthening of a human body. It means that they also must provide a license. If they have this then there shouldn't be any questions. At the same time, you should remember that specialists must have medical education and qualification.

So activity of schools of Indian yoga and Chinese Gymnastics Qigong don't have to be licensed if they provide services only for physical fitness and wellness. Organization of these schools needs to be licensed. That's why terms "a medical procedure" or "a medical yoga" should be used carefully.

You need also keep in mind that conducting business activity without a license is a violation of the Code of Ukraine on Administrative Offences (the Article 164).


We are ready to help you!
Contact us by mail [email protected] or by filling out the form: