Legal comments about medical practice in drugstores in Ukraine
Cost of services:
from 15 000 UAH
Drugstore license
from 30 000 UAH
License for a drugstore storage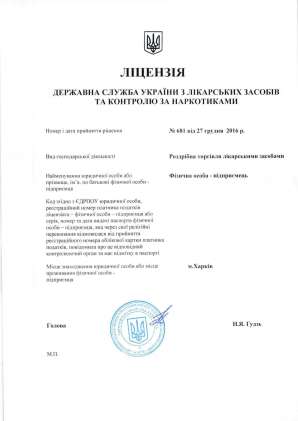 Reviews of our Clients
Savorona N., Sole trader Savorona N.
Lawyers of this firm answered all my questions and by doing so made me trust them. I didn't even need to be in Kyiv. I just had to provide a power of attorney...
O. Reshytnyak, Sole trader O. Reshytnyak
Your firm recommended itself as one of the best and reliable organizations...
L. Chervonyuk, LLC "Vitalux"
Vitalux company highly appreciates results of cooperation with Law firm "Pravova dopomoga", can characterize it as a reliable partner and based on personal experience is ready to recommend it to interested persons...
Medical practice in drugstores in Ukraine
Until recently, the location of drugstores and healthcare facilities in relation to each other was clearly regulated only with regard to the opening of drugstores and drugstore branches in healthcare facilities.
However, with the adoption of the new licensing regulations for production, wholesale and retail trade, import of medicines on 30 November 2016, the licensees have gained a certain understanding of the another issue, namely: "Is it possible to practice medicine in a drugstore?"
Considering the legal aspect of this issue, it should be noted that there is a number of regulations and standards governing this issue, namely:
Licensing regulations governing the activities of drugstores;
Licensing regulations governing medical practice;
Other regulations and standards stipulating relevant sanitary and epidemiological and construction requirements.
Thus, in terms of the requirements for a drugstore, it is stipulated that medical practice may be carried out there subject to a number of conditions (paragraph 160 of the licensing regulations for retail trade of medicinal products):
Providing a specific type of health care services at a pharmacy institution, namely, a drugstore (this option is not expressly regulated herein for drugstore branches);
Availability of a separate room;
Access to such a room shall be only from the hall where the public services are provided or from the public vestibule/corridor;
Compliance with the procedure established by law with regard to medical practice.
The latter requirement is a direct reference to the licensing regulations for medical practice, approved by the Resolution of the Cabinet of Ministers of Ukraine No. 285 of 02.03.2016. This statutory instrument provides for the compliance of the licensee with:
Requirements for the material and technical base (availability of premises of the corresponding space and structure, medical equipment, etc.);
Qualification requirements for medical and nursing personnel.
The above points shall be confirmed by the relevant package of documents submitted to the Ministry of Health of Ukraine. This package serves as the basis for granting a license that permits a person to legally practice medicine (the fact that the licensing regulations for retail trade of medicinal products contain provisions on the possibility of carrying out medical practice in a pharmacy does not mean that such a right is acquired with the receipt of a drugstore license).
Obviously, the most popular medical specialists able to carry out their activities in drugstores, will be ophthalmologist and optometrist, which, even before the adoption of new licensing regulations were often located near drugstores. At the same time, licensing regulations prohibit neither opening of other medical rooms in drugstores, nor entire medical centers of different specialization, provided that the structure of the premises complies with all regulations and the healthcare facility has appropriate medical personnel.
Learn more about our pharmacy licensing services here.
Learn more about our medical practice licensing services, including licensing of medical rooms at drugstores, here.
We are ready to help you!
Contact us by mail [email protected] or by filling out the form: