Requirements for medical institutions issuing medical certificates for driver's license obtainment
Cost of services:
from 16 000 UAH
1-2 specialties
from 16 000 UAH
Alteration
from 24 000 UAH
More than 3 specialties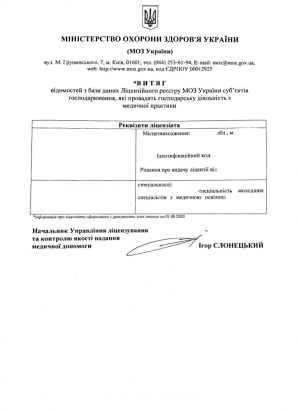 Reviews of our Clients
Director I. Garkusha, "Medyk" LLC
During provision of the services legal experts of the firm proved to be a professional team
Director L. Susenko, Medychni diagnostychi systemy LLC
We would like to express our appreciation to law firm "Pravova Dopomoga" for the provided services related to licensing of medical practice
I. Pruzhnyak , Sole trader I. Pruzhnyak
Despite complexity of licensing procedures, your lawyers got a positive decision about issuance of license for medical practice after the very first submission of documents...
Director S. Sokolova, LLC "Company"Nika-S"
Quick work of your lawyers allowed us to continue our medical practice without unnecessary breaks related to obtainment of the new license. Due to this we managed to avoid financial losses and continued providing high quality dental care services to our clients
Director A. Stelmakh, Private enterprise "ESTO"
We got consultations about organization of the medical center's work, formalization of labor relations with employees, legal regulations on use of different medical equipment...
N. Gorova, Sole trader N. Gorova
I want to recommend this firm to everyone, who wants to start his or her own medical practice...
S. Lyubynetskyi , Sole trader S. Lyubynetskyi
Without any recommendations I chose law firm "Pravova dopomoga" among all other companies on the market and not once did I regret my choice...
Director Mykhailo Bogdanovych Havrylyshyn, Kalush City Center of Primary Health Care
…we can confidently recommend the lawyers of Law firm «Pravova dopomoga» as reliable legal partners on the matters of medical practice licensing and other procedures related to the Ministry of Health of Ukraine.
Chief physician Romanyuk E.V., Municipal non-profit enterprise "Central district hospital of Busk"
... Having used the services of the Law Firm "Pravova dopomoga", we managed to solve our problems, as well as found a qualified and reliable partner.
As of today in addition to conducting traditional medical and diagnostic procedures, doctors perform another, formal, function, namely, they issue a variety of medical certificates. In this publication, we will elaborate on the main requirements for institutions that issue one of these documents, namely, the certificate of medical fitness to drive (known as Form 083 / y), which is a prerequisite for obtaining a driver's license.
Form of incorporation and form of ownership
Pursuant to paragraph 1.6. of the Regulations on the medical examination of candidates for drivers and drivers of vehicles, approved by a joint order of the Ministry of Health of Ukraine and the Ministry of Internal Affairs of Ukraine No. 65/80 (hereinafter - the Order No. 65/80) of 31.01.2013, a preliminary medical examination shall be conducted by the medical commission affiliated with the health care facility. In turn, Article 3 of the Fundamentals of the Legislation of Ukraine on Health Care, Law No. 2801-XII of 19.11.1992 (hereinafter - the Law No. 2801), defines the health care facility by the following characteristic features:
a legal entity or its unit that provides health care services to the population;
without specifying any requirements to its form of business organization;
without specifying any requirements to its form of ownership;
availability of appropriate medical personnel;
availability of an appropriate Medical License.
Thus, it can be concluded that the medical fitness certificate can be issued both by a public hospital or community polyclinic, and by a private health care facility, such as a medical or diagnostic center. However, individual entrepreneurs, even if they have an appropriate licence, cannot issue the relevant certificates.
If you want to gain insight into the process of applying for the Medical License without assistance, please see our video material here.
Main composition of the commission
As noted above, the preliminary medical examination shall be carried out by a commission affiliated with the health care facility. The Order No. 65/80 provides for the following composition of the commission:
general physician;
otolaryngologist;
ophthalmologist;
neurologist;
operating surgeon.
The commission shall be headed by a general physician. In addition, it is worth
remembering about one hidden position, which is not directly provided for by the Order
, but is required by other regulations, namely, the head of the health care facility. According to Article 16 of Law No. 2801, the head of a health care facility may be only a person who meets the qualification requirements established by the Ministry of Health of Ukraine. In turn, according to the Order of the Ministry of Health of Ukraine No. 117 of 29.03.2002, the heads of the medical and preventive treatment facility are the director / chief physician, who, among other things, must have a certificate in the specialty "Organization and management of health care". Thus, if one of the above mentioned doctors from the commission does not have a corresponding certificate, it will be necessary either to provide one of the hired employees with the relevant training courses or to find a new employee.
Auxiliary specialists
In addition to the general medical examination carried out by the medical commission, the Order No. 65/80 also provides for additional mandatory examinations, including:
functional and laboratory examination, including urine and blood analysis, blood sugar analysis, blood analysis for rhesus factor and group, electrocardiogram of the heart, a visual fields test and visual acuity test, examination for the the vestibular system;
results of the survey on drug use.
Based on the wording of the Order No. 65/80, the key difference between the examination conducted by the commission and the additional medical assessments is that the commission must directly have the employment relationships with the health care facility (legal entity), and additional medical assessments can be conducted at other health care facilities or doctor's offices that shall provide the results of the medical examination to the commission in the form of appropriate certificates. However, this does not preclude institutions from hiring other specialists and conducting a full range of medical assessments to issue the certificates.
In conclusion, it should be noted that the issuance of a certificate of medical fitness to drive requires a quite complex material and technical base and a significant number of doctors of various specialties. This makes it virtually impossible to talk about the institution that specializes solely on documents of this kind. However, such activities can be a good addition to the range of services provided by a fully functioning medical or diagnostic center.
We are ready to help you!
Contact us by mail [email protected] or by filling out the form: