What is the difference between a psychologist and psychotherapist office set up?
Cost of services:
from 16 000 UAH
1-2 specialties
from 16 000 UAH
Alteration
from 24 000 UAH
More than 3 specialties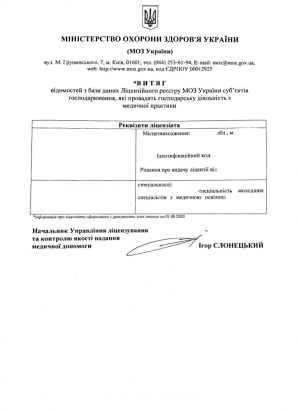 Reviews of our Clients
Director I. Garkusha, "Medyk" LLC
During provision of the services legal experts of the firm proved to be a professional team
Director L. Susenko, Medychni diagnostychi systemy LLC
We would like to express our appreciation to law firm "Pravova Dopomoga" for the provided services related to licensing of medical practice
I. Pruzhnyak , Sole trader I. Pruzhnyak
Despite complexity of licensing procedures, your lawyers got a positive decision about issuance of license for medical practice after the very first submission of documents...
Director S. Sokolova, LLC "Company"Nika-S"
Quick work of your lawyers allowed us to continue our medical practice without unnecessary breaks related to obtainment of the new license. Due to this we managed to avoid financial losses and continued providing high quality dental care services to our clients
Director A. Stelmakh, Private enterprise "ESTO"
We got consultations about organization of the medical center's work, formalization of labor relations with employees, legal regulations on use of different medical equipment...
N. Gorova, Sole trader N. Gorova
I want to recommend this firm to everyone, who wants to start his or her own medical practice...
S. Lyubynetskyi , Sole trader S. Lyubynetskyi
Without any recommendations I chose law firm "Pravova dopomoga" among all other companies on the market and not once did I regret my choice...
Director Mykhailo Bogdanovych Havrylyshyn, Kalush City Center of Primary Health Care
…we can confidently recommend the lawyers of Law firm «Pravova dopomoga» as reliable legal partners on the matters of medical practice licensing and other procedures related to the Ministry of Health of Ukraine.
Chief physician Romanyuk E.V., Municipal non-profit enterprise "Central district hospital of Busk"
... Having used the services of the Law Firm "Pravova dopomoga", we managed to solve our problems, as well as found a qualified and reliable partner.
Since the obtainment of various Medical Licenses is one of our company's leading business areas, we are always glad to elaborate on the questions concerning this topic.

Ukraine has a number of laws and regulations that govern the licensing of the medical practice under all medical specialties. We are often asked a question, "Are there any difference between the requirements for setting up offices of such related professions as "psychologist" and "psychotherapist"?"
In this publication, we will tell how to properly set up a psychologist and psychotherapist office, as well as discuss whether the requirements to these offices are different.
Related article and video: Preparation Of Documents For Obtaining A Medical License: What Do You Need To Know?
What is the difference between a psychologist and a psychotherapist?
So, a psychologist is a specialist who can provide psychological help and support by applying knowledge about manifestations and forms of mental phenomena of personality. However, a psychologist doesn't need to get additional medical education.
A psychotherapist is a specialist who helps to understand the problems of patients facing internal conflicts. The methods of psychotherapist are based not only on knowledge of psychology, but also on specific knowledge in the field of medicine.
As a rule, psychotherapeutic assistance does not entail any prescriptions, while a psychotherapist with a Medical Licence is allowed to prescribe medication.
In case of difficult situations, a psychotherapist can work together with a psychiatrist.
The activity of a psychologist and a psychotherapist is actually close in terms of its functionality, but there are two essential differences:
The psychologist is not obliged to obtain additional medical education;
The psychotherapist shall obtain a licence to carry out his/her activity, while there is no such a requirement for psychologists.

How to properly design a psychotherapist's office in order to obtain the license?
In order to provide psychotherapeutic services, you must first obtain the Medical License for a psychotherapist.
Pursuant to clause 5 of the Order of the Ministry of Education and Science of Ukraine No. 199, a psychotherapist is a specialist who has a complete higher education in Medicine, with specialization in "Psychotherapy", can use methods of psychological and psychotherapeutic influence in terms of a professional activity.

Related article: Non-Standard Reasons For Refusal To Issue A Medical Practice License
Such a doctor can work both as a doctor at the health care facility and as an individual entrepreneur, after obtaining the license. In order to obtain the Medical Licence, a psychotherapist must comply with all requirements of the licensing regulations.
The psychotherapist's office must be at least 12 square meters.
The list of equipment required for starting a psychotherapist's office is not that long. The key requirements are as follows:
a therapy bed;
a tonometer;
a medical kit.
That is, the mandatory licensing requirements that shall be met to start working as a psychotherapist include a diploma with a relevant specialization, office area of at least 12 square meters, which contains a specific list of equipment.
Our specialists will help you to check the accuracy of office design and execution of documents required for obtainment of the Psychotherapist License.
Related article: Equipment Of Doctor's Offices: What Problems Can You Face?
What do you need to start a psychologist's office?
In order to start working as a psychologist, you need to find premises to provide psychological services, buy equipment and register your activity.
The optimal variant of registration of such activity is to register the individual entrepreneurship. After registration, you need to submit an application for a simplified tax system to the tax office.
It's worth remembering that there is no such thing as "psychological assistance" according to the types of economic activity (KVED). Therefore, in practice, you should indicate KVED 86.90 Other activities in the field of health care.
In the future, if such a psychologist has partners, they can jointly register a LLC.
The documents that a psychologist needs to start his/her activity include:
a diploma with an appropriate specialization;
a certificate of completion of professional development training (every 5 years);
an application for starting a psychologist's office.
Our company can help with all registration procedures related to starting a psychologist's office quickly and easily.
Related article: How To Advertise Health Care Services: Are There Any Specific Advertising Requirements?
In general, the difference between a psychologist and a psychotherapist is that one needs to obtain the license and the other does not. Accordingly, the requirements for the psychotherapist's offices will be stricter and can be checked during the licensing inspections.
The tax burden will be the same if both of them work as individual entrepreneurs (income tax, military fee).
If you want to set up a psychologist or psychotherapist office, you need legal support and assistance in obtaining a license or registering your business, don't hesitate to call us!

We are ready to help you!
Contact us by mail

[email protected]

or by filling out the form:
We are ready to help you!
Contact us by mail [email protected] or by filling out the form: