How can a foreigner register his own business in Ukraine?
Cost of services:
from 900 USD
Business registration in Ukraine
from 2300 USD
Foreign director
from 1400 USD/month
Basic support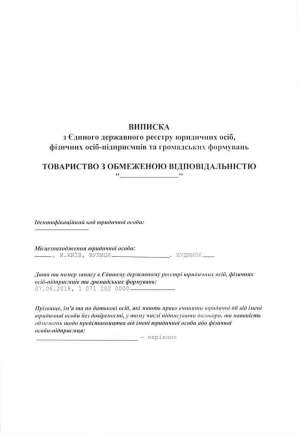 Reviews of our Clients
Partner, Denis Y. Lysenko, Vasil Kisil & Partners
... we would like to express our respect and gratitude for the fruitful cooperation.
... our work on joint projects assured us of your high level of professionalism

General director I.Logvinenko , Bravo Airways
Bravo Airways company expresses its gratitude to law firm "Pravova Dopomoga" for high quality and timely provision of legal services.

President Tedeev E.S., Ukrainian wrestling association
Ukrainian wrestling association would like to express its sincere appreciation to the team of Law firm "Pravova Dopomoga" for mutually beneficial cooperation
G. Zeynep Kucuk, SANOVEL ILAC SAN. ve TIC. A.S.
Helped with the liquidation of a foreign representative office in Ukraine
General Manager Stashkevych I.Y., LLC "Trading company" Rud"
We would like to indicate that law firm "Pravova Dopomoga" has become a reliable partner for legal services provision and we can recommend it as a team of qualified professionals who are easy and pleasant to deal with
Chief ophthalmologist of Ukraine, Oksana Vitovska, All-Ukrainian alliance of ophthalmologists
We would like to express sincere gratitute to the team of Law firm "Pravova dopomoga" and personally to Volodymyr Gurlov for professionalism and purposefulness in your work.
General director Skibinskiy V., Yokogawa Electric Ukraine Ltd.
Yokogawa Electric Ukraine Ltd. recommends Vladimir Gurlov and his team of lawyers as a reliable legal partner and advisor for foreign businesses in Ukraine...
L. Chervonyuk, LLC "Vitalux"
Vitalux company highly appreciates results of cooperation with Law firm "Pravova dopomoga", can characterize it as a reliable partner and based on personal experience is ready to recommend it to interested persons...
Starting a business in Ukraine within 1 day is perfectly possible. Even if the business is opened for a foreign founder.
The procedure is absolutely transparent and at a first glance, it seems to be easy. However, you will need to manage some aspects when planning your business activity in Ukraine. The complexity of business registration can increase depending on the following aspects:
Who will be the LLC's founder — a foreign citizen or a foreign legal entity?

Who will do the accounting of the company?

Do you have an authorized person to keep personnel records in the company: accrual of salaries, vacation pay, etc.?

Do you, as a foreign founder, want to get a Temporary Residence Permit in Ukraine in the future?

Do you intend to employ foreign specialists in your company, including the director?

Do you need a license or other permissive documents for your business activity?

Do you need VAT or Single tax payer status for your business activity?
Today, we will tell you about the duration of preparation for business registration, and the actions required to successfully start your business in Ukraine for a foreign person.
You may also like: How to Register an Online Business in Ukraine?
What is the difference between business registration in Ukraine for physical and legal foreign persons?
The registration procedure looks virtually identical, but with some nuances.
A foreign citizen will need to obtain a TIN in advance — this can be done remotely, by power of attorney, the procedure will take 1-3 business days;
A foreign legal entity will require a broader list of documents:
a foreign company registration document (certified by the issuing authority/apostilled/legalized — depending on the country). In the ideal case, this document should contain the following information: who is the director, the participants and their shares in the authorized share capital;

copies of passports (also certified) of all persons who own 25% + shares in the authorized share capital;

power of attorney for the representative in Ukraine (certified in the same way).
Taking into account the fact that it will take some time to obtain a TIN for a natural person, as well as to collect notarized copies of documents of a foreign legal entity, this preparatory stage will take about 2-3 business days. During this time you can prepare constituent documents for the Ukrainian company: Charter, Minutes, etc.
You may also like: Registration of a Sole Proprietorship for a Foreign Citizen
Can a foreigner become the director of a Ukrainian company?
This question may arise both in a situation when the founder is a foreign citizen who wants to become a director of the company, and in the case if a foreign legal entity wants to put a proxy, a foreign top manager, "at the helm" of a Ukrainian company.
Please note! At the moment of the company registration, a foreign person cannot become its director without obtaining a Work Permit in Ukraine. At the same time you can get a Work Permit on request from an already registered company for a particular position.
It turns out that when registering a company you will have to apply for the services of a director who is a Ukrainian citizen. Later on he/she can be replaced by your foreign director after getting a Work Permit in Ukraine.
If you do not have a Ukrainian director, our lawyer can take the position of the director at your company, upon a separate agreement.
Do I need to come to Ukraine to register an LLC?
Almost the entire procedure for registering a Ukrainian company can be conducted under a power of attorney, without coming to Ukraine. For this our lawyers prepare drafts of all documents, including a power of attorney, and send them to you for signature. Once we receive the documents back, we proceed with registration.
The only procedure that requires personal presence of the director is opening an account in a Ukrainian bank. With the right organization of the process, a bank account may be opened within a few hours — we have had cases where a foreign director flew to Ukraine for just 1 day.
If you are also planning to obtain a Temporary Residence Permit on the basis of a Work Permit, as the director of the company — you will also have to visit Ukraine to submit the documents, but this can also be done at a convenient time for you.
Is it difficult to understand the issues of taxation and personnel accounting?
Company registration is only the first step to starting a business in Ukraine. After passing it you will immediately face more complicated legal issues: bookkeeping, timely payment of taxes, repatriation of income from Ukraine and personnel issues.
At the stage when not only the local laws but also business rules and language are unfamiliar to you, the best solution is to find a contractor who will deal with accounting and personnel issues for you. This will allow you to focus your attention on building your business, negotiating agreements, and developing a strategy for entering a new market.
Please note! If you need the status of a VAT payer for your company, you can apply for it along with the registration of an LLC. But it's worth noting that such status is granted only on the 1st day of the following month, after the application has been submitted.
You may also like: How to Withdraw Money from Ukraine? Repatriation Tax
Our company offers foreign entrepreneurs not only turnkey services for registering a business in Ukraine, but also legal and accounting support of business activity. You can receive the following services:
A tax identification number (TIN) for your director;

Nominal address for the first year;

Consultations on the registration process and nuances, answers to your questions;

Submission of documents to the registrar for registration of an LLC in Ukraine and obtaining an extract from the registrar;

Certification of your documents by a notary;

Obtaining status of a VAT payer or single tax payer;

Opening of a bank account;

Preparation of documents for a Work Permit;

Translations of passports, draft agreements;

Health insurance policies for persons arriving to Ukraine, including Covid-19 coverage;

Change of director from our lawyer to your person after obtaining a Work Permit and arriving to Ukraine;

Arrangement of electronic signature for the director;

Accounting services, resolving personnel matters under the control of a lawyer.
The cost of LLC registration in Ukraine can be found here.
The price and conditions of foreign business support services can be found here, or you can contact our specialists to make a personal package of services.
Do you want to register and start a business in Ukraine? Don't hesitate to contact us! We will make a complicated procedure simple and provide you with all information to continue doing business in Ukraine.
Didn't find an answer to your question?

All about opening a foreign business in Ukraine is here.
The price and types of legal consultations here.
Everything about the company registration procedure in Ukraine here.
We are ready to help you!
Contact us by mail [email protected] or by filling out the form: