How to open a restaurant in Ukraine from scratch. Gastronomic startup
Cost of services:
from 4000 USD
Start a restaurant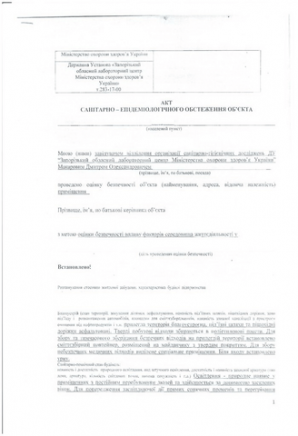 Reviews of our Clients
G. Zeynep Kucuk, SANOVEL ILAC SAN. ve TIC. A.S.
Helped with the liquidation of a foreign representative office in Ukraine
General director Skibinskiy V., Yokogawa Electric Ukraine Ltd.
Yokogawa Electric Ukraine Ltd. recommends Vladimir Gurlov and his team of lawyers as a reliable legal partner and advisor for foreign businesses in Ukraine...
Partner, Denis Y. Lysenko, Vasil Kisil & Partners
... we would like to express our respect and gratitude for the fruitful cooperation.
... our work on joint projects assured us of your high level of professionalism

L. Chervonyuk, LLC "Vitalux"
Vitalux company highly appreciates results of cooperation with Law firm "Pravova dopomoga", can characterize it as a reliable partner and based on personal experience is ready to recommend it to interested persons...
General Manager Stashkevych I.Y., LLC "Trading company" Rud"
We would like to indicate that law firm "Pravova Dopomoga" has become a reliable partner for legal services provision and we can recommend it as a team of qualified professionals who are easy and pleasant to deal with
General director I.Logvinenko , Bravo Airways
Bravo Airways company expresses its gratitude to law firm "Pravova Dopomoga" for high quality and timely provision of legal services.

President Tedeev E.S., Ukrainian wrestling association
Ukrainian wrestling association would like to express its sincere appreciation to the team of Law firm "Pravova Dopomoga" for mutually beneficial cooperation
Chief ophthalmologist of Ukraine, Oksana Vitovska, All-Ukrainian alliance of ophthalmologists
We would like to express sincere gratitute to the team of Law firm "Pravova dopomoga" and personally to Volodymyr Gurlov for professionalism and purposefulness in your work.
We are often contacted by Ukrainian and foreign entrepreneurs wishing to start a business in Ukraine on a turnkey basis, i.e. to get all possible legal assistance in registering their business with minimum expenses of their time.
In addition, the registration of a business by a law firm means that even the smallest details will be taken into account, guaranteeing the legal safety of your business in the future. You will get not just a registered company, but also a full package of documents and permits from the state authorities required for your business.
As for starting a restaurant or other food establishments in Ukraine, first of all you need to decide on the desired type of institution: a restaurant, cafe, bar, etc. In the case of a restaurant, you need to choose what class it will be - the first, the highest or luxury class.
It all depends on the level of comfort, technical equipment, range of culinary dishes and the complexity of their preparation, as well as the format of customer service.
There are certain legal requirements, in particular regarding:
the premises of the institution and its equipment;
kitchen and food products;
sale of alcoholic beverages;
personnel of the institution and their labor protection;
exterior design;
working hours;
design of the customer's corner;
even requirements for the choice of music tracks to be played in the institution.
Today, we will tell you about different aspects of the restaurant registration process in Ukraine by the example of working with our Clients. We will consider the main requirements, without which any establishment will not be able to start and operate without problems.
For convenience, we have divided the requirements into cases.
Case No. 1: How to choose premises and equipment for the restaurant?
The requirements for the space, as well as the cooking and selling equipment, depend on the type of establishment, its class, and the premises (residential/non-residential).
However, regardless of the area and location, the premises must be equipped with:
automatic fire protection systems (alarm, fire extinguishing, fire warning and evacuation control), as well as smoke control system;
security alarm system;
sewerage, ventilation, heating, water supply systems
air conditioning system and other systems.
In addition, you must plan the crossing of the paths of visitors and staff, as well as the process of moving fresh raw materials (food) and containers for garbage disposal.
A separate issue is access to the premises for disabled visitors, for whom ramps at the entrance, appropriate doors and vestibules must be installed.
But in any case, it is forbidden by law to start work in the premises without the permit of the Fire Inspection Authorities. This means that you can start work from the date of registration of the Fire Declaration (Declaration of Fire Safety). An important requirement is insulation of electrical networks (wiring) in the room, which must meet the standards and regulations of fire safety. This information will be displayed in the Insulation Resistance Measurement Protocol.
Legal advice: The easiest way to choose a future cafe or restaurant will be to rent or buy premises that have already been used for catering. You can save time and money on obtaining the necessary permits, provided that they are available to the owner of such premises.
The legislation regulating the activities of restaurant establishments contains such a definition as "facilities" - these are both premises and equipment, and even vehicles, which the owner uses in the process of food production, or which come into direct contact with food during their production. Such facilities are subject to mandatory state registration, and the relevant information about such facilities is entered by a state agency in the register.
However, there are also facilities which require an operating permit, such as vehicles used exclusively to transport foodstuffs, as well as others that are not subject to state registration as a separate facility.
One of the most difficult stages in practice is to pass the inspection of the State Service of Ukraine on Food Safety and Consumer Protection and obtain a SES Certificate. This document certifies compliance of the object of examination (premises) with medical safety requirements for human health and life. It is approved by the corresponding Chief State Sanitary Inspector and is binding for the owner of such premises.
Getting a Safety and Health Certificate is difficult, because you need not only to know the requirements for each class of food establishments, but also to understand the internal rules of the supervisory authority.
Our company helps bring the premises into compliance with the requirements of the state authority, and takes care of obtaining the Safety and Health Certificate.
Case No. 2: Kitchen, food products, menu and price list.
Restaurant business owners conduct their business in accordance with the range of products approved in accordance with the type and class of their establishment. In addition, the responsible person must ensure the availability of products in the establishment specified in the menu and price list.
In the production of their own products, business entities must comply with the technological modes of its production (compatibility of products, cooking mode, etc.). All food products must meet the quality and safety requirements.
In addition, it is the duty of the entity, which manages the facilities that directly interact with the products, to introduce the so-called HACCP system. This is a system of food hazard analysis and control at critical points – certain procedures for monitoring the level of food safety.
Please note! If you have vehicles used to transport food, they must:
be kept clean and in proper condition (protected against the risk of product contamination);
be equipped with facilities for maintaining proper hygiene.
In addition, all goods must have consignment notes and documents of the manufacturer (supplier), which can confirm their quality and safety.
Our lawyers will help you to understand in more detail the legal requirements for product safety, as well as what the HACCP system is and how to implement it.
Case No.3: How to sell alcoholic beverages in a restaurant?
Retail trade in alcoholic beverages (with the exception of table wines) is allowed for entities of all forms of ownership, provided that they have the appropriate license. This license is issued for one year, and separately for each place of trade.
The obligatory condition will be the registration of payment transactions recorders (PTRs) and obtaining a registration certificate for them. Besides, according to the recent changes in the legislation, now when selling alcoholic drinks (as well as alcoholic cocktails), the information on the barcode of the excise tax mark (series and number) must be specified in the PTR settlement document.
Another important issue is the place of sale of alcohol, the sales area of which must be at least 20 square meters. Such a requirement will affect your choice of space for the restaurant.
As for the license and registration of PTRs, such services are included in the restaurant start service package.
You may also like: Registration of the Alcohol Storage Place
Case No. 4: How to hire staff at a restaurant and health and safety issues.
Employees who come into direct contact with food, such as those involved in its production, storage, and sale, are required to:
have a professional special education;
undergo a medical examination;
have personal medical books.
For example, you are going to hire a chef, maybe even a foreigner. How do you do this?
The education of a chef must be confirmed by state diplomas issued upon graduation from a specialized university or college. If you want a foreign chef to run your kitchen, you will need to obtain a Work Permit for a foreigner and obtain a Temporary Residence Permit on its basis.
If employees in the kitchen work with high risk equipment (machinery), the employer will need to obtain permits related to occupational safety and health, and such employees must undergo special training on occupational safety and health.
In addition, a person responsible for the organization of labor protection must be appointed to monitor compliance with OHS requirements. In addition, you will need to develop appropriate OHS documentation.
Case No. 5: What to choose for the restaurant: Signage or outdoor advertising?
The most important difference between a signage and an advertisement is that a signage, unlike an advertisement, can have an area of up to 3 square meters and must contain only information about:
the registered name of the entity;
marks for goods and services belonging to such an entity;
the type of its activity and hours of operation.
If the signage contains other information, it automatically becomes an advertisement. The signage is placed free of charge and does not require a permit. In order to place it, a prerequisite is notification to the local authorities and compliance with the rules for its installation.
But to place an advertisement, you will need to obtain an appropriate permit.
So, if you want to be limited to information about the name of your organization, type of activity and opening hours of the institution, it will be enough to place a signage, and in practice most restaurant owners choose this option. Signage is like a business card of your restaurant.
But if you want to attract the attention of customers with other information, such as an appeal to visit your restaurant, you need to get an advertising permit.
Please note! If the signage is in violation of the terms of its placement, you may be required to remove it, and pay a fine.
Case No. 6: I want to play music in my restaurant: How to do it?
In order for the music tracks in the institution to be played without violating the copyrights of their authors, it is necessary to obtain the consent of the authors of these musical works for their use. To do this, business entities need to select a collective management organization (CMO) from the register of such organizations, and conclude a corresponding agreement with it. In addition, they will have to pay a certain amount of money as remuneration for the use of copyright objects, or as payment for the benefit of copyright holders.
What about "live music" in the institution?
If the institution plays exclusively live original music of the group that performs, there is no obligation to enter into an agreement with the CMO. However, if the performer/group uses objects of copyright, namely the text and melody of other songs, a royalty for its use is payable to their rights holders.
Control over the legal use of music in institutions is carried out by CMOs. Representatives of such organizations are authorized to draw up acts on illegal public performance of musical works, and to judicial protection of violated rights of legal owners.
So, to avoid problems, we still recommend concluding an agreement with the CMO. Our company will help to develop a template of the agreement and provide recommendations for its conclusion in the future.
You may also like: More About Starting a Restaurant in Ukraine
Opening a restaurant or other catering facility is a complex and multi-step process, which involves a large number of regulatory requirements, the violation of which at any stage can cause a lot of trouble in the future. It is quite difficult and risky to handle this process on your own.
Our lawyers can develop for you a step by step guide to starting your establishment, taking into account your wishes, which will make the process a simple and clear algorithm of actions.
Our main advantage is that we not only give you an understanding of the procedure for starting a restaurant, but also help to put it into action legally, with your minimal involvement.
We offer a ready-made business with a full set of documents that you need to work with, as well as:
Assistance with personnel, including foreigners, if necessary;
Assistance with the development of contracts and agreements for the restaurant;
Assistance in obtaining a trademark, etc.
And don't forget the quarantine restrictions on bars and restaurants.
We are ready to help you!
Contact us by mail [email protected] or by filling out the form: