How to open a restaurant? Where to start and what documents to obtain?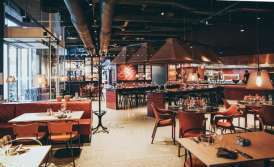 Recently, Ukraine has become more and more investment and tourist attractive for foreign visitors, which to a significant extent strengthens the economic well-being of Ukrainian population.
Therefore, every day there are more and more people who are thinking about opening their own restaurant business, bar, cafe or other catering facility.
To clarify the legal aspect of this issue, we decided to write this material. We will tell you how to open a restaurant or cafe and what you need to do to properly handle all formalities related to your restaurant business.
Stage One: Choice of Premises and Budget (Expenditures) Planning Aimed At Minimizing Downtime Risks
The first thing to take into account when looking for a premise is the State Building Code B.2.2-25:2009, as it:
envisages the basic requirements for the premises used for restaurant establishments (restaurants, bars, cafes);
sets forth optimal and necessary values, such as the number of seats, the size of the premise, the requirements for equipment and furnishing of halls, the kitchen.
However, you should first decide on the type of the establishment, as each of them has its own peculiarities. According to the law of Ukraine, there are the following types of establishments:
Large-scale catering establishments;
Stockpiling factories;
Cafes;
Canteens;
Quick service restaurants;
Snack bars;
Ready-cooked food stores;
Cafeterias;
Restaurants and bars (divided into classes: first, premium, luxury).
Accordingly, each type has its own requirements for area, equipment, number of rooms, signage, etc.
There are also general requirements to be met by the premises of this type: water supply, electricity, telephone, sewerage, ventilation, etc.
Note! You should also pay attention to the building, where the premises are located (shopping mall, residential building, office building, commercial building). If the establishment is located in the residential building, there some restrictions to the mode of operation and noise levels (until 10 p.m. and no music accompaniment).
Related article: Regulatory Requirements For Retail Of Alcoholic Beverages And Tobacco Products In Ukraine
Stage Two: Capacity Registration or Obtaining an Operating Permit From the State Service of Ukraine on Food Safety and Consumer Protection
Capacity registration is a permit document, which shall be obtained both by restaurant establishments, and those who carry out any food-related activities (production, distribution).
The only exception is those public catering establishments that carry out activities related to the production and/or storage of food products of animal origin. Such entities shall obtain an operating permit.
Stage Three: Restaurant Business Security
When the premises are ready and the capacity is already registered, it is time to think about the security of your business:
To install a fire and security alarm systems;
To obtain the declaration from the State Emergency Service of Ukraine.
It is also important to ensure the proper design of the premises to avoid any potential problems in case of inspections. The building, where they are located, also plays an important role in the successful completion of the inspections.

Related article: Why Is It So Important To Apply In Advance For Legal Assistance During The License Inspection?
For example, if the establishment is located in the buildings of special historical value or on terraces, you shall obtain additional permits, and therefore you should be more careful with its design.

Stage Four: Employment Relations In The Restaurant Business
An extremely important step in the process of opening a restaurant is the proper employment of all your employees, in terms of the employment law, and creation of favorable conditions for their work.
You should work out this issue at the planning stage, taking into account the following points:
Separation of the cold and hot shops;
Ensuring that visitors are not constantly in contact with the employees of your establishment;
Obtainment of permits for high-risk equipment, etc.
In parallel with handling formalities related to staff employment, you can also take care of health permits and medical examinations of your employees.
Pursuant to the law, a certain set of employees shall undergo a medical examination before the employment and also regularly during the period of their employment. They include:
Administrators;
Kitchen Managers;
Persons cooking food in the kitchen (cooks, pastry chefs);
Waiters;
Personnel working in warehouses and using refrigerators;
Cleaners and cleaning staff.
It can be a real challenge to properly handle all formalities with such a number of personnel without any assistance, especially given the fact that the State Service of Ukraine on Labor has obtained much more inspection powers owing to the latest changes in legislation.
Related article: Key Peculiarities Of Drafting An Employment Agreement
Step Five: Obtaining Alcohol and Tobacco Retail Licenses
For this purpose, it is necessary to get a cash register and register it with the tax office. After this, you can apply for the appropriate licenses.
This stage requires special attention, since you can't trade the full range of alcoholic beverages under a single tax system. Thus, you should switch to a general taxation system.
But there are cases, when several business entities combine their efforts and work within one premise under different taxation systems and with different permits, providing their customers with different bills.
This allows them to optimize their tax base and avoid the need for obtaining licenses. However, you need to use legal services to develop such a scheme.
Stage Six: Menu and Price List Design for Consumer Corner
What's the difference between these documents?
The difference is that the menu contains the products of your own production. And the price list includes the purchased goods.
But the visitors menu is not required to include both documents.
Thus, in order to open a restaurant, you will have to go through a large number of stages, each of which requires not only much efforts, but also an extensive knowledge. If you don't have specific knowledge, you can delay the whole process for months or even years. And this will definitely adversely affect any business.
In order to avoid such situation, it is better to use services of qualified specialists from the start. If you still feel you can cope with the task without any assistance, but you realize that you need legal support and assistance at one of the stages - our specialists are always glad to help you.
In case of any questions related to the legal support of opening a restaurant business, please contact our lawyers!

We are ready to help you!
Contact us by mail

[email protected]

or by filling out the form:
We are ready to help you!
Contact us by mail [email protected] or by filling out the form: