License for a fuel truck in 2023: is a license needed?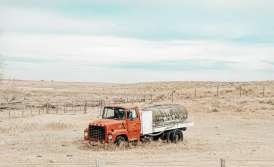 Let's imagine a theoretical situation: you have machines that work in the field, for example. And you also have a fuel tanker, which can be used to refuel the machines. The question is, Is it necessary to obtain a license for such activity?
The position of lawyers and even state employees is ambiguous in the matter. Many people think that a fuel tanker is just "technical equipment" or "petrol storage tank", which does not require the license. But this position is rather shaky.
The position of the tax inspection is that when transporting fuel in a fuel tanker (trailer of a fuel tanker), you need a license. Because the fuel is not just stored in a fuel tanker, but is transported to be refueled in the tanks of other equipment.



What is the basis of the tax service's position regarding the license for a fuel tanker?
First of all, the position of the tax authorities is based on the fact that the law provides a fairly clear list of fuel storage locations for which a license is not required and these are storage locations that are used by specific entities:
enterprises and organizations that are fully financed by the state or local budget;
enterprises and organizations of the state reserve system;
business entities, which use the fuel storage area exclusively for their needs at gas or oil production stations and drilling rigs, without selling fuel.
As we can see, a fuel tanker, even if used for personal needs, but not at oil production stations, does not belong to this list.
You may also like: New Fuel Trading Rules In 2021
What is a fuel tanker? According to the Tax Code of Ukraine (Art. 14) - such a fuel tanker will be considered as an excise mobile storage facility. In other words, this is transport, which is used for fuel transportation.
Thus, if you want to deliver fuel using your fuel tanker, you will need to obtain a license for fuel storage in the place where the fuel tanker is located. For the same period, when the fuel tanker will be on the road - it will get the status of an excise mobile fuel storage facility.
There is also a separate fuel license, which is called a "license to trade in fuel without a point of sale". We have already written about the procedure for obtaining this license here.
You may also like: HowTo Get The Fuel License?
In such a situation, obtaining a fuel license will allow you to protect your activities and provide you with additional opportunities. For example, the possibility to supply fuel not only for your equipment, but also for other Customers.
If you want to get a license for a fuel tanker and feel safe in case of any claims from the tax authorities, don't hesitate to call us.
Do you need more information?
Please find more information about getting a Fuel License here.
We are ready to help you!
Contact us by mail [email protected] or by filling out the form: