Myths and Reality of a Work Permit for a Foreign Employee in Ukraine
Cost of services:
from 400 USD
When Client is elegible and has all the necessary documents
from 1300 USD
Premium (includes preparation of additional documents)
Negotiable
For large groups of foreign employees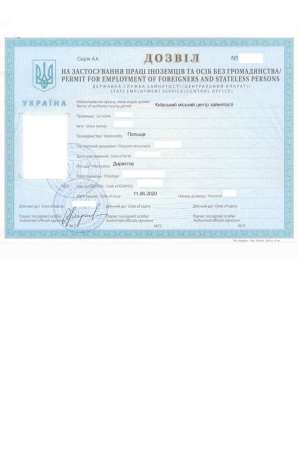 Reviews of our Clients
Daniel Holmes, Citizen of USA
Based on our positive experience of cooperation with Volodymyr Gurlov and his team we can recommend them as a reliable legal advisor on the matters of Ukrainian law...
Even despite partially closed borders and complicated border crossing procedures, the trend for the relocation of skilled workers from country to country in the world is still growing.
This also is also the case of Ukraine, where certain business sectors require an influx of foreign workers. They include agriculture and rapidly developing IT-technologies, as well as narrower fields of activity that are still undeveloped in our country, but already practiced abroad.
Many employers, both Ukrainian and foreign businesses, conducting their activities in Ukraine, are faced with the issue of employment a foreign worker and thus obtaining a Work Permit for a foreigner in Ukraine.
And as soon as the idea is put into practice the employer is faced with many nuances of the procedure which he did not even suspect before. Today we will tell you about the main misconceptions about obtaining a Work Permit, and about the actual procedures, cost and terms.
You may also like: Relocation of IT-Specialists to Ukraine
Myth 1: Low cost of hiring a foreign worker.
The cost of hiring a foreign worker, first of all, will depend on what expenses you, as an employer, take on yourself. For example, employers promising full relocation of the necessary personnel may take upon themselves travel and accommodation expenses for a certain period.
But even without such expenses, the whole procedure of employment usually costs from UAH 20,000 to 40,000 per one employee. This amount consists of:
State fee for a Work Permit for the period from 6 months to 1 year - 4 minimum wages (UAH 9,080) as of the summer, 2021;

Legal services for obtaining a Work Permit - from UAH 7,000, depending on the package of services you need;

Obtaining a TIN for the employee - about UAH 1,000;

Fee for a D-type visa - from USD 25.
If we take things a step further, depending on the period for which you need an employee and the conditions of his/her relocation, you may face more expenses for obtaining a Temporary Residence Permit in Ukraine and registration of a place of residence (including the legal services - USD 2,600).
In addition to these expenses, the employee must be paid a salary, the amount of which will depend on the category of the employee:
5 minimum wages (UAH 30,000) - for foreign employees who will work for non-governmental associations, charitable organizations or educational institutions;

10 minimum wages (UAH 60,000) - for other foreign employees, intra-corporate assignees;

For top managers, IT specialists and people with creative careers, salaries can be set according to their special rules.
And let's bear in mind that independent attempts to submit documents are fraught with refusals or even cancellation of the already issued Work Permit, if you do not take the procedure to its logical conclusion. Don't try to save money on the legal services - this is an investment that will pay off with a simple procedure for you, and a guaranteed result.
You may also like: How to Get a Work Permit for a Top Manager in Ukraine
Muth 2: We'll file an application with one state authority and that's it.
Even in the best case scenario - if all the employee's documents are properly executed, if you take on only the procedure of obtaining a Work Permit, you will still have to visit at least two authorities:
a tax office to obtain a TIN for the employee in advance;

an Administrative Services Center for filing documents.
After that, you will have to visit the Employment Center, because after getting the Permit for a foreign worker, you will need to conclude an employment agreement with him/her, a draft of which must be submitted when you apply for a Work Permit, and its copy must be submitted to the Employment Center. The employment agreement must be submitted within 10 days from the date of signing the agreement. If you fail to meet this deadline (as well as the deadline for signing the agreement - 90 days), the Permit will be canceled.
In addition to the above authorities, the employee may need assistance in opening a bank salary account. It's worth using the services of a proven bank, which knows how to work with foreign nationals. Unfortunately, this situation is not in all banks of Ukraine.
If a foreign worker plans to apply for a Temporary Residence Permit on the basis of a Work Permit, as well as to register the place of residence - his/her path through state authorities will be added with the Migration Service and the Administrative Services Center.
Fact: Obtaining a Work Permit in Ukraine with a lawyer saves you time and money.
If hiring a foreign worker is an unusual situation for you - a one-off case, and you are ready to spend your working time and personal forces on the employment procedure - this might be the best option.
But if there is a certain flow of foreign workers, the more organized the process is and the less time it will take, the more profitable it will be for you.
We offer you comprehensive support for hiring foreign workers:
Preparation of documents for obtaining a Work Permit in Ukraine;

Assistance in obtaining a TIN for the employee;

Translation and notarization of all the necessary documents;

Submission of documents and control of their consideration by the Administrative Services Center;

Recommendations of the lawyer on how to avoid the Work Permit revocation;

Obtaining a Temporary Residence Permit and registration of a place of residence for the employee, by separate agreement.
Check the cost of obtaining a Work Permit in Ukraine for a different number of workers here.
Check the cost of obtaining a Temporary Residence Permit for an employee, including residence registration, here.
Do you need assistance with employment of foreign workers at your company? Don't hesitate to contact us! We will organize the whole process and will take care that your business will run smoothly and get the necessary influx of personnel.
Didn't find an answer to your question?
Everything about the procedure for obtaining a Work Permit for a foreign worker here.
We are ready to help you!
Contact us by mail [email protected] or by filling out the form: