Legal advice to foreigners starting a business in Ukraine
Cost of services:
from 900 USD
Business registration in Ukraine
from 2300 USD
Foreign director
from 1400 USD/month
Basic support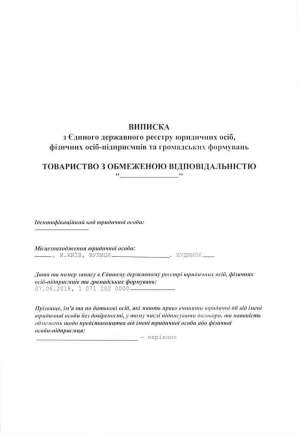 Reviews of our Clients
G. Zeynep Kucuk, SANOVEL ILAC SAN. ve TIC. A.S.
Helped with the liquidation of a foreign representative office in Ukraine
General Manager Stashkevych I.Y., LLC "Trading company" Rud"
We would like to indicate that law firm "Pravova Dopomoga" has become a reliable partner for legal services provision and we can recommend it as a team of qualified professionals who are easy and pleasant to deal with
General director Skibinskiy V., Yokogawa Electric Ukraine Ltd.
Yokogawa Electric Ukraine Ltd. recommends Vladimir Gurlov and his team of lawyers as a reliable legal partner and advisor for foreign businesses in Ukraine...
Chief ophthalmologist of Ukraine, Oksana Vitovska, All-Ukrainian alliance of ophthalmologists
We would like to express sincere gratitute to the team of Law firm "Pravova dopomoga" and personally to Volodymyr Gurlov for professionalism and purposefulness in your work.
L. Chervonyuk, LLC "Vitalux"
Vitalux company highly appreciates results of cooperation with Law firm "Pravova dopomoga", can characterize it as a reliable partner and based on personal experience is ready to recommend it to interested persons...
General director I.Logvinenko , Bravo Airways
Bravo Airways company expresses its gratitude to law firm "Pravova Dopomoga" for high quality and timely provision of legal services.

President Tedeev E.S., Ukrainian wrestling association
Ukrainian wrestling association would like to express its sincere appreciation to the team of Law firm "Pravova Dopomoga" for mutually beneficial cooperation
Partner, Denis Y. Lysenko, Vasil Kisil & Partners
... we would like to express our respect and gratitude for the fruitful cooperation.
... our work on joint projects assured us of your high level of professionalism

Entering the market of Ukraine, as well as any other business expansion beyond the borders of oneэs own country is a challenge. It is important to combine the interests of your company, the vision of the best way to develop your business and local legal norms and business practices.
Ukraine attracts many foreign investors as a country for doing business - cheap, highly qualified labor, market readiness for consumption of various products, favorable tax rates in many spheres of business activity.
However, be ready to face confusing legislation, high level of bureaucratic hoops and the need to find a reliable local partner who knows exactly how to solve your issues.
Today, we will talk about how to optimize the process of starting a business in Ukraine and share our legal tips and tricks, because the legal registration and protection of your business is just as important as proper business planning.
Open a window on the taxation of your business.
The taxation issue is one of the most painful for any business. You have to understand what you pay for, how much, how to pay on time without being sanctioned by the tax authorities, and most importantly, how not to overpay.
When foreign companies enter the Ukrainian market, they are faced with the local concept of tax burden. It is shocking that certain representatives of tax authorities have their own practice and opinion on the ratio of the company's turnover and the amount of its tax deductions. If you did not know about it, did not consult with the tax authority in advance, and as a result did not fall within the limits of the conditional ratio - the tax authority will consider your actions illegal.
And there are not only issues of accrual of taxes in Ukraine at the prescribed rates - if you, for example, will work with foreign counterparties, while in Ukraine, double taxation will be of no small concern to you. And it is also important not to lose on the withdrawal of funds to the parent company. And much, much more.
Thinking about starting a business in Ukraine, the issues of taxation and its optimization should be clarified in advance, taking into account the local rules and practices. This may affect the very scheme of your business and the business plan.
Thus, in developing the scheme of business registration, our team offers, including the explanation/estimation of taxation for your business activity, your proposed amount.
Take care of your staff.
The number of staff that you will need at the start of your work in Ukraine depends on the type of business activity and your plans for development. But there are several positions that are worth thinking about in advance.
Director of the company - the director can be a trusted person or one of the founders (in this case such a person can get a Work Permit in Ukraine without the established minimum wage).
If you plan to appoint a foreigner to this position - he/she will need the abovementioned Work Permit. However, during the registration of the company or representative office the director's position must be held by a Ukrainian citizen. See more here.
Depending on the complexity of the structure of the proposed company and its management system in Ukraine, you can provide for the powers and rights of the director, stipulating them in the Charter of the company. You can also think of a "four eyes" system, when each payment has two signatories.
Accountant and Lawyer - After the registration of the business, the company starts its activity, which must be correctly accounted for, and all reports must be submitted on time and in the right form to all the relevant authorities. It is important not only to keep correct records, but also to monitor the registration of incoming funds to the account, the registration of company expenses, payment of wages and taxes from them, etc.
We do not single out just an accountant, but a combination - a lawyer and an accountant. Accountants may not know the necessary nuances of tax law, they cannot advise on tax optimization, correctly and quickly solve legal problems that so often arise when dealing with large sums of money. Under the control of a lawyer, accountants will be able to get the necessary information immediately, and will have a reliable back-up of their actions.
We offer the outsourced services of such a working duo. You can take advantage of this proposal at the initial stage of entering the Ukrainian market, or on a permanent basis, using a business support service.
In Ukraine there are requirements to the personnel for the companies which are engaged in special kinds of activity. Usually it concerns licensed activities, such as the provision of financial services, brokering employment abroad, etc. Usually, such companies are faced with the requirements for the qualifications of individual personnel or mandatory employment, for example, of an accountant in the company.
If you need to bring foreign staff for highly specialized work in Ukraine, they will need to obtain Work Permits in Ukraine and possibly a Residence Permit. Read more about employment in a foreign company or representative office here.
You may also like: How Can a Foreign IT Company Start a Business in Ukraine?
Choose a reliable partner.
You probably will cope with entering the market and solving many problems that arise on your own. Perhaps. But we have not seen cases where it was possible to do it without a Ukrainian partner, trained in the issues of local legislation.
The larger your investments, the greater the risk and fear of making a mistake, not taking into account some legislative requirements. You may get mired in disputes with contractors or state regulatory authorities. You need a reliable source of information on tax, labor, corporate and other spheres of Ukrainian law. A source, which will not only clarify the situation, but also independently resolve all arising problems.
We offer you the services of a team of lawyers, each of whom is a professional in their field of law. This means you will be able to contact us to solve the issue of employment, and to obtain the necessary business licenses and permits, and many other issues.
We can offer both primary business registration with consultation and further legal support for your business in Ukraine. You can check the cost here, or contact our specialists for a personal package of services.
When starting a business in Ukraine, it's worth thinking ahead about each nuance that will ensure not only a quick and easy start of activity, but also business security in the future.
Although there can be many possible forms of business structure, the most common options remain:
Registration of a Ukrainian company as an LLC.
Registration or participation in a joint stock company.
Registration of a joint venture.
Registration of the representative office of a foreign company in Ukraine.
You may also like
:
How to Buy an Office in Ukraine?
How to choose a business structure for registration in Ukraine?
The choice of the business legal structure directly depends on the following factors:
whether you are going to use foreign staff and how many;
whether you need a license for your economic activity in Ukraine;
how you plan to optimize the process of withdrawing profit from Ukraine;
the structure and number of business owners in Ukraine, as well as the relationship between them.
It is also worth taking into account the terms of business registration and the complexity of registration of certain business structures. Let's consider the most popular foreign business structures in Ukraine in more detail.
Limited Liability Company for Foreign Business in Ukraine
This is the most popular business structure in Ukraine due to:
ease of management;
ease of registration - for example, no minimum size of capital, and the registration can be carried out in 1-3 days;
possibility to cooperate with other contracting legal entities;
the fact that LLC bears liability for its obligations only with its capital;
ease of liquidation (if necessary, it is possible to transfer the rights to LLC in a couple of days).
An LLC is also the best choice if you plan to relocate foreign personnel in large numbers. LLC can employ an unlimited number of foreigners, as long as you obtain Work Permits for the personnel and employ them officially.
Please read more details on starting LLC for a foreign business here.
Representative office of a foreign company in Ukraine
A representative office is a special form of doing business in Ukraine with its own rules and advantages. A representative office is not a legal entity, today even a taxpayer is not considered a representative office, but the foreign parent company.
A representative office has some advantages when transferring funds between companies or when importing equipment for the work of the representative office. Their benefits and importance must be assessed for each individual case.
In addition, a representative office has a somewhat simplified procedure for recruiting foreign employees - they must obtain service cards according to a simplified procedure. However, it implies some restrictions - you can apply only for three service cards. If you plan to employ more staff, the representative office won't meet your goals.
View more about the representative office registration procedure in Ukraine here.
Joint Stock Company in Ukraine
The difference of this form of doing business is in the way the company's property is divided and how its profits are distributed. A joint-stock company in Ukraine is usually chosen when it is necessary to accumulate large funds to start a business even before its registration, for example, for the purchase of equipment, large-scale machinery, etc.
A joint stock company has certain advantages for owners/shareholders, including the protection of personal property. But it is beneficial only in certain cases where the management of the company requires a more complex structure.
Each case is unique, and there are many factors that will influence your choice of the proper business structure. We offer you a simple solution - the expertise of a team of lawyers who have been helping to register a business for Ukrainian and foreign entrepreneurs in Ukraine for over 15 years.
We will not only analyze your situation and select the best option for you, but also put it into action.
You may also like: Problems of Foreign Business in Ukraine and Their Solution
Obtaining a license or other permits for your business in Ukraine
In Ukraine, there is a clear list of business activities that require a license. It includes, for example:
Please note! The need for a license for your type of activity also affects the choice of the business structure in Ukraine. For example, a representative office of a foreign company in Ukraine can obtain only one type of license - for construction works. If your business activity requires another license, you should consider registering a Ukrainian company.
Also note that certain types of activities require the registration of specific forms of enterprises. For example, if you intend to provide financial services, you will need to register a company with additional liability, or another form, depending on the type of financial license.
In addition to a license, your business may also need other permits. For example, when starting a restaurant, you will need both a license and a set of documents, including the SES Certificate for the premises.
Obtaining all necessary documents for business registration is part of our company's services. The term of obtaining the necessary document depends on the mode of operation of a particular body, as well as on the complexity of obtaining such a document. Thus, the standard term for obtaining many licenses is 1 month. But there are more complicated types of licenses, the procedure of obtaining which requires much more time.
On our website, in the Services section, you will find most types of licenses and permits for businesses, as well as information about the requirements for obtaining them.
Intellectual property: Trademark registration in Ukraine and other
Issues of intellectual property, brand, will worry not all entrepreneurs entering the market of Ukraine. But this is an issue worth thinking about far in advance, because only the process of obtaining a trademark for a brand takes from 1 to 2 years. Often large foreign brands even begin the process of entering the market with trademark registration, and only after passing all the necessary examinations, begin to register the company or representative office.
But a trademark is not the only thing you can take care of in advance. For example, many foreign IT-companies opening their branches in Ukraine should prepare in advance a whole set of documents that comply with the laws of Ukraine, including:
a Non-Disclosure Agreement (NDA);
a Software Transfer Agreement;
a Copyright Agreement, etc.
If, however, after starting a company in Ukraine, you plan to collect personal data from customers and continue to work with the European market, you will need to take care of the protection of personal data at your company (GDPR Protocol).
You can start a business in Ukraine easily and safely. The main thing is to know exactly how, and we know it. Do not waste your time and money, contact our experts for professional advice and assistance.
Didn't find an answer to your question?
Everything about foreign business registration in Ukraine here.
We are ready to help you!
Contact us by mail [email protected] or by filling out the form: