How can a foreign company open its IT business in Ukraine?
Cost of services:
from 900 USD
Business registration in Ukraine
from 2300 USD
Foreign director
from 1400 USD/month
Basic support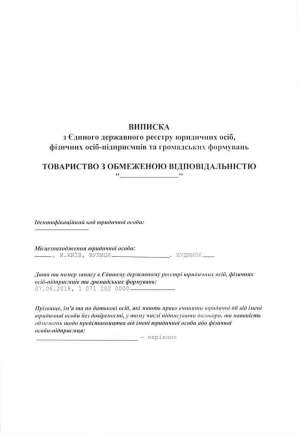 Reviews of our Clients
General director I.Logvinenko , Bravo Airways
Bravo Airways company expresses its gratitude to law firm "Pravova Dopomoga" for high quality and timely provision of legal services.

General director Skibinskiy V., Yokogawa Electric Ukraine Ltd.
Yokogawa Electric Ukraine Ltd. recommends Vladimir Gurlov and his team of lawyers as a reliable legal partner and advisor for foreign businesses in Ukraine...
L. Chervonyuk, LLC "Vitalux"
Vitalux company highly appreciates results of cooperation with Law firm "Pravova dopomoga", can characterize it as a reliable partner and based on personal experience is ready to recommend it to interested persons...
Partner, Denis Y. Lysenko, Vasil Kisil & Partners
... we would like to express our respect and gratitude for the fruitful cooperation.
... our work on joint projects assured us of your high level of professionalism

President Tedeev E.S., Ukrainian wrestling association
Ukrainian wrestling association would like to express its sincere appreciation to the team of Law firm "Pravova Dopomoga" for mutually beneficial cooperation
Chief ophthalmologist of Ukraine, Oksana Vitovska, All-Ukrainian alliance of ophthalmologists
We would like to express sincere gratitute to the team of Law firm "Pravova dopomoga" and personally to Volodymyr Gurlov for professionalism and purposefulness in your work.
General Manager Stashkevych I.Y., LLC "Trading company" Rud"
We would like to indicate that law firm "Pravova Dopomoga" has become a reliable partner for legal services provision and we can recommend it as a team of qualified professionals who are easy and pleasant to deal with
G. Zeynep Kucuk, SANOVEL ILAC SAN. ve TIC. A.S.
Helped with the liquidation of a foreign representative office in Ukraine
We were contacted by the founders of a well-known foreign IT company from Lithuania, which wanted to set up a Ukrainian subdivision for the sale of design and planning software.
This is not the first time that foreign companies are interested in the Ukrainian IT sector, because today Ukraine offers a large number of highly qualified and relatively inexpensive staff, as well as significant tax incentives to work in the IT field in Ukraine.
Of course, starting a business in another country requires the study of legislation and business rules, which requires time. It was not expedient and profitable for our Clients, that's why they addressed us.
The Client was interested in the establishment of an IT company in Ukraine on a turnkey basis, which would include not only the company registration in the most favorable form, but also the solution of certain personnel issues. For example, the employment of foreign top-management staff.
The Client wanted to get not only a ready-made company, which most law firms in the market can offer, but also immediately get advice on doing business in the IT sector, taking into account taxation and accounting issues, which we can offer.
You may also like: What Tax Scheme Is the Best Choice for an IT Company?
Procedure of IT company registration for a foreign person in Ukraine
One of the main advantages of turnkey business registration in Ukraine is that the Client doesn't need to negotiate and contact government agencies on their own, losing precious time. We executed a power of attorney on behalf of our Client for representing its interests in Ukraine, and we set to work.
The first step was the registration of a legal entity with foreign founders and a foreign director.
The founders of the Ukrainian company were to become owners of a foreign company. However, they wanted to become founders just as individuals. To do this in Ukraine, they had to get a TIN, which we handled on our own in three days, based on a power of attorney.
We have developed a Charter, consistent with the specifics of the company, as well as prepared the minutes of the general founding meeting. Our lawyers filled in all the necessary applications, after which we registered the LLC in Ukraine. The whole process of preparation of documents and registration of the company took us two days. In addition, the Client got a seal made according to its personal preferences.
As we have said, the Client wanted its proven employee, a citizen of Lithuania, to be the director of the company in Ukraine. But there is a hitch that does not allow registering a company in Ukraine with a foreign director. Thus, the Law of Ukraine "On Employment" provides for a clear provision for the employment of foreign workers, which states that before employing a particular employee in a particular position, the employer must obtain a Work Permit for a foreigner or a stateless person.
But how can an employer get the Permit if the employer does not even exist yet? The legal entity in which the foreigner is supposed to work is not yet registered.
In such a situation we have a universal solution - we offer the services of a proven Ukrainian specialist for the position of a director, who, after obtaining a foreigner obtains a Work Permit, transfers all the powers.
You may also like: Tax Optimization of IT Activities in Ukraine
The procedure of foreign director employment in the company in Ukraine
The next step was to submit the documents to the Employment Center in Kyiv for a Work Permit for a foreigner. And thanks to the fact that initially the director of the company was a member of our team (a citizen of Ukraine), we did not have to disturb the Client to fill out and sign a lot of papers for the Employment Center. We did everything ourselves, obtained the original Work Permit in 5 business days.
After that, the foreign national was able to take over the position from the temporary director and began to fulfill his employment obligations. It was necessary to submit information about this to the Employment Center, along with a copy of the employment agreement, which we did.
The last and most important stage was opening of a bank account, obtaining an electronic digital signature for the legal entity and transferring the originals of all documents to the director.
At the time of the company's foundation in Ukraine, the director did not intend to be on the territory of Ukraine, managing the work from abroad. He had 1 day to visit Ukraine, after which he had to return to Lithuania for a certain time. So we had to organize the process of opening a bank account for the company within 1 day - the period of the director's trip to Ukraine.
Before starting all the works, we discussed with the Client the exact terms of its performance and we were informed that the director will have to come personally for the account and EDS. Therefore we pre-agreed the date and time of the meeting with bank employees, and all necessary documents were handed to the director on arrival to the bank to spend minimum time for solution of all issues.
As a result, the account was opened, EDS was received, and the originals of all documents were carefully and fully given to the Client.
We registered an operational foreign IT business in Ukraine within a month, while the Client spent no more than 1 day of his personal time.
Also a significant advantage of working with our company are the additional services that we can provide to the newly opened business:
Accounting support - solving all issues of accounting, employment, controlling deadlines, preparing and filing reports;
Development of employment, foreign economic, internal agreements, instructions and regulations of the company;
Development of website according to the personal preferences of the Client, as well as assistance in the legal aspect of its maintenance (consultation and assistance in the protection of intellectual property rights on the Internet)
Registration of a trademark for an IT company in Ukraine;
Consulting on withdrawal of money from the company abroad, to the parent company, etc.
Are you planning to start an IT company in Ukraine? We offer you a turnkey business registration solution - you'll get an operational company and answers to all your questions about starting a business in Ukraine.
Didn't find an answer to your question?
Everything about doing an IT business in Ukraine.
We are ready to help you!
Contact us by mail [email protected] or by filling out the form: