How to Start a British Business in Ukraine?
Cost of services:
from 900 USD
Business registration in Ukraine
from 2300 USD
Foreign director
from 1400 USD/month
Basic support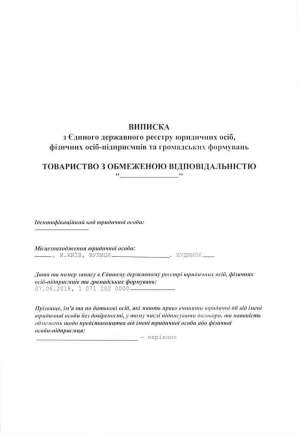 Reviews of our Clients
G. Zeynep Kucuk, SANOVEL ILAC SAN. ve TIC. A.S.
Helped with the liquidation of a foreign representative office in Ukraine
Partner, Denis Y. Lysenko, Vasil Kisil & Partners
... we would like to express our respect and gratitude for the fruitful cooperation.
... our work on joint projects assured us of your high level of professionalism

General director Skibinskiy V., Yokogawa Electric Ukraine Ltd.
Yokogawa Electric Ukraine Ltd. recommends Vladimir Gurlov and his team of lawyers as a reliable legal partner and advisor for foreign businesses in Ukraine...
General Manager Stashkevych I.Y., LLC "Trading company" Rud"
We would like to indicate that law firm "Pravova Dopomoga" has become a reliable partner for legal services provision and we can recommend it as a team of qualified professionals who are easy and pleasant to deal with
President Tedeev E.S., Ukrainian wrestling association
Ukrainian wrestling association would like to express its sincere appreciation to the team of Law firm "Pravova Dopomoga" for mutually beneficial cooperation
Chief ophthalmologist of Ukraine, Oksana Vitovska, All-Ukrainian alliance of ophthalmologists
We would like to express sincere gratitute to the team of Law firm "Pravova dopomoga" and personally to Volodymyr Gurlov for professionalism and purposefulness in your work.
General director I.Logvinenko , Bravo Airways
Bravo Airways company expresses its gratitude to law firm "Pravova Dopomoga" for high quality and timely provision of legal services.

L. Chervonyuk, LLC "Vitalux"
Vitalux company highly appreciates results of cooperation with Law firm "Pravova dopomoga", can characterize it as a reliable partner and based on personal experience is ready to recommend it to interested persons...
In January 2021 we were contacted by a Client, an entrepreneur from the UK, with a request for assistance in starting a business in Ukraine.
Unfortunately, the introduction of Brexit has brought a certain chaos to many areas of business in Britain, including previous agreements with counterparties in the EU, as well as with regard to, for example, the supply of goods to or from the EU. For example, according to statistics, exports of goods from Germany to Britain fell by 30 percent in 2020. And this is just one example.
Even though the Trade and Cooperation Agreement, which promises zero tariffs and quotas on goods, is due to come into force at the beginning of 2021, Europe is still a difficult market for a large number of British businesses as a market for goods and services.
So what to do in such a situation? Look for other markets? Or can we find the most effective workaround to Europe?
Our Client, like many other entrepreneurs, decided to find a new jurisdiction to trade with European Clients - a place where it is possible to open an office and transfer part of the business. It gives an opportunity to re-establish contractual relations with the EU countries, taking into consideration advantageous customs policy in the country of business setup, and in addition, it gives an opportunity to test a new market.
Our company offers full legal support for a foreign business, starting its activity in Ukraine. That's why we took up the Client's task.
You may also like: How to Withdraw Money from Ukraine?
Frequently asked questions about starting a business in Ukraine for foreign entrepreneurs from Britain
Our Client wanted to start a business in Ukraine as fast as possible, so first of all he was interested in the most advantageous option: registering a company from scratch, taking into account that his activity requires a license in Ukraine, or buying a ready-made company with a needed license?
We have already answered this question in detail in this article. We should remember that the answer depends on the type of your business activity, your vision for the development of business and the deadline you set for yourself. Today, we give answers to the questions of our Clients who want to move their business to Ukraine.
How different is the cost of registering a company in Ukraine and buying a ready-made company?
The purchase price of a ready-made company depends on the specialization and characteristics (e.g. whether you just need an LLC with VAT or with a certain license). There is a peculiarity in establishment or re-registration of the company for a non-resident. The cost of both establishment and purchase of a ready-made company starts from USD 500. We can use the following rule as a guiding principle: registration will cost you two or three times cheaper, but it will take considerably more time. If you have the time, your option is registration.
What is the difference in the process of buying a ready-made company and creating a new one? What are the deadlines in both cases?
Creating and buying a ready-made company takes up to 1 week. The peculiarity is that when you buy a company, you will have to pay separately for re-registration, which costs about 0.
A separate item for calculating the terms is the need to obtain a license. Obtaining some licenses in Ukraine takes much time; in very rare cases, such as when obtaining a Construction License, it is necessary to wait until the re-registration of the issuing authority. In this case, if time is of the essence, you can immediately buy a ready-made firm with a license.
During the conversation, our specialists will guide you on how long it will take to get the license that interests you.
Do you help in opening bank accounts for foreign businesses?
Yes, we help with opening bank accounts both for foreign businesses and for foreign individuals.
Do you provide a company with a virtual office?
Yes, if necessary, we help with the legal address of the company registration. The price of such an address is about 0-300 per year.
Do you provide accounting services, if yes, what is the fee?
We can help with accounting support on a fee-for-service basis. Typically, our lawyers are appointed as directors of large companies, for example, in cases of outstaffing or remote work.
At the consultation with the Client we discuss what is planned and whether our accounting support would be reasonable. Our basic accounting packages and their prices can be seen here.
Can the process be done remotely or do the Clients have to come to Ukraine? If yes, for how many days do they need to come?
Almost all business registration processes in Ukraine can be done remotely on the basis of a power of attorney. Usually personal presence is required to open an account, but it depends on the scheme by which you plan to register your business. As a standard it takes 1 day.
Our lawyers will help to organize the whole process correctly so that all the issues in Ukraine can be solved within the minimum period of time.
If you want to discuss the feasibility of the scheme of transferring your business to Ukraine, or if you still have questions, our lawyers will provide you with all the answers at a personal consultation.
Please note! Legal consultation on business registration in Ukraine can be conducted online.
You may also like: How to Find an Outsourced Accountant in Ukraine?
Legal services for starting a British business in Ukraine
Our lawyers offer you the following services for comfortable entrance to the Ukrainian market and optimization of a business in the EU:
Advising on the possibility to implement the intended business scheme in Ukraine in a legal way;

Consultation of a tax lawyer on conducting business in Ukraine as a new jurisdiction for trading with European customers to supply goods and services from Britain to the European Union and vice versa;

Registration of a Ukrainian company with 100% foreign registered capital;

Registration of the representative office of a British company in Ukraine;

Services of a nominee director, if the director of the company in Ukraine will be a foreigner;

Assistance with obtaining Work Permits in Ukraine for foreign workers, if any;

Assistance with obtaining any licenses or other permits for a business;

Accounting consultancy, support, etc.
The cost of starting a business in Ukraine will depend on the type of the business structure:
The price of legal services in Ukraine will also depend on the following factors:
What kind of business do you want to register in Ukraine?

Do you need additionally the consultation of a tax lawyer

Do you need the services of a nominee director?

Do you need a legal address in Ukraine?

Do you need the services of an accountant for the first period of business activity in Ukraine?

Do you need assistance in obtaining permits for your business activity: licenses, registration with tax authorities, etc.?
To гтвукіефтв the price for registration of a foreign business in Ukraine, please contact our specialists, and they will tell you the price after analyzing your situation. Basic packages for business registration in Ukraine can be seen here.
Are you looking for a new way to set up your business in the EU? Starting a business in Ukraine is a great opportunity to continue supplying British goods to the European Union without Brexit restrictions.
Moreover, starting a business in Ukraine by registering a Ukrainian company or its representative office is a great opportunity to cover another market - the Ukrainian one.
If you intend to register a British or other foreign business in Ukraine, don't hesitate to contact us. We will not only help with registration and necessary permits, but also advise on the scheme of your business activity in Ukraine.
Didn't find an answer to your question?

All about opening a foreign business in Ukraine is here.
Legal services for Foreign Business.
Everything about Business Registration in Ukraine.

View our offer for foreign Clients.
We are ready to help you!
Contact us by mail [email protected] or by filling out the form: